- 2019
Boum Creative uses disguise to push the boundaries of event production
Based in New York City, Boum Creative is a full-service design and production house. Since investing in a disguise gx 1 in 2017, Boum Creative has gone from strength to strength in event production with disguise supporting them along the way. As an early adopter of the vx 4, we sat down to talk about what the future holds for Boum, and it looks bright…
Question: How did Boum Creative start?
Answer: Boum Creative started because we saw a gap in the production world. Not many companies were leveraging new technologies and workflows in our market for pre-production. We are made up of Mathew Leland (Designer/Co-Owner), Ben Danielowski (Designer/Co-Owner), and Tanner Simpson (Designer/Project Manager). We have backgrounds as designers and technical directors and we saw an opportunity to fill a niche, whilst bringing down costs and improving show quality from design to implementation.
Q: What projects do you typically work on?
A: We work all over the production spectrum, such as corporate events, fashion shows, concerts, product launches, theatre, theme parks, not for profit, and much more. We are set up to handle a project's Video, Lighting, and Audio from concept to completion.
Q: How did you first discover disguise?
A: We first discovered disguise when it was on tour with The Ringling Brother's Circus. They rolled through town and a friend was running video and showed it to us. From then on, we were keen to find out more.
Q: What drew you to disguise?
A: We knew that disguise was very powerful when it came to running a live show, however, the workflow and 3D visualiser were the largest attractions to us at first. We were really taken with this new approach to design and pre-visualisation and it felt very fresh and new compared to what we had seen before.
Q: What was one of the first shows you used disguise on?
A: Our first disguise show was for A+E Network's Women's Upfront, showcasing the networks upcoming season. We had one gx 1 and two 4x4pro's running a 5-tier video wall with projection mapped ceiling at the Bartos Forum, New York Public Library. For this show, we built out a 3D Model of the venue so the client could preview the entire show in VR before we stepped into the space. We were able to make well-educated decisions from LED wall pixel pitch to viewing angles and camera shots. We found that it worked wonders!
Q: Are there any key features of the disguise workflow that works well for you on projects?
A: What we are able to do with disguise's pre-visualisation is what really sets the platform above the rest; we are in it daily, working on ideas or our next pitch. It allows us to dig into how a show is going to look and gives us a great tool to share our vision with our clients and their teams. We are constantly finding new ways to use it for pre-production as well as show control and integration with audio and lighting - it is a great hub for an integrated workflow.

Q: What are some of the recent projects you have used disguise on?
A: We have used disguise Amazon x Calvin Klein Concert Event, in conjunction with the Schubert Organization and AEG and for the A+E Upfront, where we used the disguise software from pitch to final show.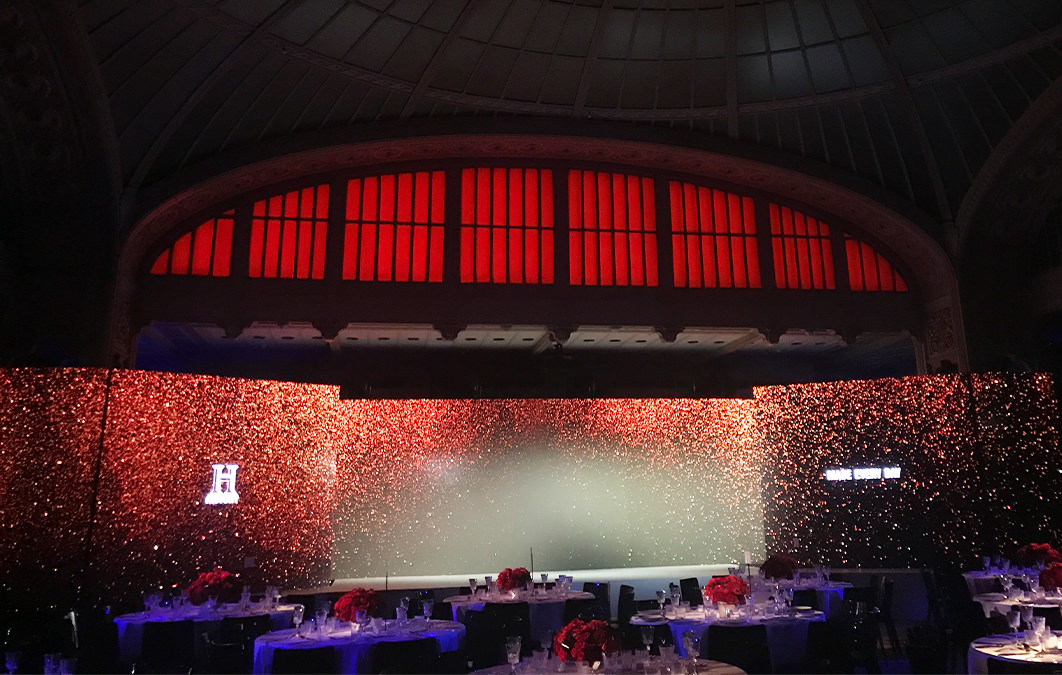 Q: What does the future look like for Boum?
A: It's a great big beautiful tomorrow. Honestly, we are just excited to dig deeper into the disguise software and workflow and keep pushing the boundaries of what we are able to do for our clients.
Q: Why have you invested in vx 4?
A: There were many things that lead us to choose the vx 4 - input capabilities really excited us right off the bat. We do a ton of pitching to our clients and have been taking advantage of the increased inputs in our designs. We are also very excited about the video playback capacity the new machines have. A large chunk of our work takes place in New York which means we tend to be in smaller venues where the throughput quality is noticeable.
Q: What projects are you planning on using vx 4 on?
A: We have begun spec'ing them on many of our projects. For a boutique company like ours, they are incredibly powerful and a great catchall for so many things. We are currently scheduled to have them on a fashion event in late March 2019.

Find out more about the gx range
Get a free trial of the designer software