- 2017
disguise is system of choice for opera companies ac...
As projected content increases on opera stages nationwide, disguise is becoming the system of choice.
The Lyric Opera invested in the disguise solution in 2016, as Lighting Director Chris Maravich adds; "We had another media server in our inventory and had used other brands from time to time, but we were looking to step up to something with increased functionality and control."
We saw a demo of the 4x4pro at Intelligent Lighting Creations and liked the expansiveness of it: One server with many outputs could do four times that of our existing system."
Chris Maravich
He estimates that 50 percent of The Lyric Opera's productions now require a media server.  "Everyone wants to add projections and LED video" to their staging, he reports.
Last season the opera company's production of 'Les Troyens' by Berlioz used their 4x4pro extensively.  "The giant set was on a turntable.  The set wall was 26 feet tall and 70 feet wide, curved and rotating with three projectors focusing on the front or back wall.  The server read information from the Tait Navigator on the turntable and located the right set in space for each projection." says Maravich.
disguise was used for the productions of Mozart's 'The Magic Flute' and Massenet's 'Don Quichotte'.  The 2017-2018 season, which begins in early October, will also utilize the pro range servers in Puccini's Turandot, 'Wagner's Die Walkure' and a new production of Gounod's 'Faust'. "Faust will test a lot of the server's functionality by working with Tait to map and track the moving scenery," says Maravich.
The Lyric Opera maintains a large fiber optic network to connect the projectors, some 300 feet away, to the server and the server to the control consoles.
The 4x4pro is very stable compared to other systems we've seen. It has a large capacity for high-resolution files, which it handles with no problems at all. The 4x4pro has a straightforward design so it's easy to understand how to get content on stage, yet you can delve deep into the complexities of the server if you want to."
Chris Maravich
The Santa Fe Opera has also recently invested in disguise for their 2,200 seated outdoor venue. Their opera season runs through July and August with five operas rotating in repertory.  Last year, due to increasing demand, the company decided they needed to improve the future of video design within their productions. 
"We do 37 performances in two months, so the idea of renting a system, including for tech and rehearsals, was very expensive," says Paul Horpedahl, Production and Facilities Director.  "Ben Piercy and Peter Negrini both suggested switching to disguise for its speed and conciseness in editing."  A demo held by disguise "really sold" The Santa Fe Opera on a pair of 2x4pros, which it obtained from Barbizon, Denver.
The ease of editing has made our team very happy. It's critical that the projection aspect of staging does not take over tech time, which can't be expanded."
Paul Horpedahl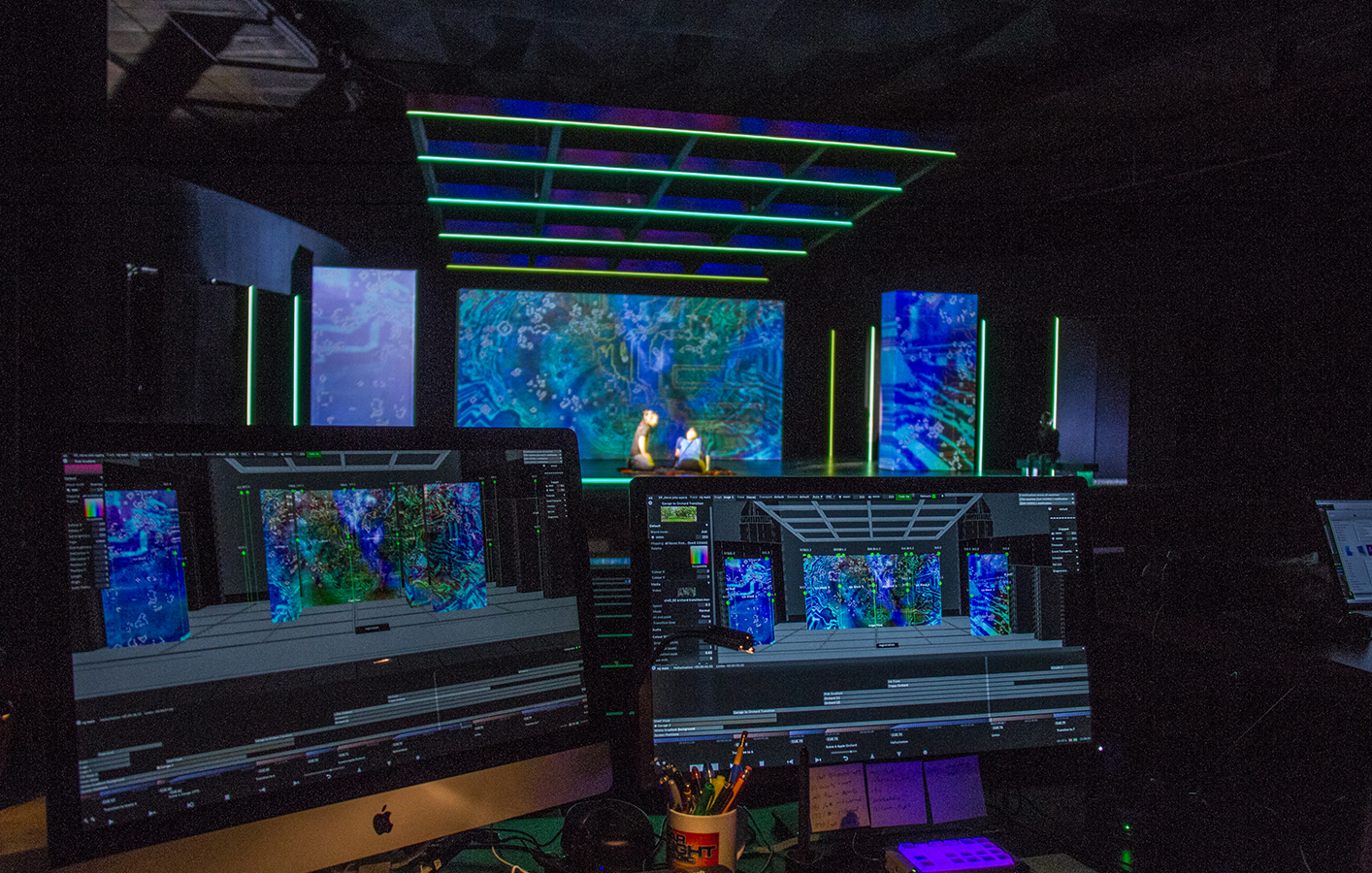 This season, three of the productions were "heavy projection users," says Horpedahl: Donizetti's 'Lucia di Lammermoor', Rimsky-Korsakov's 'The Golden Cockerel' and the world premiere of 'The (R)evolution of Steve Jobs', by Mark Campbell and Mason Bates.
"We used BlackTrax for motion tracking content on panels for 95 percent of The (R)evolution of Steve Jobs, reports Production Electrician Travis Shupe.  Six panels, each about 5x12 feet, rotated and tracked on stage with projections mapped to all sides; content was a combination of abstract and photoreal imagery.
The integration of BlackTrax and disguise worked very smoothly, I was incredibly impressed with what you can accomplish with disguise. It allows a lot of flexibility, freedom and speed. You can accomplish quite extensive and detailed tasks in a short amount of time. Prepping a show offline using the designer software is huge for us, since we don't have much time on stage. I can sit in the office with the design team and the director and we can walk through the show. That's hugely helpful."
Travis Shupe
The Santa Fe Opera's productions have used disguise content versioning and QuickCal projector calibration, too.  "Three of the shows in repertory shared projectors," notes Shupe.  "QuickCal allowed us to do a daily focus, look at the QuickCal points, make adjustments needed in half-an-hour and the show was up and running.  We were quite nervous about having three shows in rep with projectors but QuickCal relieved our anxiety."
The Seattle Opera decided to upgrade its media server in 2015 and acquired a 4x4pro for its annual calendar of five productions staged in The Seattle Center's McCaw Hall.  "A design studio in town recommended disguise and we liked the idea of a single media server that was able to feed all the projectors," says Chris Reay, Technical Manager and Production Coordinator. "For the 2016-2017 season we used the 4x4pro for additional effects in some productions while other shows were specifically designed around projection."
A new production of Rossini's rarely performed 'The Wicked Adventures of Count Ory' was "designed to look like Terry Gilliam's Monty Python animations," says Reay. "An opening animated sequence was projected onto moving cloud panels and the backdrop was projected landscapes."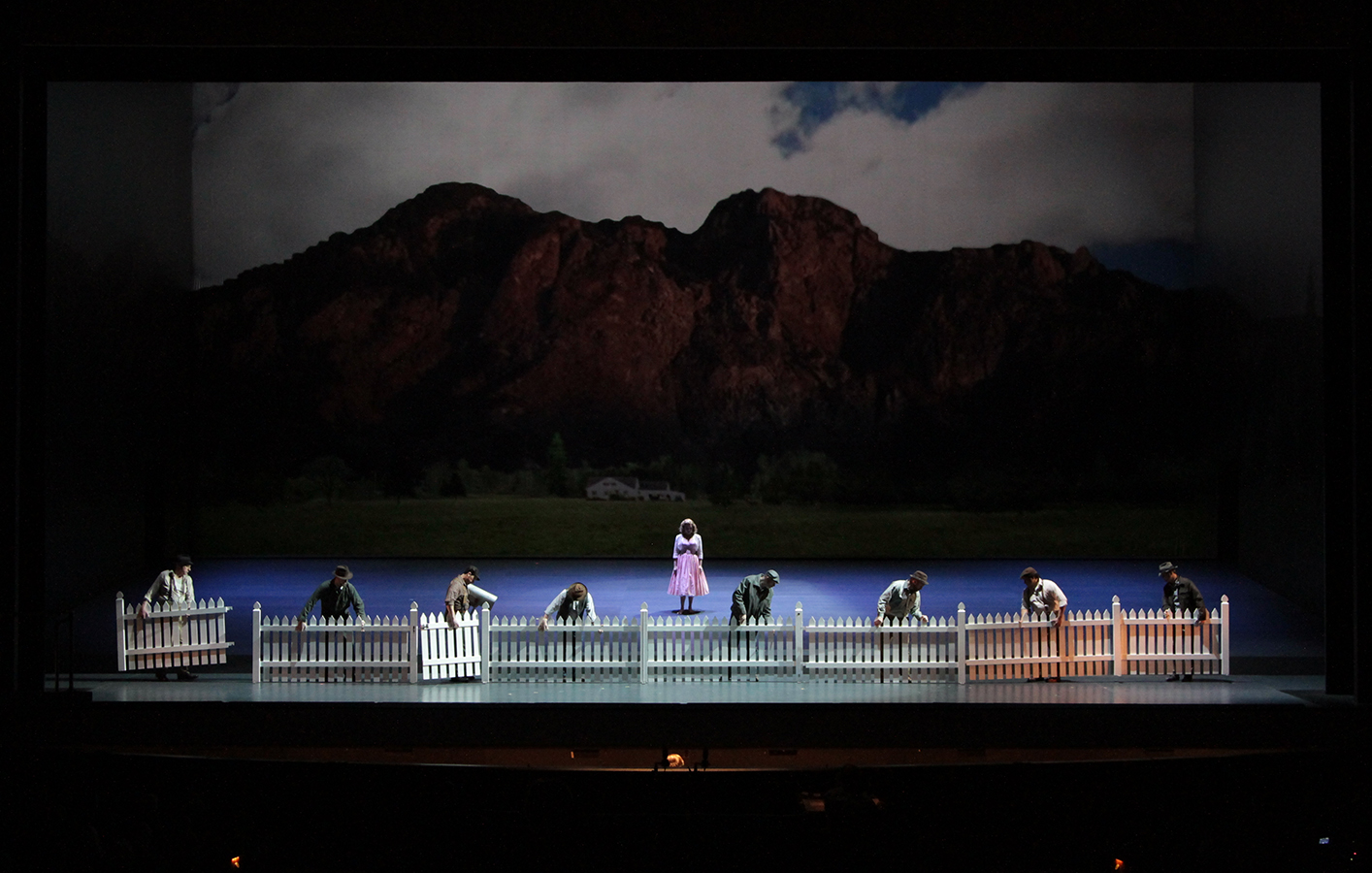 The 4x4pro was used on Humperdinck's 'Hansel and Gretel' when the hapless children fall asleep in the woods.  "It was a very modernist design," says Reay.  "We flew in 10 monitors around the stage and projected a fast-food montage in their dream sequence."
A new production of Janacek's Katya Kabanova also deployed disguise. The set was designed as a large three-wall box with projection on the inside. "It had a very Americana feel with Pacific Northwest imagery of waterfalls, forests and other vistas, the majority of which was footage shot locally," notes Reay.
Disguise's QuickCal feature is proving "very handy because we have limited time in the theatre," which the company shares with The Pacific Northwest Ballet, says Reay. "And 3D modeling also saves us time and money on stage. We previs everything but try to be flexible once we get on stage so we can offer options as the production evolves."
 'The (R)evolution of Steve Jobs' will be coming to The Seattle Opera next season.  "We plan to use disguise's BlackTrax integration for that production," says Reay. "Our 4x4pro is performing well. It's a really great addition for us."