- 2018
disguise unveil brand new HDMI 2.0 VFC card
We are excited to announce our new HDMI 2.0 VFC card, the latest in our Video Format Conversion technology.
Introduced as an accessory to disguise's pro and gx range of media servers, the industry first VFC card allows users to output DisplayPort, DVI, SDI and now HDMI without changing the system, as well as mix signal formats and resolution types in the same project, with guaranteed frame synchronisation and near-zero latency.
The new HDMI 2.0 VFC card enables users to run 4K resolutions at 60 fps. Like the other VFC cards, it features a lock-in connector and enables direct connections to LED processors and projectors without external protocol converters or adapters, meaning increased reliability.
Throughout the development phase, we've been working closely with leading manufacturer of DVI, HDMI and DisplayPort matrix switchers and signal extenders, Lightware, in the testing of the new disguise HDMI 2.0 VFC card.
Read here for their full write up.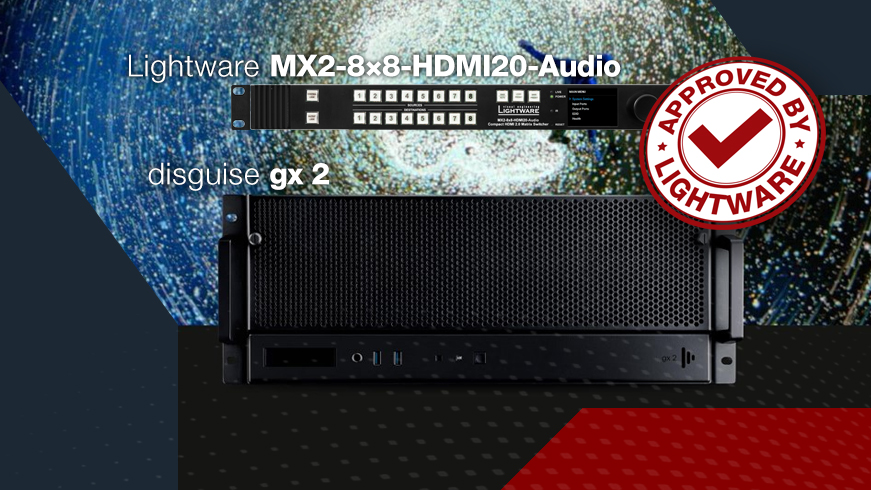 Thyge Haarberg, disguise's Hardware Manager comments "During the process we worked with Lightware on qualifying and interoperability testing for the HDMI card. The Lightware products are the industry standard in display routing and switching so it is a natural step for us to ensure seamless compatibility.
The MX2-8X8-HDMI20 marks the beginning of the next generation signal transport in the entertainment industry and enables native 4K infrastructure. We are excited to see the shows of tomorrow this enables going forwards."
The HDMI 2.0 VFC card will be available for shipping in June 2018. To enquire, please email: sales@disguise.one.