Partners - 2020
In conversation with Steve Cain
There is no time like the present to celebrate the wonderful community of designers, programmers, operators and partners across the globe. So we sat down (virtually) with Steve Cain of TDC Australia, to talk about some of his most memorable projects such as projection mapping on the iconic Sydney Opera House, to live concerts, TV broadcasts and theatre...
What are some of the most memorable disguise projects you have worked on?
I have done so many now, this is a tough question… I have a few shows that are memorable for different reasons! One would have to be the TV show 'Game of Games' where we used disguise as the gaming engine as well as for content playback. It was the most intense timeline and SockPuppet project I have programmed to date. Second to that would be Schools Spectacular, where I really use the 3D workflow and creative mappings to composite on the timeline, incorporating Blacktrax and Notch, as well as Kinesys Automation tracking with more Mapps and a cast of 5000+.
I also love the challenge of doing one off events such as VIVID Sydney and White Night Melbourne lighting festivals, and New Years Eve in Sydney Harbour, where we have projectors and servers scattered all around the harbour, whilst running them all from a central location. 
But I think my favourite would be The Voice Australia, specifically the live shows! That's where I really get to push our gear to the limits. Besides traditional content, I do so much pixel mapping, Notch generative content, automation, tracking of the set and performers, insane projection designs, not to mention mid-show relocations and a heap of SockPuppet from a GrandMA. It's a real rush and I love it.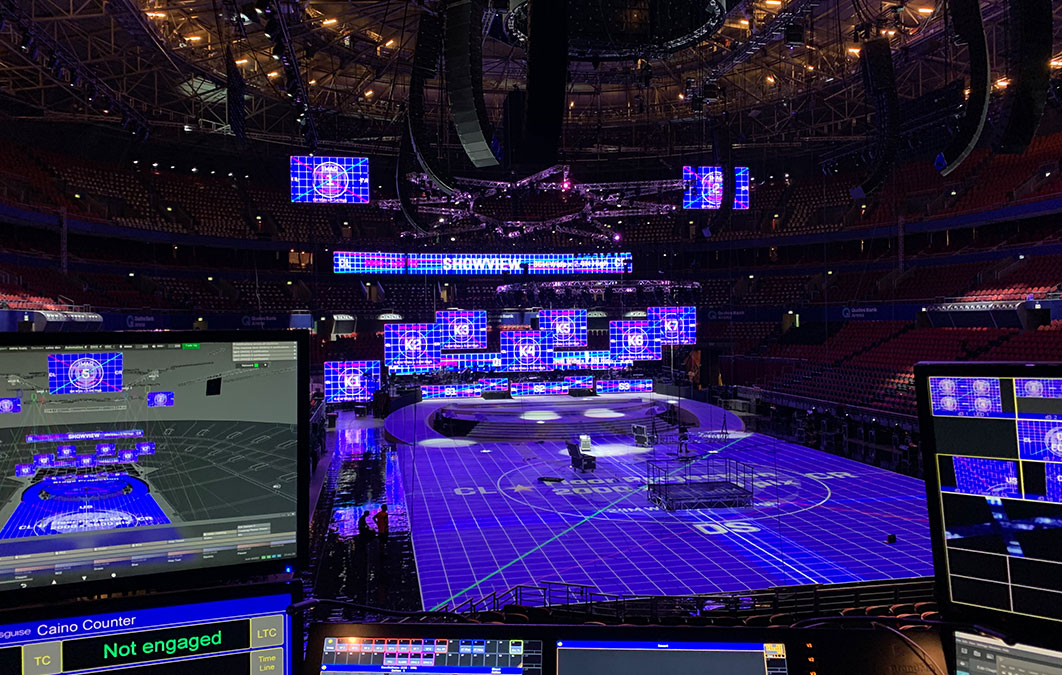 How is video shaping live events in Australia? Do you see any differences to other places in the world?
Video is on a steady incline in Australia, especially with outdoor Architectural Mapped Projection and Interactivity. I can see this is happening a lot more in Australia, and lucky for me, that's one of my specialities.
I think video on a whole is growing, and taking on roles of lighting as well, especially in some of the large theatre projects I do, we've been using projection and disguise 3D mappings to light set pieces in ways that theatre lights just can't do, such as detailed shapes, textures, etc.    
Tell us a bit more about your work on Vivid Sydney over the years… how did disguise fit into the workflow and enhance the technical delivery?
VIVID is one of our proudest projects we do annually, and I am very fortunate and proud to be the Projection and Server Designer for the vast majority of the buildings. When I started on VIVID 9 years ago, it was a lot smaller, projectors were not as powerful, media servers were mainly 2D based and we never really could work in a 3D world. 
Over time, the designs and systems have evolved with technology advancements, and now all the challenging shaped installations I run on disguise, such as the Sydney Opera House, The Museum of Contemporary Art, Taronga Zoo, Argile Cut Customs House and the Sydney Harbour Bridge, are done in a full 3D workflow. 
I use a heap of disguise's features to do this project, and I'm so proud to have been able to work closely with the disguise R&D team to give ideas, feedback and develop some new ones too! Thank you, disguise!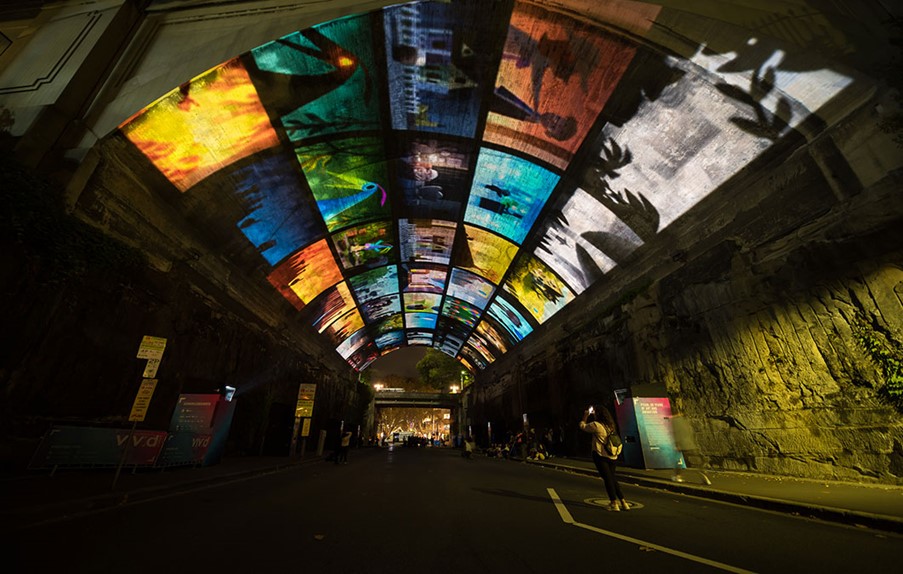 Vivid 2019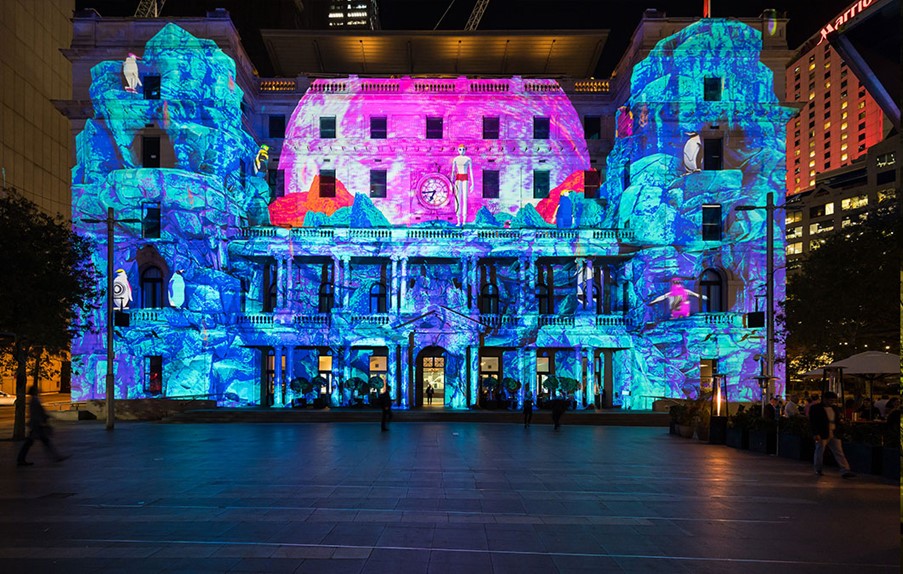 Vivid 2019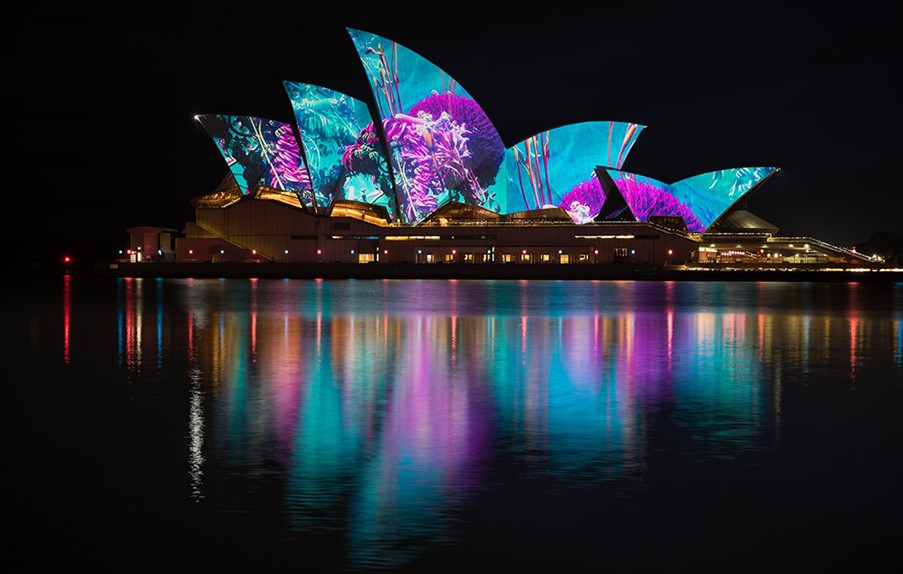 Vivid 2019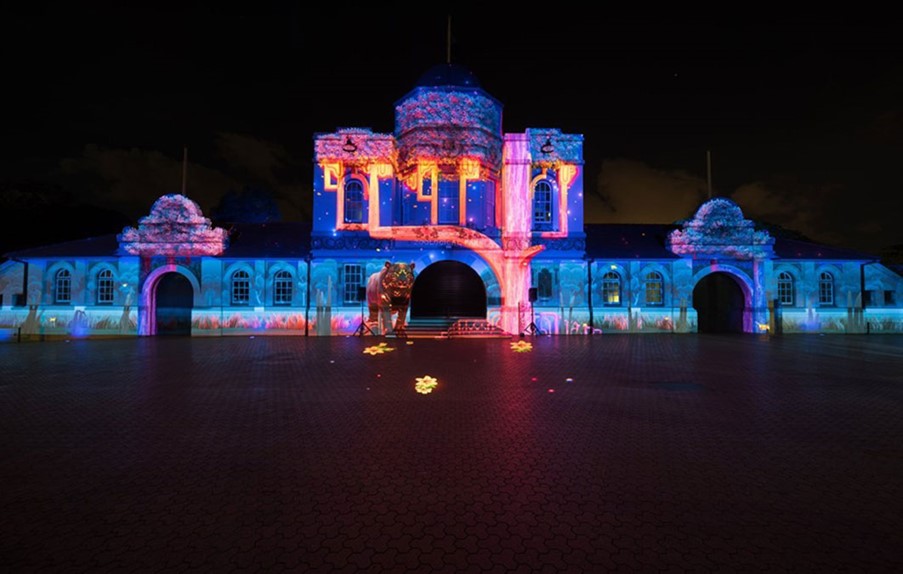 Vivid 2019
You were one of the first disguise users to use OmniCal when it launched two years ago, tell us about that?
Yes I believe I was the second show in the world to use it. I think my friends on the London Theatre scene used it on the first show, however I used it on the first Live Audience & TV Show, The Voice, Australia, which was an amazing achievement for me!
This was a total game changer - what I could do for the show and the producers. What people don't realise at home is when we go to a commercial break, the studio goes mental!!  There are crazy set changes for the next song, and for me that can mean relocating 5 or 6 projectors and lining them up in 3.5 minutes while we are counted back out to live. 
OmniCal combined with a very accurate 3D workflow, and SockPuppet helps me make this possible. I recall scenes, warpers, timelines and rig checks song for song. It is full on and I love it.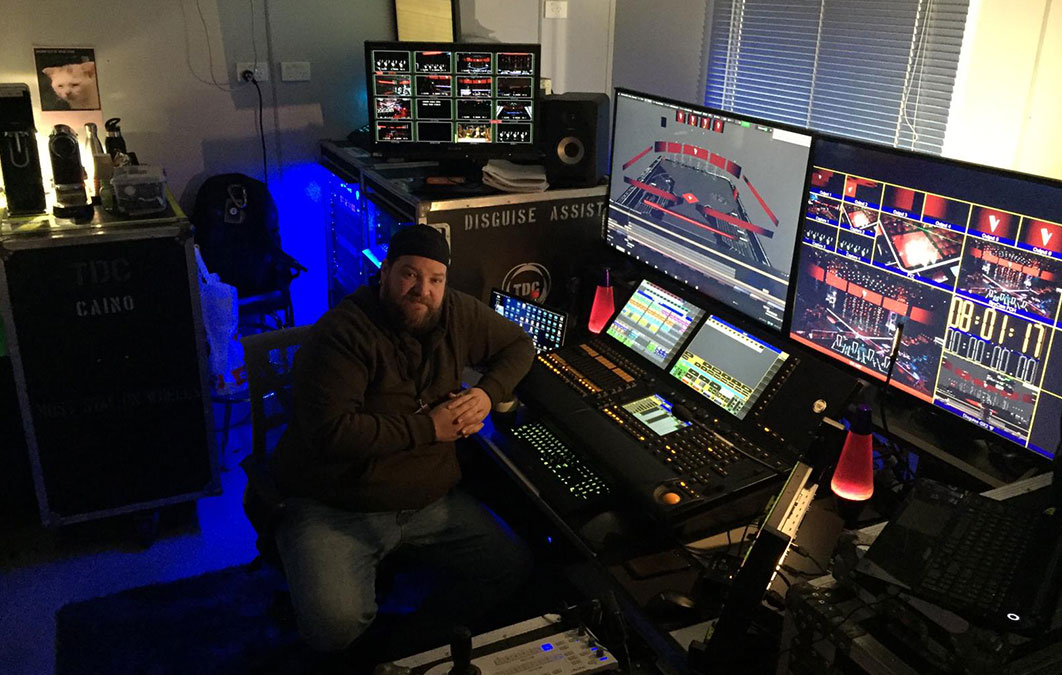 TDC have a pretty impressive pre-vis space - tell us more about it?
Yes here at TDC Sydney head office, we have custom-built a full disguise driven pre-vis and programming studio. We really wanted to offer our clients a nice place to come to a relaxing environment to program their show and discuss anything we need well before heading on site. 
We even have it all working with 180° projection, 4K monitors and VR headsets to walk around the site, check sightlines, LED screen pixel density, anything really. Our clients love it, TV Producers block camera shots in there too, without the need to turn on the OB truck, it's a great space. I was inspired to do this after I spent almost a month in London at disguise HQ back in 2016 when I was training to become certified as the APAC Advanced Trainer. While there, we had many discussions, visited a few Studios and seen what was out there, and I drew it up on the flight home! 
As a key person behind projection mapping on one of the biggest landmarks, tell us about your most memorable projects with the Sydney Opera House?
This is a very special place for me, I am so fortunate to have lined this beautiful iconic building about 15 times now, more than any other person I believe. We do it every year for VIVID, however, have also done it a number of times for other events such as the Royal Navy Fleet Reveal, Celebrating Australian moments, Invictus Games, broadcasting Sydney Orchestra live on the sails from them playing inside, all sorts of things.
The most memorable one, however, would be very recently where I had only 2 hours to install and line up 16 projectors on dusk, to put a message of thanks up there for all the firefighters who helped in the 2020 disaster. If it wasn't for the disguise 3D workflow and accurate model I have of the harbour, this would not have been possible in this time frame.