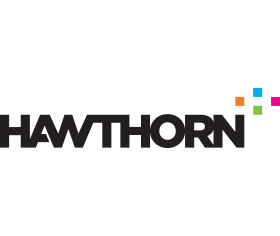 Rental partner
Hawthorn
Hawthorn are award-winning creative technical event production experts – it's their job to make events look and sound amazing. And after nearly 30 years in the business, they really know their stuff.

Named by the London Stock Exchange in 2015 as one of the '1000 Companies to Inspire Britain', Hawthorn believe every event should be an incredible experience. Using the very latest event technology, they create spectacular bespoke technical solutions, in the UK and beyond.

Whether you're looking for a slick conference production, an exclusive experiential showcase for a global brand or putting on the party to end all parties, Hawthorn will work alongside you to bring your vision to life.

They can install equipment in venues and when you need the kit and not the whole caboodle, their renowned hire service – with its huge range of lighting, sound, video, staging, rigging and drapes – can help. Hawthorn sell equipment from leading manufacturers too.

Based in Leicestershire, London and Cambridge, with cutting-edge gear, an ingenious team and an unwavering focus on quality, they're proud to deliver a truly amazing service. And that's why many of their clients choose to work with them again.