blog 2023 2 min read
Feld Entertainment brings enchanting Disney On Ice performances to life using disguise
For over forty years, Disney On Ice, produced by Feld Entertainment®, has provided families around the world with the opportunity to experience the magic of Disney up close and right in their hometowns. In 2022, Disney On Ice invited families to step inside the magical adventures of Walt Disney Animation Studios' Frozen and Disney Animation's Encanto, as they came to life like never before in Disney On Ice Presents Frozen & Encanto. This adventure on ice transports fans into two of the most popular Disney films as audiences can sing along to their favourite songs while embracing world-class ice skating and aerial acrobatics. Wanting to capture the chilly scenery of Frozen's Arendelle as well as Encanto's vibrant Colombian locale, Feld used disguise solutions to bring their vision to life.
Feld has been using disguise technology to create digitally projected sets since 2014 and knew how to make the most of the tools at their disposal. For this show, they used one disguise Solo acting as the director server and two disguise vx IIs acting as actor and understudy servers. They also found disguise's OmniCal helpful for their six-camera setup.  
The biggest challenge that Feld faced, however, was incorporating colourful video projections with their physical sets - in particular, a pair of doors that towered over the back of the staging area. These doors frequently opened and shut throughout performances, allowing ice-skating cast members to join the action. They are also set at a sharp angle, leaning away from the stage, and creating an extra obstacle for the team looking to map their projections.
"The doors pivot from the top," says Chris Lamb, Director of Lighting and Video Operations at Feld Entertainment, "so getting an unobstructed view of the beacons so we could properly map them in any position took some thoughtful planning."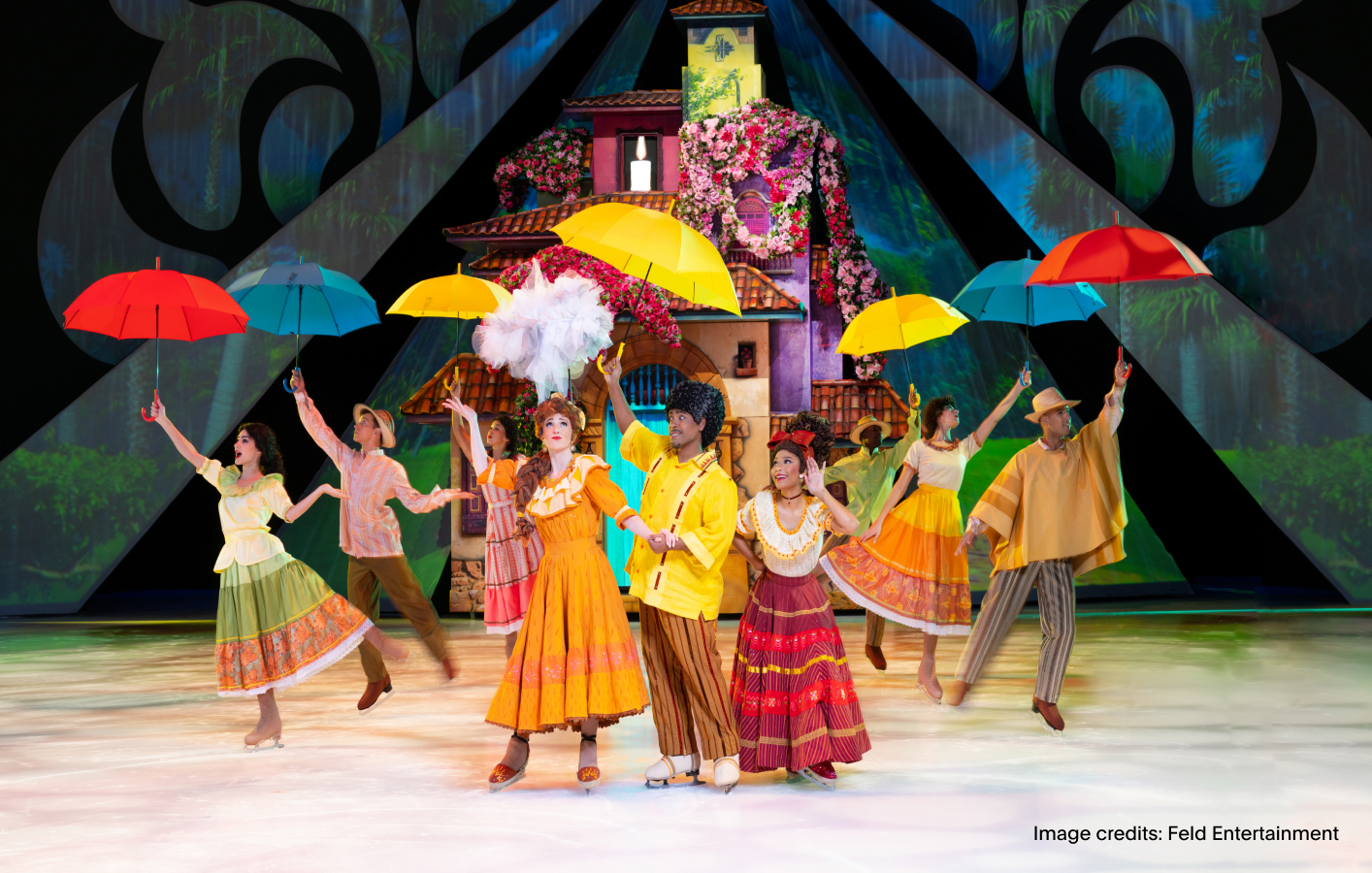 The team quickly found a solution in disguise's OmniCal system, which allows production teams to use camera-based calibration. Using structured light patterns, OmniCal makes it easy and simple to calibrate the relationship between projection surfaces, projectors, and cameras.
"OmniCal really helped speed up the load in process," says Lamb. This was a key benefit for the touring show, allowing the production to set up quickly and efficiently in each new venue. 
disguise's workflow has also been built to work smoothly with other tools, including BlackTrax, which Feld used to track the movement of the doors during the show. This enables content to move smoothly, looking great even when projected across the steep angles of the doors.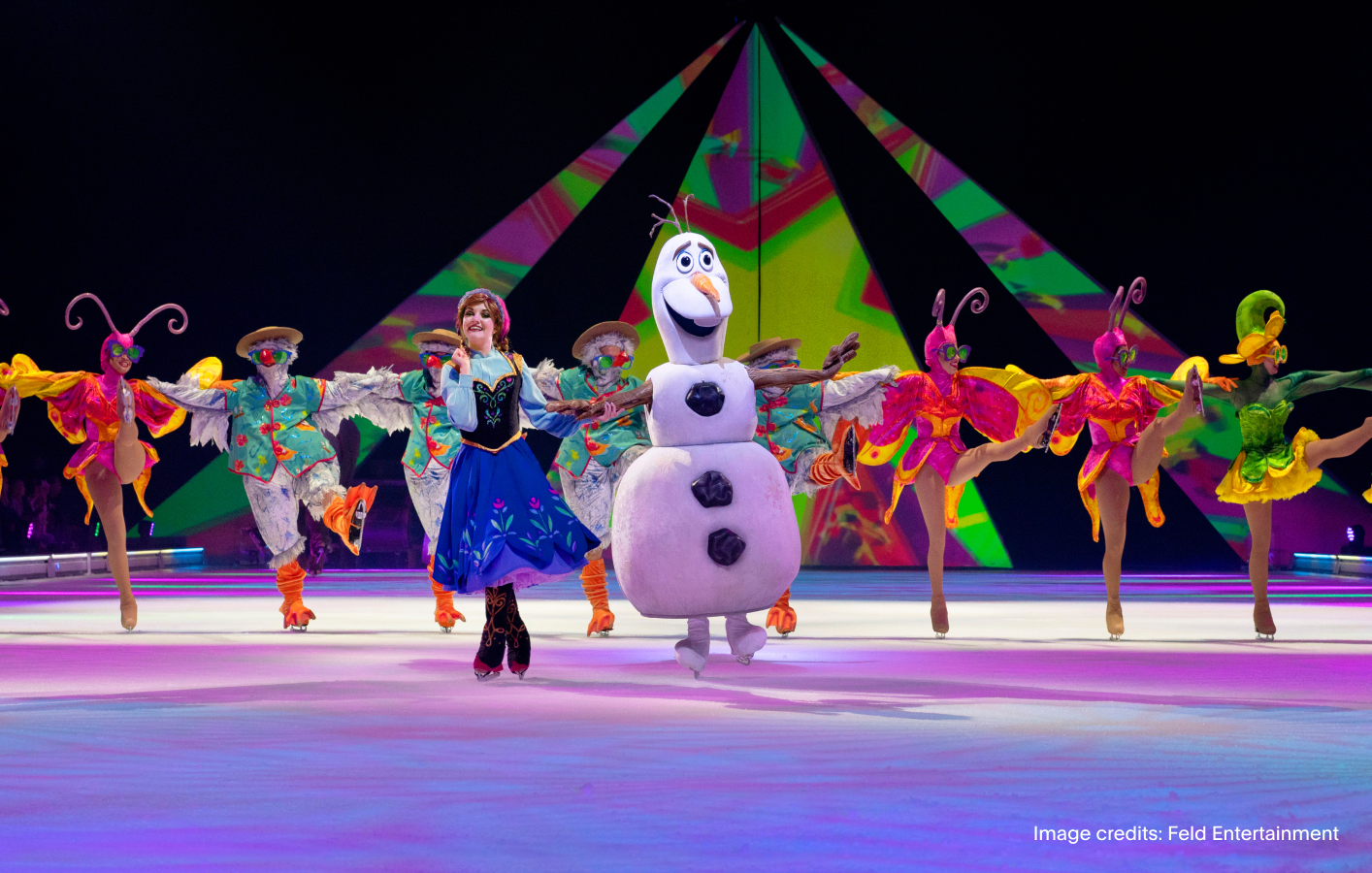 The final result was a natural extension of Feld's longstanding use of disguise in their Disney On Ice productions. Building upon the sets of the company's earlier Frozen show, disguise tech powered an impressive visual display that is adaptable enough to be taken on tour to arenas across the United States. Most importantly of all, it enables audiences to be totally immersed in the two very different worlds of Frozen and Encanto.
Discover how disguise vx 2 servers can help your next production