blog 2021 4 min read
Five things we learnt from our r18 deep dive webinar
r18 was created to enable users to tell their best story, and we were able to show our community the nuts and bolts of the new system in our latest webinar, 'A Deep Dive into r18.' with Global Technical Solutions Manager Peter Kirkup. Here were some of the key points included in Peter's webinar demonstration:
1. Easily build the set in disguise
disguise's new r18 release offers flexible and adaptable software to replicate the studio space - allowing users to plan both set and camera positions, as well as add drivers, devices, and automation. Once the digital replica of the studio is set up, users can easily map the pixels to the physical outputs from servers by dragging and dropping the pixels onto an output. The streams can then be previewed from the camera's point of view.
Users can then create a Mixed Reality (MR) set, which links the virtual and real worlds through a single object — tying the LED screens and cameras together. They can add a target camera through a controller that can be driven by a vision mixer, list picker, or through OSC (Open Sound Control) data.
Within disguise's r18 programme, users can quickly create an overview of the real and digital world and link it together.
Learn more about the r18 and its features
2. Calibrate fast for perfect coordination
The MR set also handles all the calibration in order to fine-tune the camera and LED screen locations. The delay calibration tool allows users to find out how long it takes for a signal to reach the LED processor and back in through the camera. The spatial calibration uses points on the LED screens, also known as 'blobs', to triangulate and learn where the camera sits in the 3D space.
Calibrating for zoom and focus levels work in a similar way, allowing for a smooth zoom in or out and a smooth transition between the virtual lineup and the real camera.
In this way, r18's single capture allows fast, automated calibration for perfectly aligned screens.
3. Sync up seamlessly with Unreal Engine
Full interoperability between Unreal Engine and disguise makes for headache-free content creation process. r18's new RenderStream feature is very easy to plug into Unreal Engine, as it's designed to have minimal interference. RenderStream is then added into the timeline in disguise, along with the content assets, allowing you to rotate, zoom and extend your set in order to get the backdrop you need.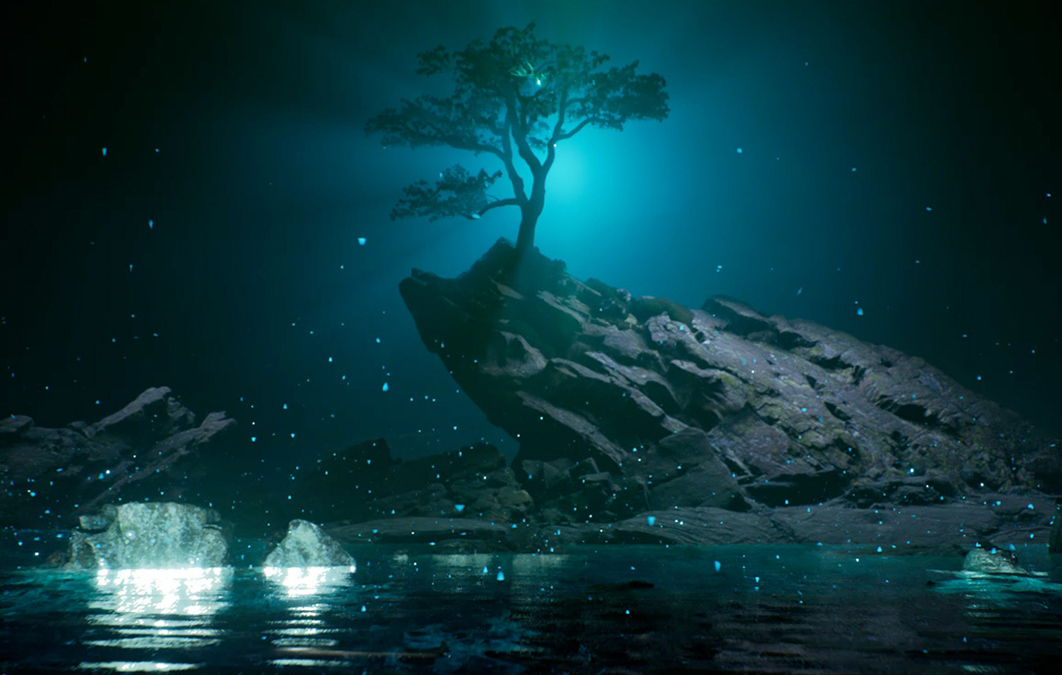 4. Perfect set extension and colour matching
disguise's virtual set extension feature extends the look of the set infinitely - filling the gaps beyond the LED screen. Content is rendered from the camera's perspective — allowing it to 'see' beyond the borders of the physical LED screens. The new colour calibration feature accurately replicates the source content, learning the pairing of the camera sensor and LED screen, and producing a LUT file to allow the virtual world and set extension to match perfectly.
In addition, we have integrated an end-to-end ACES pipeline that allows users to match input and output transform objects to give them total colour control.
This automated, fast colour calibration takes the guesswork out of colour matching, creating a complete world in seconds.
5. Cluster rendering provides the power to deliver real-time content, with any parameter, at any scale.
One of the most exciting features of r18 is cluster rendering, which allows multiple channels (or render nodes) to feed different screens or cameras. This means users can set up different render plates for different objects, including front and back plates — whatever is needed for the project. Cluster rendering can scale up render power, track performers, augment reality, and is infinitely scalable without compromising quality.
Parameters are available to keyframe within disguise, which means users can make details appear or disappear at particular points in time, or link to an external control to toggle on and off manually.
Cluster rendering also allows users to expand the render canvas to large resolutions, boosting render power so users don't have to focus a single node on the task, but can instead split cameras in multiple ways. This allows for multiple streams of different plates to be brought together and all graphic elements to be synchronised across a huge network.
"We're really proud of our latest release, and how much more flexibility, scope and scale it allows our users: not just in terms of the features and power of the technology, but also in how accessible it is to more members of the creative team," said disguise Global Technical Solutions Director Peter Kirkup.
Learn more
If you would like to know more about r18 and xR, there are plenty of opportunities to get acquainted:
Create your best story by downloading r18
Take advantage of limited free access to disguise's latest software release
Learn how you can use xR in your next project by booking a demo
Access our free e-learning platform to get acquainted with our Virtual Production and xR Workflows courses