blog 2021 5 min read
Got Zoom fatigue? How to spice up your next virtual conference
Over a year after the pandemic, brand event organisers have unlocked new opportunities to appeal to a broader, global audience via webinars and Zoom. Often, this meant hastily upgrading a Zoom subscription to accommodate a large audience, and a succession of speakers dialling in from their spare bedrooms or kitchen tables. In this environment, it's been a struggle to create the same buzz for attendees. According to a recent study, nearly half of professionals working remotely (49%), report they suffer from 'Zoom fatigue.' Luckily, new technology has a handy solution.
Extended reality makes remote conferences more interesting
Extended reality (xR) or virtual production is the overarching label given to technology blurring the line between the physical and virtual worlds. It goes a step beyond green screens, creating virtual spaces that are truly immersive and can be changed at the flick of a button. 
Photorealistic images generated by powerful graphics engines, like Unreal Engine are projected onto LED surfaces in real-time - immersing presenters and the viewers at home in a whole new world. This immersive graphics content can be rendered from the camera's perspective - updating graphics as the camera moves. What we see on screen is now a 3D scene extending far beyond the LED walls in the physical space. 
Presenters for any brand activation or corporate event can now present from the stage just like they would in person - minus the expensive construction costs. Build an xR studio once, and you have access to virtual scenes all around the world. 
Visionary event planners in the corporate world are beginning to harness the possibilities of extended reality to create unique, enjoyable, and immersive experiences for their audiences.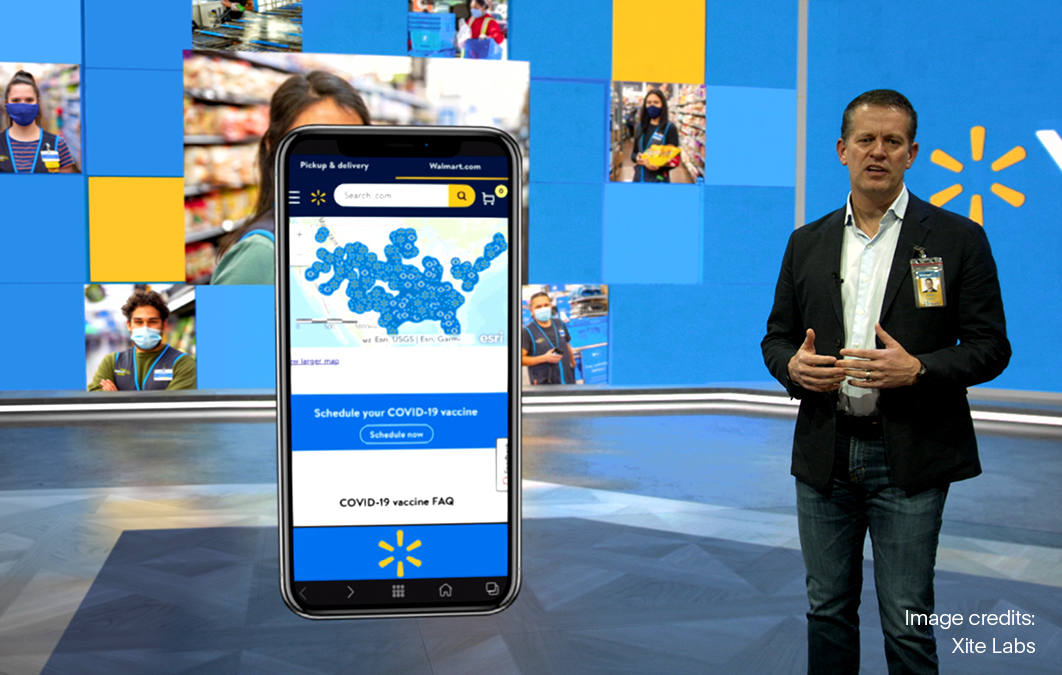 Benefits of using xR for your virtual events
1. Better graphics and visual aids for presentations
The technology also allows for 3D graphics to be projected into the space that presenters can refer to and interact with like, for example, data sets, plans, maps, models or footage. Instead of saying "next slide please", thanks to Augmented Reality (AR) elements, presenters can touch the data and refer to it as if it were living in the space with them.
2. Bring remote speakers together
Many people feel that virtual events are not the same as physical ones, as their interactions with people are reduced to a chat over an internet platform and a faulty Zoom connection. Extended reality can change this. Presenters can be placed into a virtual studio that they can see and interact with, and that allows for presentations, interviewees or panellists to be integrated into the space as though they are on a TV screen in a physical studio. 
With the right technology, you can even "teleport" presenters from different parts of the world to be together on stage and interact with each other as if they were actually there! xR can be achieved for both small and large scale events. 
3. A natural performance from presenters on stage
Presenting with xR technology does not require professional media training or any expertise using technology like green screens etc. Presenters can see the virtual world on the LED panels surrounding them, allowing for a more relaxed and confident presentation just as if they were presenting using PowerPoint. 
4. Drum up excitement for your brand 
Event organisers are able to create a colour-accurate, branded environment with the click of a button and offer a far more engaging and visually interesting virtual event or remote conference.
5. Reach newfound audiences
In the past year, for many event organisers, virtual events have provided access to a global audience that was not available before. Even once we are able to get together again, event organisers can still take advantage of this by using extended reality in a hybrid online/in-person event. This allows them to reach new locations across the globe they had not thought possible to engage with while still creating an engaging experience for those at the event.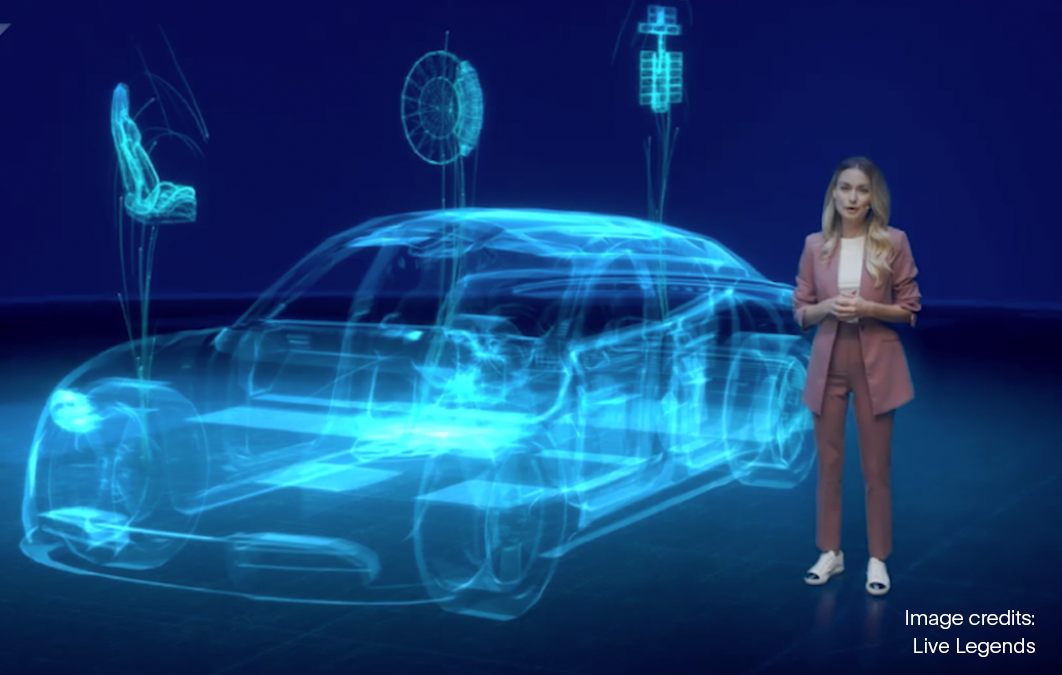 Real world examples of corporate xR experiences
Software company SAP recently used xR for its Sapphire Now conference to create and move between virtual worlds. With a custom disguise xR setup, presenters could virtually teleport seamlessly between immersive sets, from home, to inside a factory, while using creative data visualisation in a way that would be impossible on a normal stage. Virtual conferences can thus create an engaging alternative to in-person events by creating a unique visual space.
Walmart used xR to make their annual Investor Community Meeting (ICM) and Year Beginning Meeting (YBM) go virtual (and viral) in February 2021. The extended reality presentations which visualised data in 3D graphics achieved 33 000 Youtube views for the ICM meeting - engaging investors, customers and employees. 
Siemens hosted 8,000 customers from 90 countries at their Digital Enterprise SPS Dialogue virtual event. xR powered the virtual showroom, which featured 56 exhibits in 12 topic areas, more than 130 product presentations and 3 real factory showcases. In addition, there were 21 stage presentations with 38 top-level industry speakers. The event was a major success with a total of 8,000 customers from 90 countries dialling in.
All these experiences had one thing in common: they were powered by visual experience technology platform disguise. 
How disguise makes xR accessible
disguise is a global leader in xR. Our award-winning xR workflow has enabled over 300 productions in the past 12 months including corporate conferences for enterprise businesses like SAP, Walmart and Siemens. 
If you want your next virtual event to be more than yet another Zoom call, consider using extended reality. The photorealistic graphics are sure to be more engaging than any PowerPoint presentation. 
Download 'Now is the time for xR' infographic