blog 2021 4 min read
In conversation with 3D Graphics Expert Sean Bowes
Sean Bowes is a Motion Designer and Video Jockey specialised in 3D and real-time animation. We caught up with him to discuss how new capabilities in extended reality are changing the game in graphics for live music.
Sean has worked on the graphics for various concert performances, some of which include the Shakira El Dorado World Tour, Tyler the Creator's performance at the 2020 Grammys, the 2020 MTV Video Music Awards and the Billie Eilish: Where do we go? Livestream. He also has his own Youtube channel, showing a behind-the-scenes look at his latest project and tutorials on his favourite software, one being disguise's r18 software.
Describe your switch from live events to xR. What motivated it and how are you finding it?
At the beginning of 2020, Notch was starting to take over my workflow for creating content for live events. Real-time rendering and the ability to modulate parameters in real-time felt like the natural evolution of my work as a 3D artist and Video Jockey. 
When Covid-19 caused events to disappear practically overnight I suddenly had a lot of time on my hands and was looking for opportunities. I started working with Drew Best (Immanent), Mike Ohsann (NightLight), and Lee Duck, PJ Carruth and Morgan Embry (Duck Lights) to explore virtual concert concepts and learn virtual production workflows with disguise, Unreal Engine and Notch. I spent several months studying and experimenting with them before connecting with JT Rooney and Michael Hernandez at Silent Partners / XR Studios. 
Coming from a projection mapping background, I had always dreamed about projection mapping that worked with a dynamic viewing perspective and my first impression of xR was 'wow this is the next level.' It is the intersection of so many pieces of technology that finally makes that next iteration of visual magic possible and it is really cool to witness. The immersion in the visuals compared to other workflows is so much more interactive for everyone involved in the production.
Tell us about your Youtube channel. What motivated you to start it?
I started posting to Youtube as a way to share knowledge about what it's like to work in the live visuals industry and how to create animation for concert visuals.
As I started using more specialised tools like Notch I noticed a gap in what video tutorials were available, so I started posting a few of my own. That type of content started gaining traction and I really enjoyed the interactions I was having with viewers showing their appreciation and asking questions in the comments. The feeling that I was actually helping people learn through tutorial videos, the same way I learned so many of the skills that help me make a living doing what I love to do, is extremely rewarding and motivates me to continue sharing what I know.
Watch Sean's r18 RenderStream Youtube tutorial
How did you first discover disguise?
I knew about it as a destination for the content I was making for shows but hadn't used it myself until 2020 when the free Designer software licences came out. I thought that it would be beneficial to get a broader perspective of how shows can work. I was also curious to try out the virtual production and xR workflows so I started learning the basics.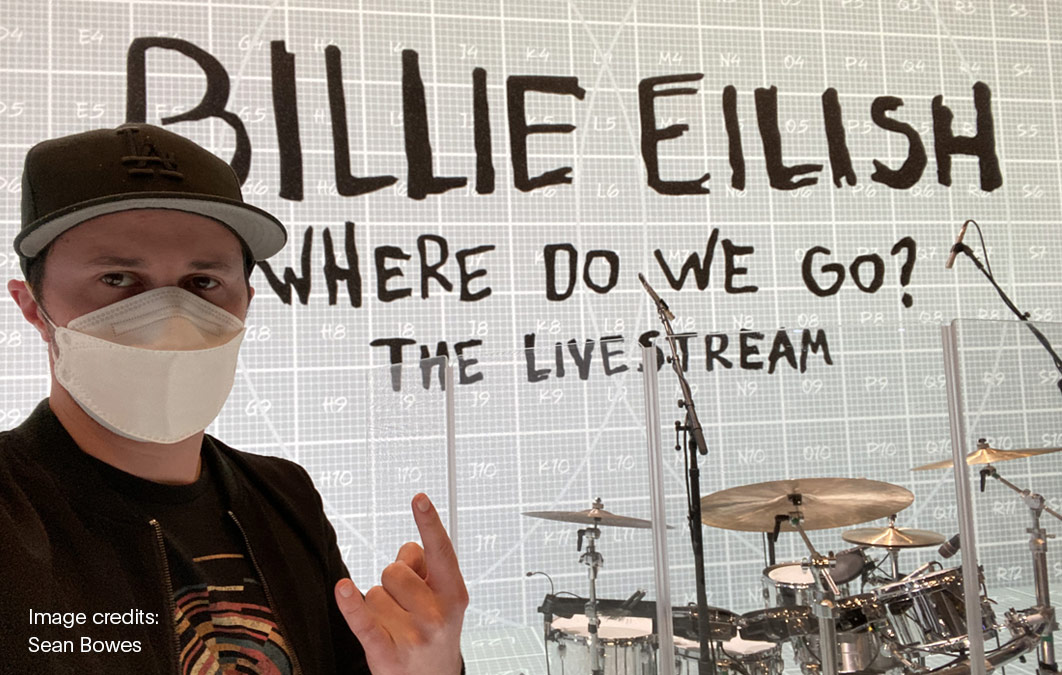 What are your thoughts on the new r18 release?
The r18 release is a significant upgrade from the previous beta xR workflow. It is a lot more polished and reliable from the Unreal RenderStream side of things. The setup on the Unreal side is also much simpler. It makes nDisplay cluster rendering extremely easy to implement, and the addition of the Maps scene selection mode gives you a lot of options for running your show. The new Maps mode also makes loading complex maps super simple.
As an artist, the ability to use multi-user editing in r18 to make live adjustments as a team is a huge improvement over previous versions. 
Learn more about the features in disguise r18
What advice would you give someone who is just starting out with xR?
Surround yourself with smart people. Check out the forums for Unreal Engine, disguise, xR, and Virtual Production topics. 
Learn your specialty, but also start to learn the tangential elements that touch your specialisation because xR is an extremely interdependent process. There are a lot of pieces coming together to make the system work, and the creative process is much less linear when changes can be made live on site. Communication and understanding between departments is crucial to the success of a project. Learning as much as you can about the parts that interact with your specialty will help you make the machine run as smoothly as possible.