blog 2021 3 min read
Making the connection: Unreal Engine 4.27 and disguise
Epic Games has just launched its latest software release, Unreal Engine 4.27, with new features that will empower creators to generate amazing real-time graphics. disguise users are able to take full advantage of 4.27's newest features from day one using disguise's direct connection to Unreal Engine. We spoke to one of the main drivers of this integration - Global Technical Solutions Manager at disguise, Peter Kirkup - on what this means for Unreal Engine and disguise users.
What is the 4.27 release?
4.27 is the next generation of Unreal Engine. Amongst the many new features in the new release, major updates to their in-camera visual effects toolset mean that 4.27 is geared towards empowering the virtual production industry to easily create pixel-perfect graphics with cinematic quality.


Why is 4.27 significant for disguise users?
disguise is committed to helping our user community make full use of the latest and greatest in visual storytelling technology. We also want to simplify these workflows as much as possible to give users full creative control without heavy technical work. Through disguise's RenderStream infrastructure, our users can create RenderStream output streams onto Unreal Engine projects allowing them to make real-time content changes directly from disguise's software interface Designer. 
Our latest r19 software release enhances this vision with features like dynamic control with remote textures, streamlined workflows and 3D object transforms. Users can now bring live imagery and video input from Designer into Unreal Engine as well as synchronise tracked objects with 3D object transforms for free object rotation.
Ahead of the much-anticipated 4.27 release, we updated our plugin to allow disguise users access to Unreal Engine 4.27 from day one of release. This ready-made solution and seamless connection meant that disguise users didn't need to wait for added configuration to start making use of the new 4.27 features. 
We want to ensure our users have access to the bleeding edge of Unreal's new technology to enhance their production.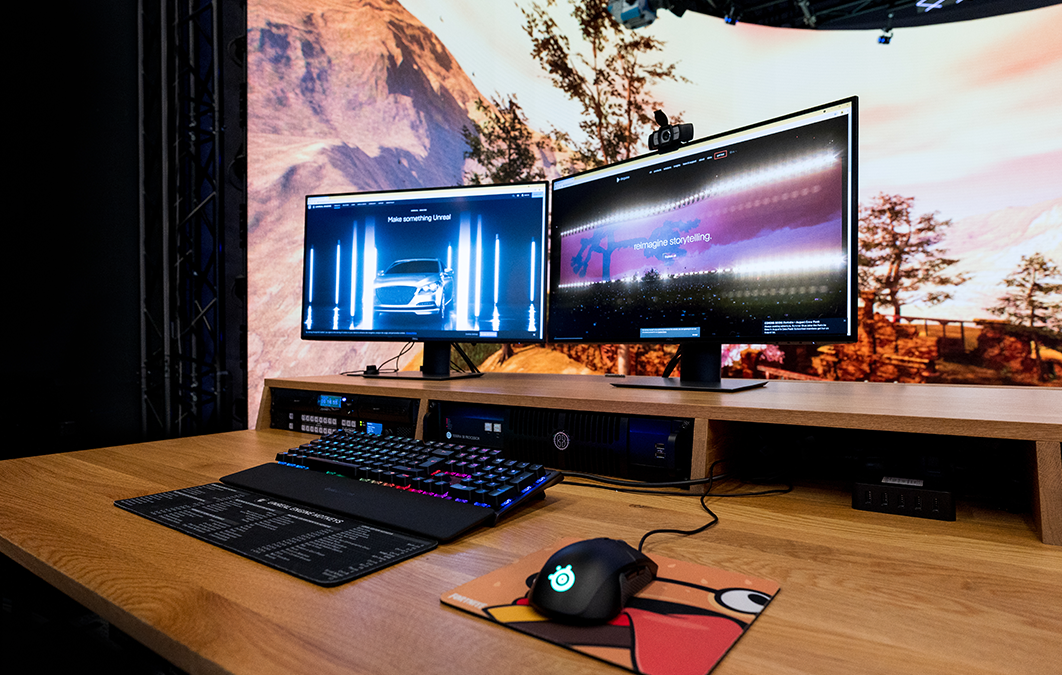 Tell us about disguise's relationship with Epic Games
In 2020, Epic Games backed disguise with a MegaGrant to advance our integration with Unreal Engine and embark on groundbreaking new research to change the way real-time content is delivered. 
The first step in this partnership saw disguise become a native platform for the delivery of Unreal Engine content in xR projects. disguise now offers 'vanilla' Unreal Engine to our users so they don't need to make any modifications or use additional plugins. They just download the latest version of Unreal Engine and start creating. 
We have since been working closely with Unreal Engine's development teams to create solutions for ultimate real-time content delivery across virtual production, broadcast, live events, corporate communications and many other applications. 
disguise had exclusive, early access to the pre-released version of 4.27 around two to three months ahead of launch, giving us enough time to develop the plugin and make it user-ready in time for release.
We have also created a customer advocacy board to shift how new technology gets developed. Epic Games is an active member. Both companies are already building key insights into new features coming soon in our respective solutions.


What makes this integration exciting for you?
Having RenderStream connecting to Unreal Engine 4.27 from day one. It is rewarding to be able to give our customers the right tools the minute they want them. Hopefully, with this toolset, we will begin to see some amazing productions. I can't wait for that. 


How can users immediately take advantage of Unreal Engine 4.27
Follow these simple steps:
Download or make sure you are running disguise r19
Download the latest 4.27 plugin from disguise
... and get creating!

For those who want to get involved with Unreal Engine 4.27, you can stand a chance to win $500 of Unreal Engine marketplace credits and a joint disguise and Unreal swag bundle.