blog 2021 6 min read
Master disguise with our new elearning modules
disguise's Global Training Manager, Chris West, answers our questions about the new elearning offerings and learning platform to hopefully inspire you to bolster your knowledge of our software, hardware and workflows.
---
Why did you select a blended learning approach and what are the benefits?
Chris West: The first thing I did when I started at disguise was to ask: "Why do you want elearning?" The trainers said that while classrooms were full, participants were from different backgrounds with varying knowledge. We found that having some pre-learning before they got to the classroom helped those less familiar with our workflows. The trainers also wanted the ability to offer learning at the user's own pace. This was key. That's why our face-to-face training courses are now one-day courses. People can take as many as they want depending on their learning speed. We landed on blended learning when we added elearning to physical teaching. This is the ultimate learning method as it allows you to create the journey that suits you. We're not getting rid of face-to-face as an option. If anyone wants to do pure face-to-face training, we can still offer it, but what you can't do is elearning alone. It's just not possible as there are elements, such as hands-on time with our equipment, that have to be done in the classroom.
Register for our learning resources
Is it easy to discover the right disguise learning pathway?
CW: In an xR or live event show, you're going to have lots of people doing lots of different jobs, which each require unique experience and knowledge. There will be technicians who do the background work like programming 3D environments and putting AR objects into content. The specialists do the hardware integration that ensures the different systems talk to each other, and then there are the programmers who sequence the event and programme the show. All these disciplines require different skillsets. That's what the learning management system offers. We're not targetting this by market, application or vertical because we see disguise being used in many ways across many sectors.
That said, there are course elements which focus more on specific operating styles. For example, operators on a pre-programmed theatre show will work differently to those on live music concerts, or TV shows and film shoots. It's essential to be aware of these varying styles. For instance, theatre is all pre-programmed; when programmers hit the 'go' key, they should expect the lighting and scenery to transition and adapt according to the designs. Live music relies on what the band feels like doing and being prepared to adapt to them. In film, the content has to be tightly controlled. If you have to come back to the stage for reshoots in six months, you have to know precisely what your settings were at that time. All three disciplines require different styles for the same job; the operator.
Explore a learning pathway to suit your ambitions
What learning pathways do we offer?
CW: Our learning management system offers a flexible, modular approach to learning about disguise. You can go in any direction you like as long as you undertake the disguise fundamental training. Users can register for different courses depending on the application they'd like to use disguise for, their goal, and what type of show they'd like to do. There are prerequisites to each course, but you can take any course you want as long as you meet the requirements. These conditions are relatively straightforward; having completed fundamental training part one, you can move on to part two which is a classroom course, or you can move on to part one of any of the advanced courses.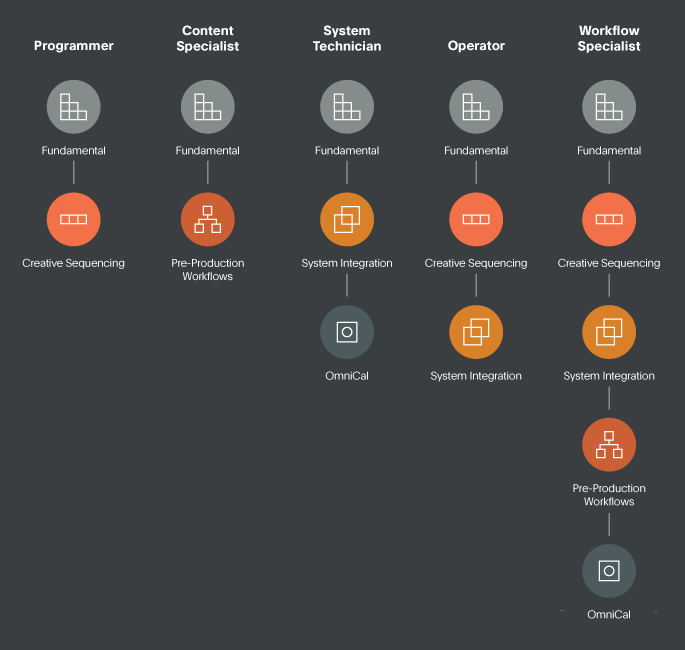 What should be possible for someone completing a learning course?
CW: It depends which course they take. During fundamental training, we suggest that by the end of the course you should know enough to go out and do a small, straightforward project without any support. That's the starting place. The other courses will give you more advanced tools to go in different directions. It's a little bit like learning a computer game; an advanced RPG. The fundamental course gets you started so you can begin playing, but you won't be good at it until you've done another course to get to the next level. That will teach you all the hacks you never knew were there. You could sit and learn it yourself, and over a matter of years you will probably find all the secret tips and tricks, but if we show you it's a lot faster.
Read our case studies to see what is possible
How soon after completing their learning can someone start manipulating xR?
CW: If you already have disguise experience and do the xR course, you could be up and running in a couple of days. You need experience using the disguise platform to a reasonably high level before you start playing with xR. Our in-house trainers, practitioners and support team are always on hand to offer assistance on your project. That's why, on top of these new learning experiences, disguise is the place to come to learn xR.
Knowledge of similar tech will help familiarise students with disguise faster. But, fundamental training provides the best jumping-off point to building your expertise.
Get to know disguise xR with our guide
How important is practice outside of the courses we offer?
CW: I use driving and flying analogies a lot for what we do. I can teach you how all the controls in the car work to make you a good driver. But to drive with finesse, where you're taking corners smoothly, and you know what speed to go round things, that comes from experience. We can only teach you what the gear stick and steering wheel do. With our help increasing your network, bringing you prospective clients, and offering tutorials and internal and external experts for support, you can learn to be a top-class disguise user.
Start using Designer for free today
---
Thanks to Chris for taking the time to answer out questions about the new disguise elearning opportunities. We've already seen a huge spike in demand for the training opportunities the new learning management system offers. If you'd like to find out how you can start your disguise journey or improve what you already know about our platform, click below and visit our learn and support page.