blog 2022 7 min read
Meet Alex Wills, CXO and Head of Metaverse Solutions at disguise
As we continue to develop our technology platform to deliver solutions across a wider array of industries - from film & TV to broadcast as well as live events and location-based experiences - the role of modern CX is more critical than ever to ensure the brand experience is powerfully and consistently delivered across our communications, products, services and in-person experiences.
Our new Chief Experience Officer (CXO), Alex Wills will lead this charge by embedding design thinking at the heart of everything we do and building out an entirely new type of design-focused CX team to deliver a holistic experience for customers, users and employees across the disguise business. 
Alex originally started his career as a 3D and motion designer and subsequently built out the content studios at two of the most innovative digital design agencies, AKQA and R/GA. He has directed and delivered global brand campaigns for Nike, Google and Beats by Dre, led digital transformation projects for Siemens & Diageo and has been a leading industry figure in the xR space, working closely with Magic Leap to bring their first product to the market. He is also heading up training at disguise as well as our newly launched Metaverse Solutions division. He shares his vision below:
Tell us a few things about your role and objectives at disguise.
The CXO role is still a relatively new one and takes many forms across different company types. At disguise, we are focused on building out a global technology platform to deliver incredible visual experiences for the media and entertainment sector, so my role is to ensure we are lazer focused on delivering a powerful, connected brand experience across our product, marketing, sales, support and training to all our customers. 
I sometimes joke that my role is really Chief Joiner Upper of Dots, or to put it another way, a champion of cross-team collaboration - connecting all our key business functions with design thinking and exceptional design execution to translate our brand seamlessly across all our core and emerging touchpoints. From our online training experience, to our software, website and support services. This is, of course, a sizeable undertaking and we are just now at the beginning of this journey but it is hugely exciting to be activating this plan in a business that already has a really powerful brand and great product. 
The CX plan is focused around four key areas and will be activated by a new CX & Design team, which will work in close collaboration with our Marketing, Sales and Product teams across: 
Brand Experience 

Customer Solutions 

Experience Design

Platform Expansion 
What drew you to disguise? What do you think sets us apart from competitors in terms of market offering?
I was first introduced to disguise during a demo of the xR stage in London at the end of last year, whilst I was still at The Mill. I was really impressed by the overall presentation, the knowledge, experience and the incredibly versatile product. 
Having seen first-hand the transformative effect virtual production is having on the film & TV sector and how this was also beginning to impact the broadcast sector, it felt very exciting that a UK-based technology company was leading the charge here and had such a powerful solution that could accelerate these industry transformations. 
The other element I felt was hugely compelling was disguise's 20 years' experience delivering incredible live shows. This ability to deliver a live show or production under the exacting conditions of the live environment has built out a unique skill set that further enables our ability to deliver on a film set, a live broadcast or live location-based experience. 
And driving all of this is an incredible internal culture, infused with a really powerful growth mindset at the core, as well as a relentless commitment to research & development. 


How are you planning to develop the disguise training experience?
For an increasing number of producers, operators, creatives and technicians, the first touchpoint they will have with disguise is via our training experience. And as we expand into new verticals it is critical that we deliver engaging and focused training for all levels, to help them understand our product and workflows, and ensure they have a really positive first and lasting experience with disguise. 
So we are looking at how we evolve all elements of the training experience - from in-person to online, bespoke, blended and via partners - to bring many more people into the disguise ecosystem and turn them into experts and advocates.
Learn more about disguise training 
Why is disguise launching a metaverse offering?
Our xR technology combines some of the foundational elements for delivering metaverse experiences - real-time 3D, spatial computing and advanced display technologies (LED + headsets). Coupling this with live music experiences as the key driver for early metaverse activations means we are perfectly placed to offer solutions to our customers and partners today that can help them take that first step. 
This is why we wanted to call it Metaverse Solutions as we are providing tangible workflows that can enable companies to deliver productions and experiences today into emerging metaverse platforms - a Gateway to the Metaverse via our xR stage technology.  
The other key component that has enabled us to launch this new offering is our disguise Labs team, led by Abi Bowman, Lara Bowen and Sam Folkard, that has been prototyping a range of use cases and experiences to attract new strategic partners and show what is possible on our platform. 
Learn more about our new Metaverse Solutions division
What are some of the key learnings you've gained from your professional experience that you would like to implement at disguise?
I think a major one is design thinking. To get into the mindset of the different people we are designing our products, services and marketing for - from creatives and producers to studio owners, system integrators and technicians. 
disguise is on a journey to become a global brand, especially as we're now expanding through APAC and the US, so we need to create a consistent experience with the brand whether this is our studio in LA, our headquarters in London, or our Labs in New Zealand. You get a disguise experience on stage, and you see the screen technology and interface in practice. Then you go to the website, and you have a training experience. The ambition is to make sure that all the touchpoints are really connected and feel very much part of this amazing brand.
What have been some of your career highlights so far?
Delivering the Magic Leap Conference was an incredibly challenging but rewarding experience from both a professional and personal point of view. We had Neil Stephenson, the author of Snow Crash and the originator of the term Metaverse, as a keynote speaker, which was inspirational. It was a great moment to achieve this completely live experience where there was no room for error. The elation afterwards was just amazing. And I think that's also a core part of the business of disguise. The reason why we can do broadcast xR, a corporate presentation, or a virtual production is because they're all live moments. And disguise's two-decade-long legacy in the live space is what makes us so well drilled to execute these live productions flawlessly.
Another career highlight was during my time at AKQA when we launched the Nike+ Kinect Training game in collaboration with Microsoft during the E3 Conference. Another incredible live moment, with a hugely complicated visual execution, which was only perfected through exhaustive rehearsals. It went off flawlessly and was the perfect way to celebrate the enormous multi-year efforts by all the teams involved.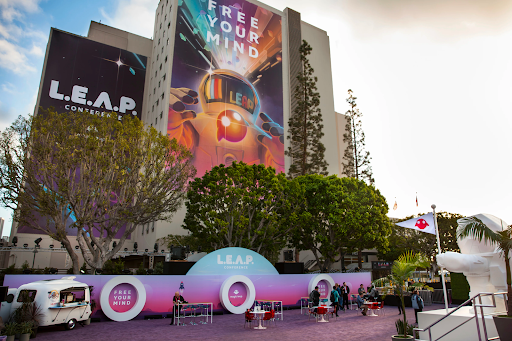 What hobbies and interests do you have outside of work?
I'm a craft beer brewer. I've got a small (micro, micro) brewery set up in my basement where I brew my own pale ale, a best bitter and a lovely London Porter. It can be quite the time investment sometimes and challenging to fit around the working schedule, but definitely worth the effort when a fresh batch is ready to drink after a month of waiting.