blog 2022 3 min read
PRG leads the way for extended reality in Paris
PRG has a four-decade legacy in providing turnkey services and technical expertise for the world's biggest concerts, TV/film productions, corporate events and trade shows. Their Extended Reality (xR) facilities have also hosted pioneering xR productions in the US and EMEA. Their new Paris xR studio, powered by disguise, is now establishing PRG as the prime location for xR and virtual production in France.
PRG's journey with disguise started about 10 years ago in Belgium. For PRG, disguise quickly became "the state-of-the-art media server for all big tours around the world", according to Yves Winand, Video Project Manager and Technical Advisor at PRG EMEA. "With disguise, it's a quick step from design and pre-vis to going live, which makes the software the right Swiss Army Knife for the most complex productions."
After successfully launching their first xR studio in Los Angeles that pioneered some of the most groundbreaking xR productions seen yet (Katy Perry's virtual performance at the 2020 American Idol finale, Kaskade's concert in Fortnite), PRG set their eyes on Paris and Hamburg. Opening in 2021 shortly after Hamburg, their Paris studio features the disguise xR solution powered by a vx 4 media server and two rx nodes plus a 4x4pro media server for virtual lighting. 
"From the start we saw improved calibration, workflow, ease of use and, last but not least, new software builds every week from a very talented and reactive team. Timeline, texture sharing, set extension, multiple camera switching, DMX and OSC triggers are features that make disguise the right choice for our xR studios."
Yves Winand, Video Project Manager and Technical Advisor, PRG EMEA
"We're using our experience and knowledge to create opportunities for presenters and artists to connect with their audiences. Our network of studio environments has been developed to capture pre-recorded and live content from projects ranging from a live-streamed corporate presentation to a dynamic music video featuring an immersive virtual set. The pandemic accelerated the development of our xR studios dramatically – all within COVID safety guidelines," says Laurent Boillot, Production Director PRG France.
The hub of xR production in France
In its first year since opening, PRG's Paris studio has become the hub of all major xR productions in the country. It already hosted virtual launches for HYVIA (the French green hydrogen ecosystem), the Michelin CrossClimate 2 tire, a virtual tour of Notre Dame cathedral with Cinemi Studio, an xR music video for French rapper Orelsan and projects for top-tier clients including Lancôme, Decathlon, Dassault Système, Balmain, Mugler and Cartier.
Winand believes xR will bring the next level of storytelling and flexibility to PRG's customers, enabling them to do their video shoots in any time period, on any location – all with one click of a button. 
"We believe in the future of hybrid events and the need for our clients to be able to produce in safe and privatised spaces and environments, without having to move a whole production team from location to location."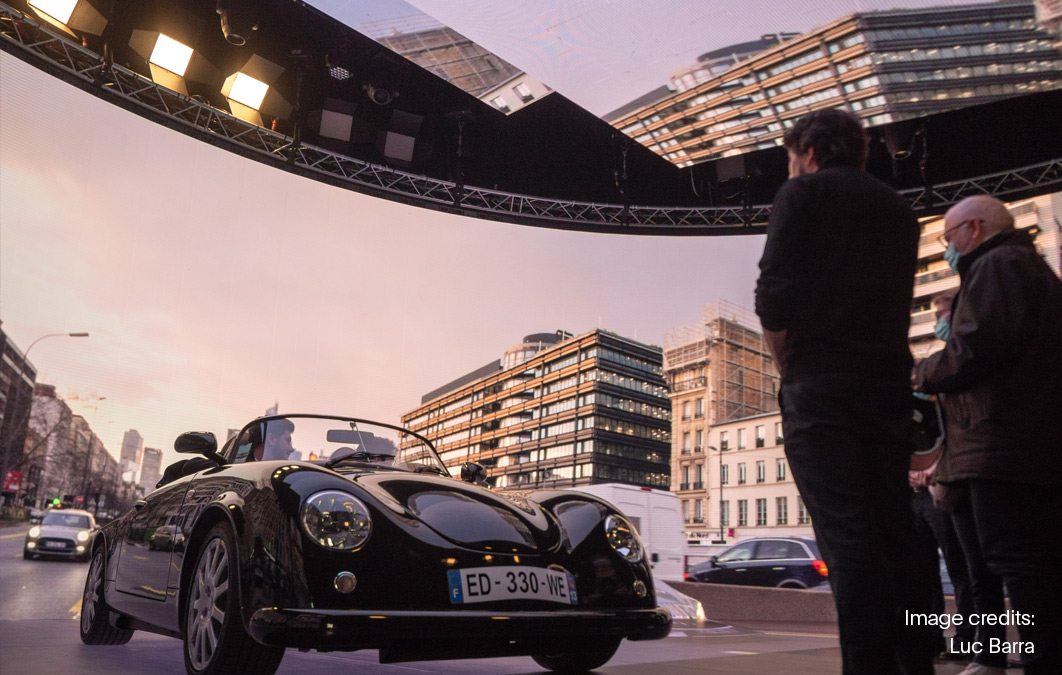 A state-of-the-art technical set-up
The studio's LED stage is composed of a 23 x 5 metre curved ROE Visual BO2 back wall, a 15-diametre ROE BM4 half-moon floor, and a three-part ROE CB5 ceiling. Three moveable dollies of CB5 panels are used for front virtual lighting/reflections. Full LED video processing is done with Brompton Tessera SX40 and M2 for the virtual lighting elements. 
The studio also features a Technocrane 30 and Technodolly and a stYpe RedSpy tracking system.
Thanks to disguise's render engine agnostic support capabilities, the PRG team is able to develop content across leading graphics engines - including Unreal Engine and Notch - to fill their virtual environments. 
"The demand for xR and online development will keep growing since it offers solutions for organisations and performers that reduce costs while offering innovative ways to engage the public. There are numerous possibilities for its use, and we definitely see xR as an important part of our services to clients moving forward."