blog 2021 6 min read
Spotlight on White Light: Six years of xR and broadcast innovation
From the 2015 Formula E championship to the 2020 Euros, White Light's journey with disguise has seen the London-based AV integrator and rental house break countless boundaries to deliver innovative broadcasts powered by our systems. They are also the first appointed disguise Certified Solutions Provider and a major player in the development of our Extended Reality (xR) platform. Below we look back on our six-year partnership and reveal what's next to come.
Early beginnings of using real-time content for broadcasts
It was back in 2015 when White Light first worked with disguise to deliver ITV Sport's studios for their first Formula E season. The team designed a flexible, modular solution powered by disguise 4x4pro servers, creating a huge digital canvas across the set which could be swiftly re-deployed for different shows - giving the studio vast flexibility.
"At the time, real-time media servers weren't commonly being utilised in the broadcast world outside of light entertainment or as an integrated solution for controlling all technology aspects of a studio set, so our solution for Formula E was the first of its kind to be seen in the UK," explains Andy Hook, Technical Solutions Director for White Light. disguise allowed them to paint content from a range of live inputs from the studio gallery onto the vast digital canvas and combine that with very high-resolution content stored on the servers – all dynamically reacting to the editorial requirements of the live show.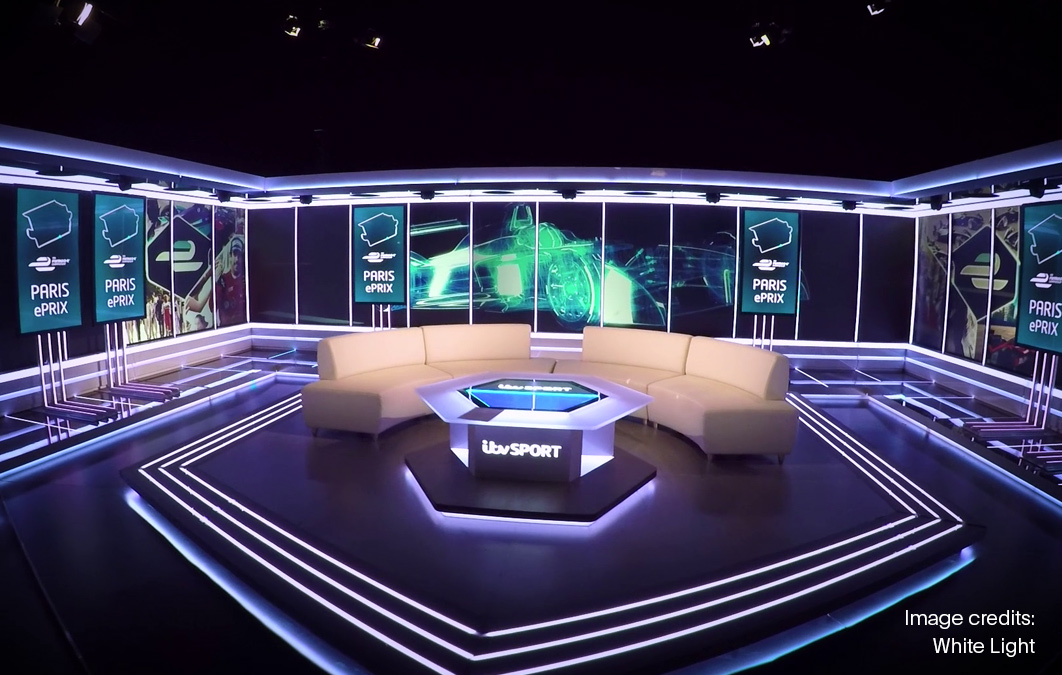 "Following the success of the project, we continued to work with disguise on several other broadcast projects, looking for ways to leverage the platform to help build more innovative, sophisticated and integrated technical studio solutions," explains Hook. "We invested in our own rental stock of servers and, as the relationship developed, we found ourselves using disguise at the heart of our installation and live events projects, including Bloomberg's flagship London HQ studio and a mobile immersive retail activation for Adidas."
According to Hook, White Light's pioneering use of disguise in broadcast environments directly shaped their development journey with disguise, with White Light finding new ways to evolve the product, to create ground-breaking solutions that simply had not been done before.
Pioneering the use of extended reality
When Eurosport delivered their live studio coverage of the 2018 Winter Olympics in PyeongChang, audiences were amazed to find presenters and athletes immersed in a completely virtual environment where they could see and interact in real-time with video displays surrounding them. This project marked the first use of an immersive, LED production environment for broadcast presentation and inspired the team to develop a solution that, just two years later, completely revolutionised production workflows.
"Our xR investment started back in 2017, when we saw the potential for revolutionising immersive and virtual production and were already using disguise as a crucial part of the solution for many clients," Hook explains.
White Light was among the first to join the disguise xR Insider's Programme - a selected group of disguise creative and technical partners that, for the past four years have collaborated with us to field test and share their feedback in the ongoing development of our xR solution. The programme was instrumental in the official release of xR into a robust, reliable and flexible solution for productions of any scale or complexity that is now publicly available through our latest software release.
Learn more about our xR workflow
Earlier this year, our collaboration with White Light was also awarded 'Best R&D' at the Inavation Awards for both driving innovation within extended reality and its ground-breaking impact across the broadcast industry over the past two years.
Setting the standard for the future of production
The success of the 2018 Olympic Winter Games coverage attracted the attention of other broadcasters. Later that same year, White Light, was invited to deliver the ITV Sports coverage of the FIFA World Cup in Russia, which was once again powered by disguise.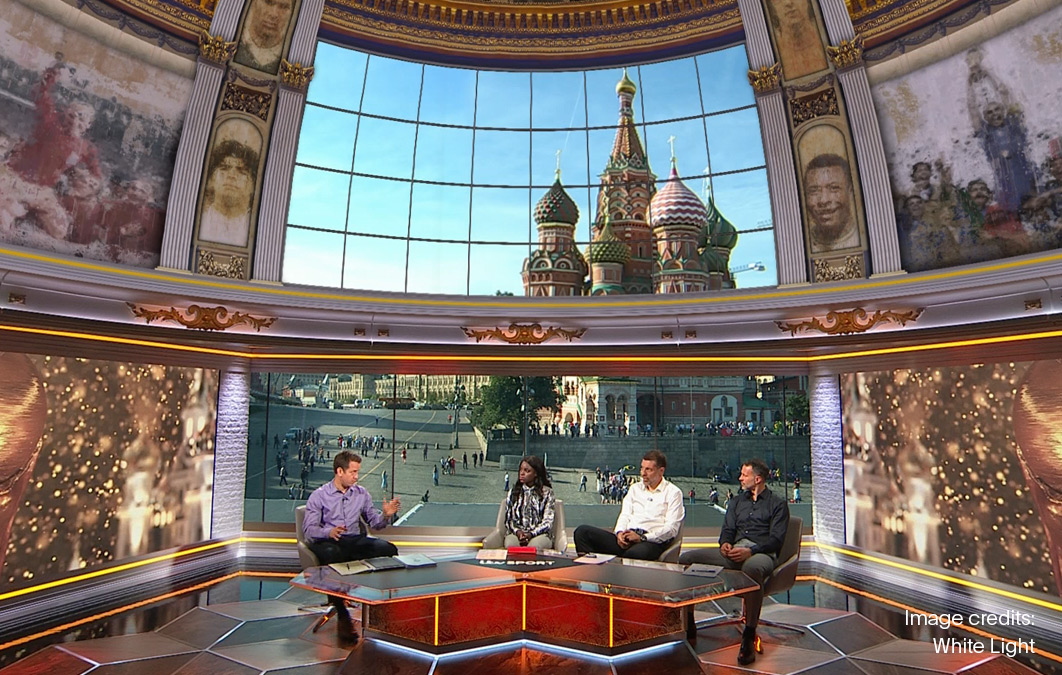 disguise had formed a crucial part of managing and distributing content on both projects, and, as a disguise CSP, it was a natural choice to have a conversation with disguise about how to enhance the workflow and build a set of tools which could be used to push these projects further.
Andy Hook, Technical Solutions Director at White Light
The first global unveiling of xR took place shortly after at IBC 2018 in the Future Zone, where White Light previewed the world's first xR environment powered by disguise, and a glimpse of what was to come in the near future.
Following their early success with xR, White Light developed their multi-award winning SmartStage® product range, designed as a turnkey xR installation offering. SmartStage® tightly integrates the disguise xR workflow with White Light's own mixed reality presentation solution, adding unique features such as teleportation, VC platform integration, presenter tracking and a user-driven control interface. SmartStage® makes xR technology accessible and effortless for a wider range of clients and has helped revolutionise virtual and hybrid presentations. White Light has built a dedicated department and Operations Centre offering enhanced service and support to their prestigious global client base and ensuring their successful adoption of this technology.
To date, White Light's long list of SmartStage® installations around the world have helped their clients deliver over 5,000 hours of live broadcast, online learning and live corporate events.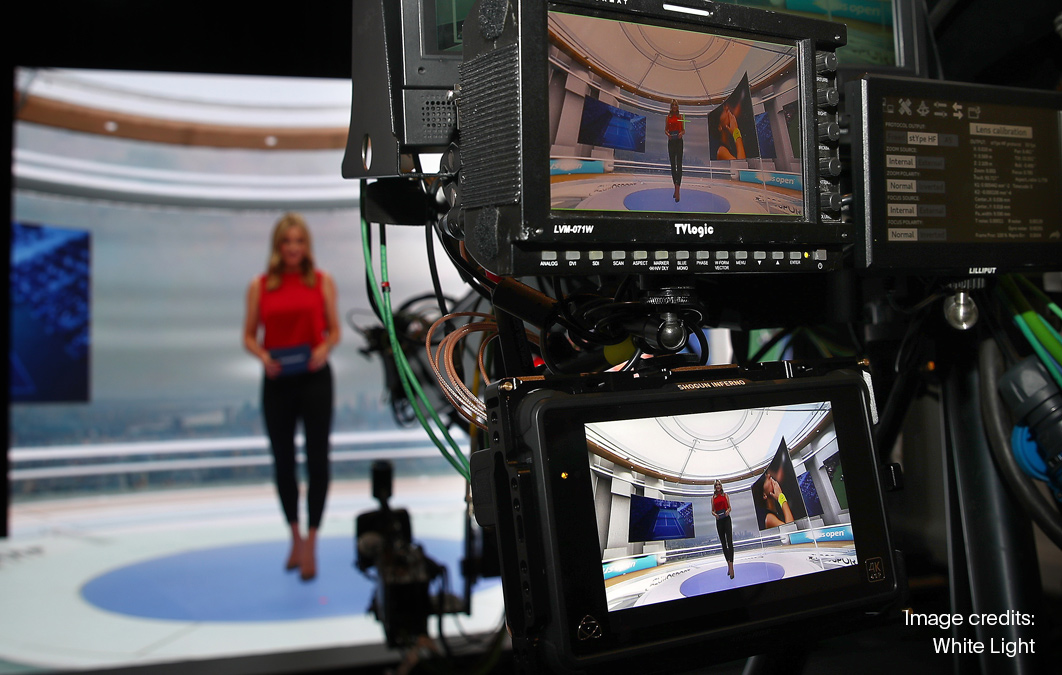 Some of the key milestones include the world's first xR education environment for The University of Michigan's Stephen M. Ross School of Business in 2019, the world's first live to air TV broadcast using xR in May 2020, the first terrestrial TV production using xR for BBC1's Bamous and the first live teleportation into an xR environment for the Eurosport coverage of the 2020 US Open.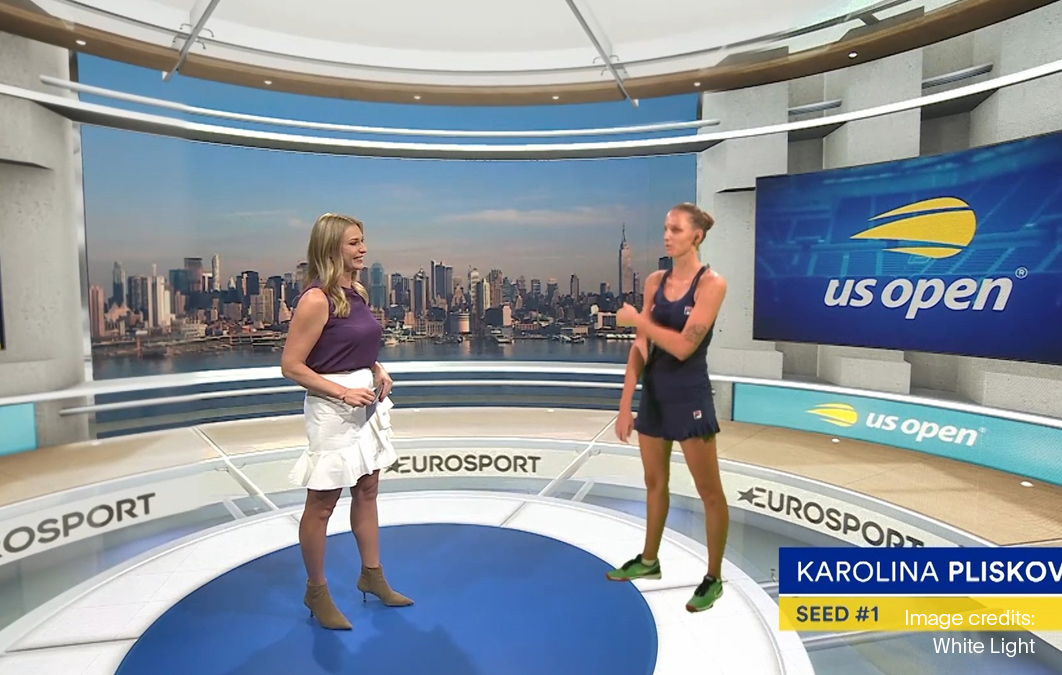 White Light's Innovations department continues to pioneer solutions around how these xR technologies impact the future of hybrid presentation, broadcast and events. They were proud to deliver ITV's coverage of the Euro 2020 Tournament earlier this year, which premiered the fusing of a real studio set inside a full 360° virtual environment, for a truly unique multi-cam live broadcast experience, powered by disguise xR.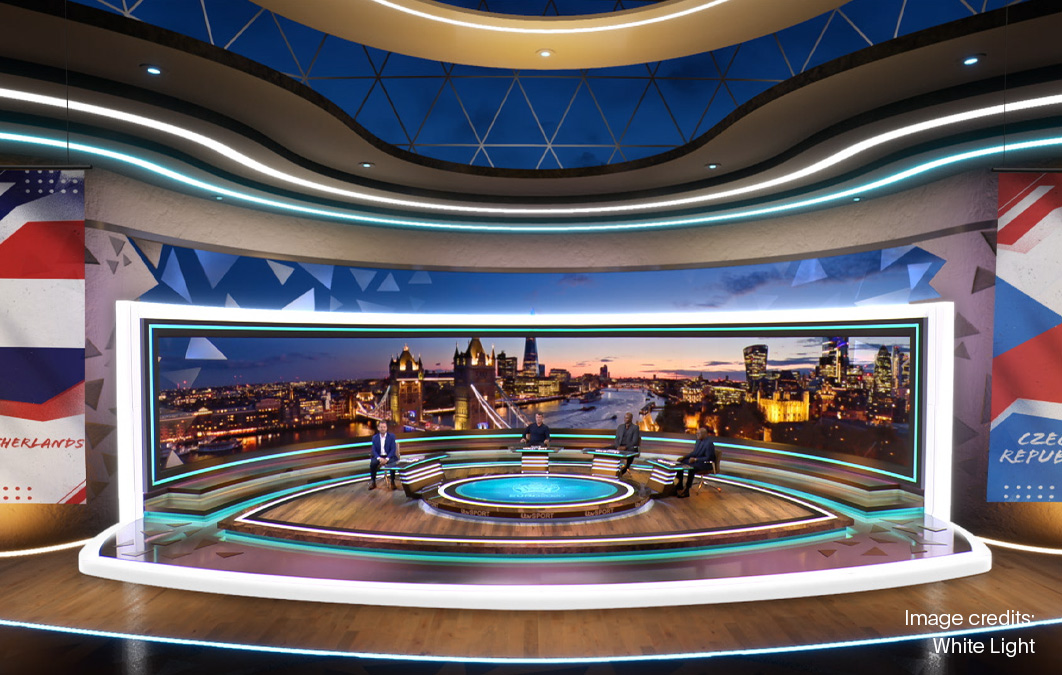 "A constant synergy in our relationship with disguise has been our aligned views over the revolution that real-time content is going to have across almost all the markets we operate in," Hook says. "The deep integration that disguise now has with all popular real-time engines, plus the ability to scale render power and provide control over that content is what excites us now. It has given us a platform which, as a true solutions provider for disguise, we can take to our clients across all markets to continue to disrupt how they're using immersive video technologies as well as innovate their whole approach to video and graphics."