blog 2023 5 min read
Three creative programming essentials for large scale concerts
How to achieve the best out of creative programming from the team behind the award-winning live production of Ed Sheeran's 'Mathematics' World Tour.
Evoke Studios is well known for leveraging the latest in performance design technologies to push the boundaries of what is possible. It is this attitude that was recognised by TwoTrucks Productions creative director Mark Cunniffe, who commissioned Evoke to create unique video looks for Ed Sheeran's latest award-winning stadium tour. The concert was an in-the-round live experience featuring a colossal halo screen and six huge LED guitar picks flown around a revolving central stage.
The 'Mathematics' World Tour is playing 74 stadium dates from March 2022 in London through to September 2023 in North America in support of Sheeran's latest studio album, "=" (Equals). Evoke developed content for 10 tracks from the artist's extensive setlist, as well as providing playback system consultancy, disguise media server programming and workflow, and content previsualisation.
Chema Menendez, Co-founder and Head of Creative Workflows at Evoke Studios, walks us through the workflow:
1. Build flexibility into the workflow
One of the main challenges the visual content teams faced during the pre-production process for 'Mathematics' was caused by the sheer size of the stage itself. 
"There isn't a rehearsal studio in existence that would have allowed us to build the full stadium stage and gauge how the screens would look from the furthest seats in the venue," Menendez says. "This created a lot of problems, including what frame rates to use and how to scale the text and content itself. We wanted the video to look impressive whether the audience was standing 10m away or 100m away, and this was something that could only be fine-tuned once we were on the road. We were only able to overcome these potential obstacles thanks to a strong work ethic and collaborative spirit; both internally and with TwoTrucks Productions."
This required considerable pre-planning as well as building in the flexibility to iterate at each venue.
"Integrating pre-vis tools is so important for a tour of this complexity and scale since you don't have a lot of time. Your time to rehearse with the artist is especially tight so you need to optimise your processes in advance so it becomes a smooth workflow on the day. You must build in time to pre-programme so that you can arrive on site and make it all happen."
The artistic goal was to make Sheeran, a solo performer with a guitar, accessible to a stadium audience. Performing in the round achieved that, but fans can still be at quite a distance from the stage. To combat this, Cunniffe decided to make extensive use of IMAG content to help bridge that gap with Notch content driven by a disguise gx 2c media server.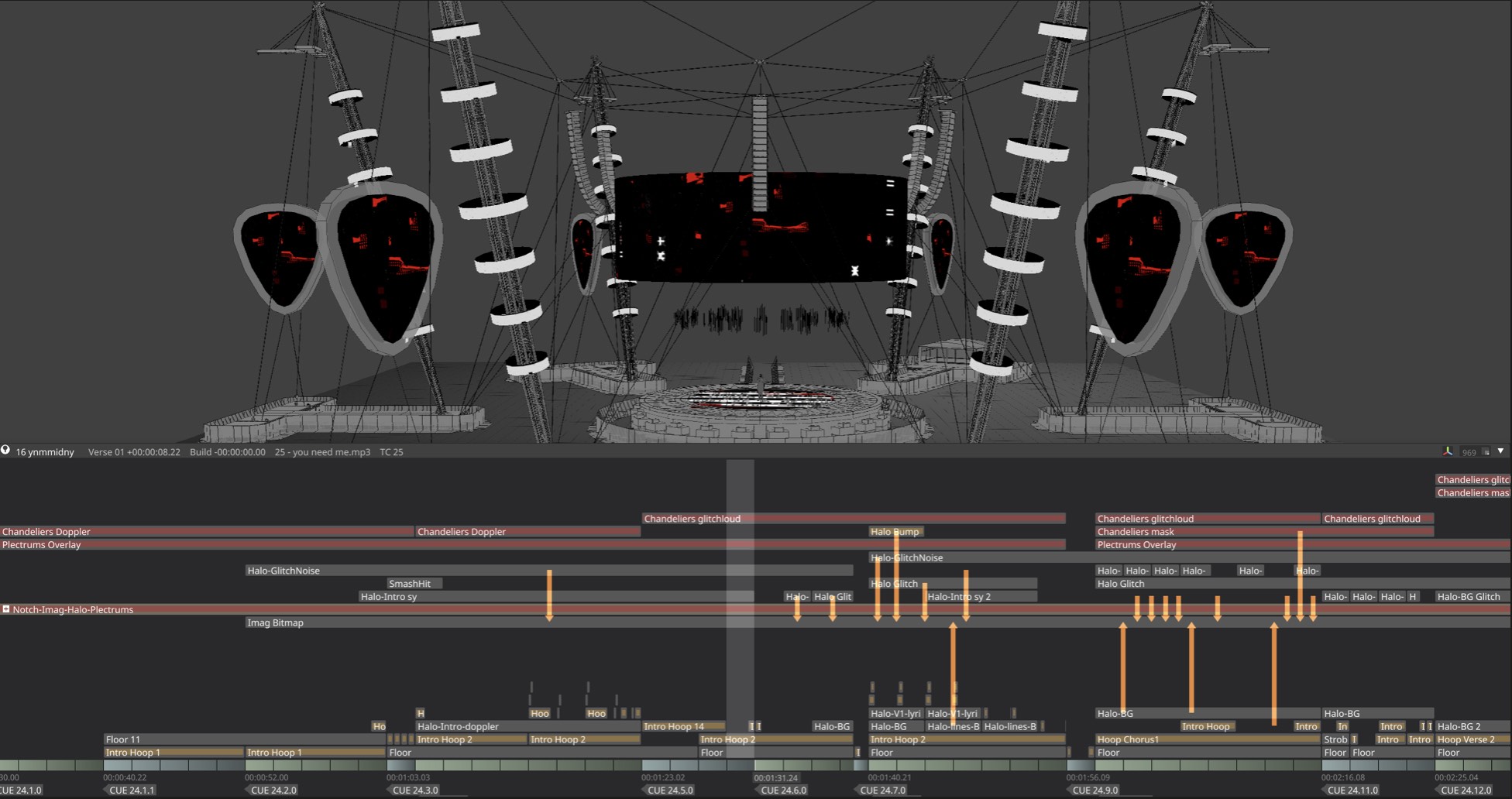 2. Have a clear folder structure for content communication
The visual teams used Notch, VR, and stencilled mood boards to communicate their three-dimensional vision in real-time, developing ideas to craft content, materials, and 3D models for several applications. They then imported these stencils into Notch to light and animate the scenes.
This combination allowed them to use the same assets across all the production teams. For example, in 'Shape of You', the rendered shapes were used for the video effects to influence the IMAG itself, the images behind the IMAG, and where it appeared on stage. 
Menendez says, "On a show like this you will deal with a lot of content and the last thing you want is to waste time finding a file or a new version of a graphic on site. The whole set-up needs to be very responsive. That's why it is super important to build an intuitive folder structure with clear, consistent naming conventions so you can communicate quickly and accurately with content creators."
Discover how to easily manage all your project content with disguise Drive
3. Be in tune with the artist
Normally, on concert tours you'd use a linear timecode or cue-based triggers for Show Control but for 'Mathematics' Ed Sheeran wanted to have the ability to vary his performances night to night. He might perform some songs slower, others faster, according to his mood and in response to the audience. 
That meant needing to ensure the flexibility of manual control which the disguise Designer software allows. A feature of Designer, Sockpuppet, enables you to fully control all layers and their parameters from a lighting desk (or OSC application). As a result, the operator is no longer restricted to timeline-based sequencing, but can now program their project using the lighting desk's cue stack, or a combination of both; by having certain layers controlled from the lighting desk and others controlled from the Timeline. In short, Sockpuppet works by treating all of the layer types as fixture personalities.
"Between everyone at Evoke Studios and TwoTrucks we've created a really powerful visual show that's never overpowering for the audience yet draws them into his presence," Menendez says. "It's still all about the artist, which is exactly the way it should be."
Sheeran's tour was awarded Live Production of the Year at the 2023 TPI Awards.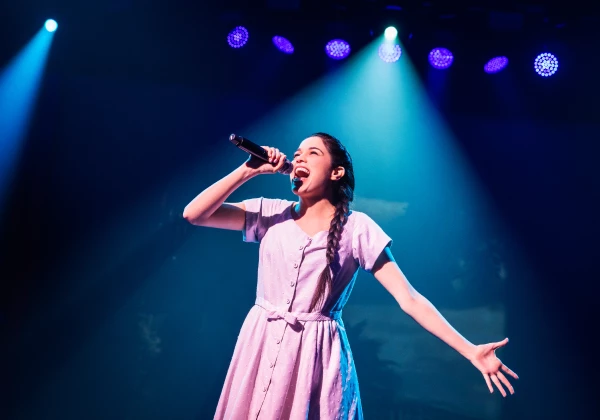 case study
3 min read
2023