blog 2021 5 min read
Virtual Production in 2021: How film and TV will continue to evolve
Virtual production had as turbulent and unexpected 2020 as any business. And though the challenges of last year remain, it is clear that the world is seeking to adapt and move on as 2021 unfolds. For many in film and episodic television, virtual production will be the first port of call on this journey.
Virtual production has been a developing trend for years now, with blockbusters like Avatar and The Lord of the Rings trilogy early innovators in the field. Using state-of-the-art technology and specially adapted sets that enable real-time visuals to be shown live for actors and crew to respond to, virtual production opens up a world of opportunities that will only grow throughout 2021. Here, we'll look at what we can expect from virtual production in the coming year.
Find out how cluster rendering empowers virtual production
More tentpole releases utilising virtual production
The tail end of last year saw a wealth of high profile releases that had used virtual production techniques. Netflix's The Midnight Sky, starring George Clooney, was able to realise a post-apocalyptic world in the studio and the second series of Disney's The Mandalorian continued the show's groundbreaking use of the technology, with principal photography completed entirely within a virtual production-optimised set.
The coming year promises some of the biggest titles yet to utilise the technology, with TV series like Westworld embracing its possibilities. Superhero films The Batman and Thor: Love and Thunder both making the most of the potential it affords. Taika Waititi, who will be directing his second Thor film, was first introduced to the technology when he directed the Mandalorian season one finale in 2019. It's clear virtual production is fast becoming the first port of call for big ideas and out-of-this-world visuals.
Covid-friendly shooting options
When the coronavirus pandemic halted much of the TV and film production across the globe last year, it was virtual production that offered crews the quickest and easiest path back to set. One reason was the ability to confine recording to a single, easily manageable set. Shoots that might otherwise have required several different locations, and the transport to and from those locations for cast and crew alike, were instead able to achieve everything they wanted with minimal fuss. Limiting the travel of the production crew also limits the exposure risk for everyone involved. It's no wonder that production of The Batman was moved to virtual sets after several months of stops and starts and the contracting of the disease by star Robert Pattinson.
The benefit of virtual production's complex and pre-visualised workflows is that it's possible to limit how many people are required on set at all. Scott Meadows, the Head of Visualization and Virtual Production at Digital Domain, told VFX Voice about a recent virtual production in which most of the crew, including the director, could perform their work from home whilst only seven people required to be physically present on set.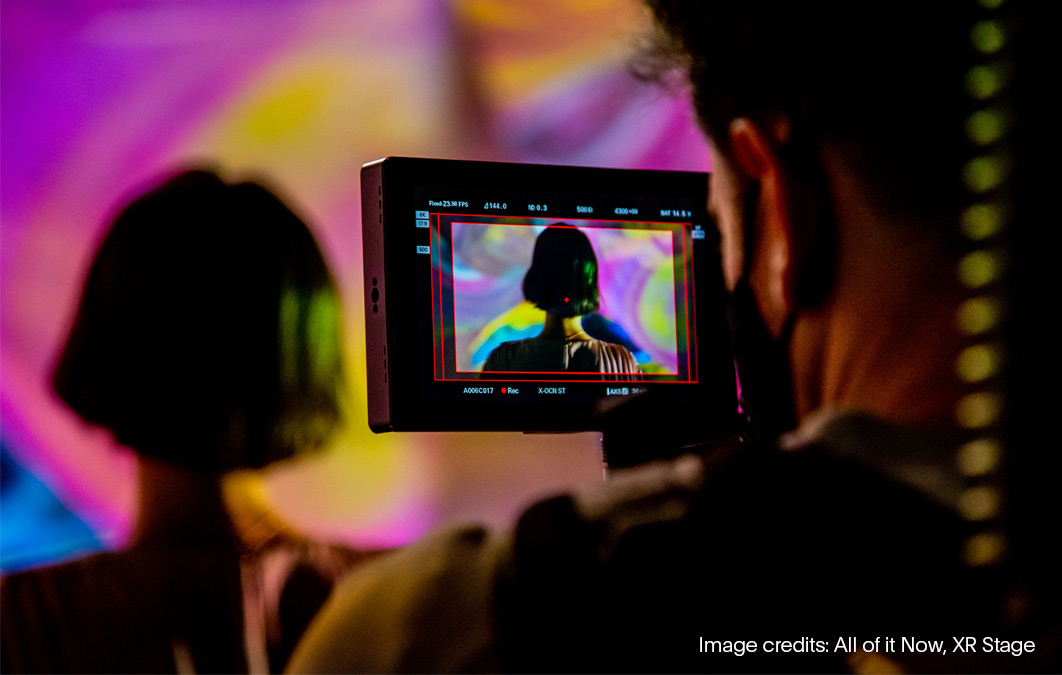 A virtual production boom in Canada
Though virtual production sets are being built all over the world, it's clear that the Canadian film industry has recognised the opportunities ahead. 2021 will see a boom in new purpose-built studios that will allow productions to immerse cast and crew alike in photo-realistic worlds fully.
Ollie Rankin, CEO of Pansensory Interactive in Canada, told Techcouver that he knows of 'at least three visual effects companies in Vancouver that are building virtual production solutions'. But such developments are not limited to the west coast. Virtual production companies have also announced the creation of purpose-built studios in Montreal and Toronto and put Canada on the map as one of the leading countries for progressive virtual filmmaking.
Virtual production becomes more cost-effective
One trend we're almost certain to see over the coming year is increased cost efficiency in the virtual production realm. Though initial set-up costs might have been prohibitive to some interested parties in the past, increasingly third party studios are available for hire. As these grow in number, industry demand will be better catered for, and production costs will continue to fall.
These cost efficiences will be a bonus to the larger productions already using the technology, who are already seeing their costs offset by the decreased need for expensive post-production VFX.
Exciting opportunities for animation
Animation is one of the branches of film and TV production that has thus far underestimated the benefits of virtual production. This is perhaps understandable: you wouldn't expect the practice to have much use in animation at first glance.
But The Mandalorian's Jon Favreau cut his teeth in virtual production on earlier projects for Disney - the live-action reboots for The Lion King and The Jungle Book. In fact, virtual production has been used for animated films as far back as 2011's Rango - capturing actors and allowing animators to visualise sets.
Forbes recently estimated that Toy Story 4 could have halved its $200 million production budget had it used virtual production to help capture its primarily humanoid cast of characters. With standard computer animation budgets frequently matching those of even the biggest live-action blockbusters, virtual production is a fantastic opportunity to reimagine the process more cost-effectively.
It's clear that many already view virtual production as the next step in creating spectacular film and television over the coming decade. 2021 looks set to be a big year for the technology, as studios seek to use it both as a protective measure in the twilight of the coronavirus pandemic and as a progressive new way to realise their visions onscreen.
With virtual production spreading across the globe and being used in bigger titles than ever before, we can expect more exciting developments in the field. Amongst these will be the increased use of xR technology. This will allow even those operating in smaller sets to take full advantage of the principles behind virtual production by using real-time rendering to extend locations beyond the in-studio screens, creating the most immersive experience yet. It looks as though there is more to discover in virtual production in 2021 than ever before.