case study 2010 3 min read
American Idiot
From 2010-2012, this Tony-Award winning set design, Green Day's American Idiot: The Musical, toured with over 3 dozen flat screens on stage as well as projections. WorldStage once again chose disguise as their video solution.
Green Day's now famous musical American Idiot first saw the stage on Broadway, New York in 2010. Based on Green Day's Grammy Award winning multi-platinum album, the musical was an instant success, and a national tour followed which will visit Los Angeles, Dallas, Seattle and San Francisco in the summer of 2012, followed by a tour in the UK and Ireland later on the year.
With more than three dozen Vizio flat-screen monitors as well as the set walls forming projection surfaces, American Idiot: The Musical features an extensive amount of video. Set designer Christine Jones netted a Tony Award for the Broadway show with this warehouse-like living space.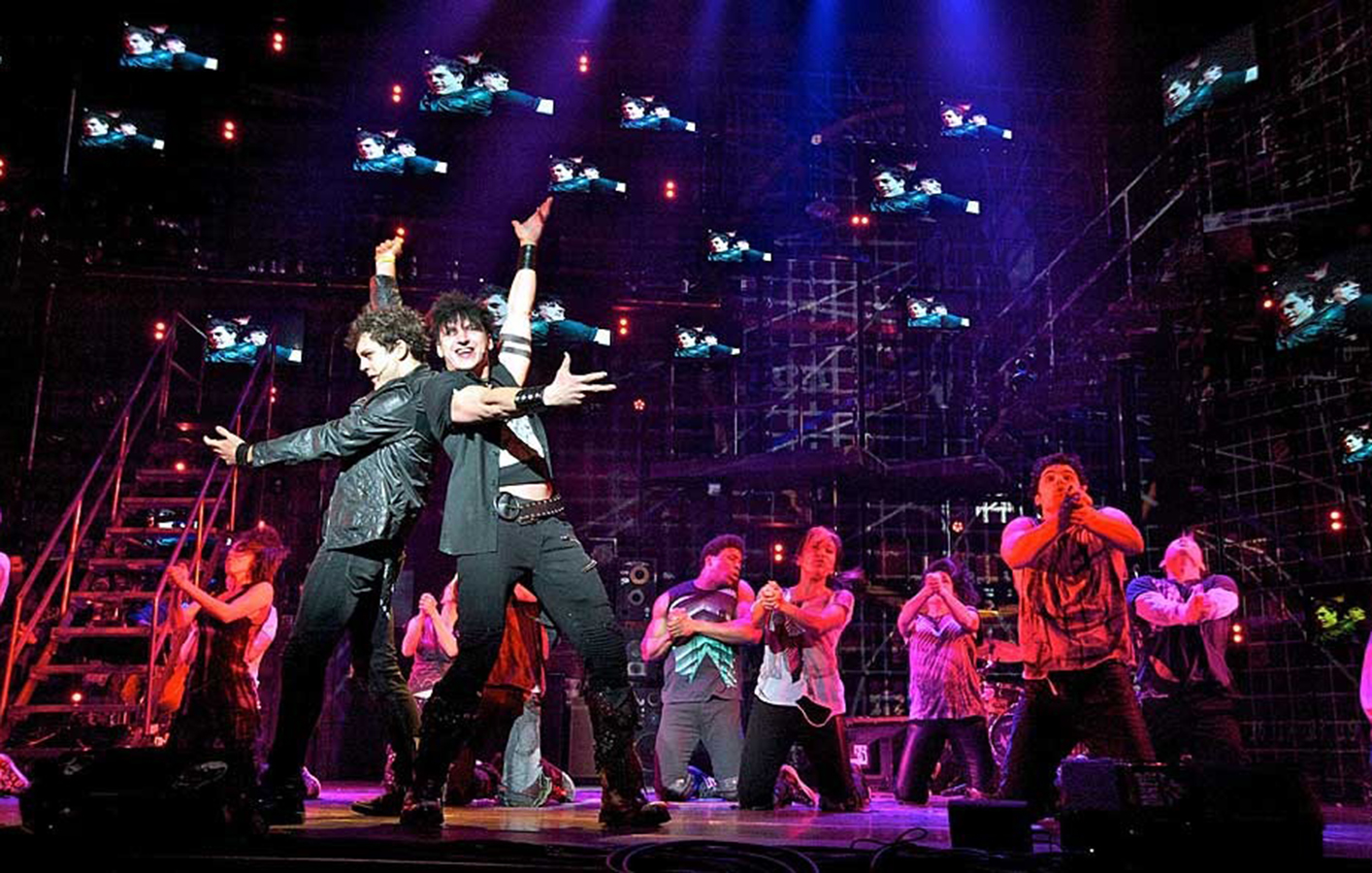 The national tour is up and running with AV support from WorldStage, who were tasked to provide a cost-effective video package that would satisfy and support the sophisticated design requirements and which could also withstand the harsh and rigorous environments of a touring show. In the end, the delivered package was comprised of a specialised playback system, a high-brightness projection configuration, and a one-to-one signal distribution system capable of delivering the bold and brilliant imagery created by projection and video designer Darrel Maloney.
Maloney crafted hundreds of video images for the show. The stream of images conveys the influence of media on society, set an emotional underscore and help tell the story. Imagery for each song ranges from Iraq war footage and clips of Britney Spears to graffiti art, home movies, test patterns, paint splatters, color bars and live video.
A major dilemma for the WorldStage team centered around finding an economical solution to meet Maloney's desire for an independent feed for each of the monitors and projectors. In total, 40 channels of video were required to feed the various display devices. Initially, budgetary constraints looked as if they would restrict the design to just six or eight discrete feeds to the monitors - a major limitations for Maloney's design. But by working with Lars and other members of the WorldStage team we were able to get 37 discrete images on 37 monitors, says the tour's technical supervisor Rhys Williams. It's amazing what that does visually for the production.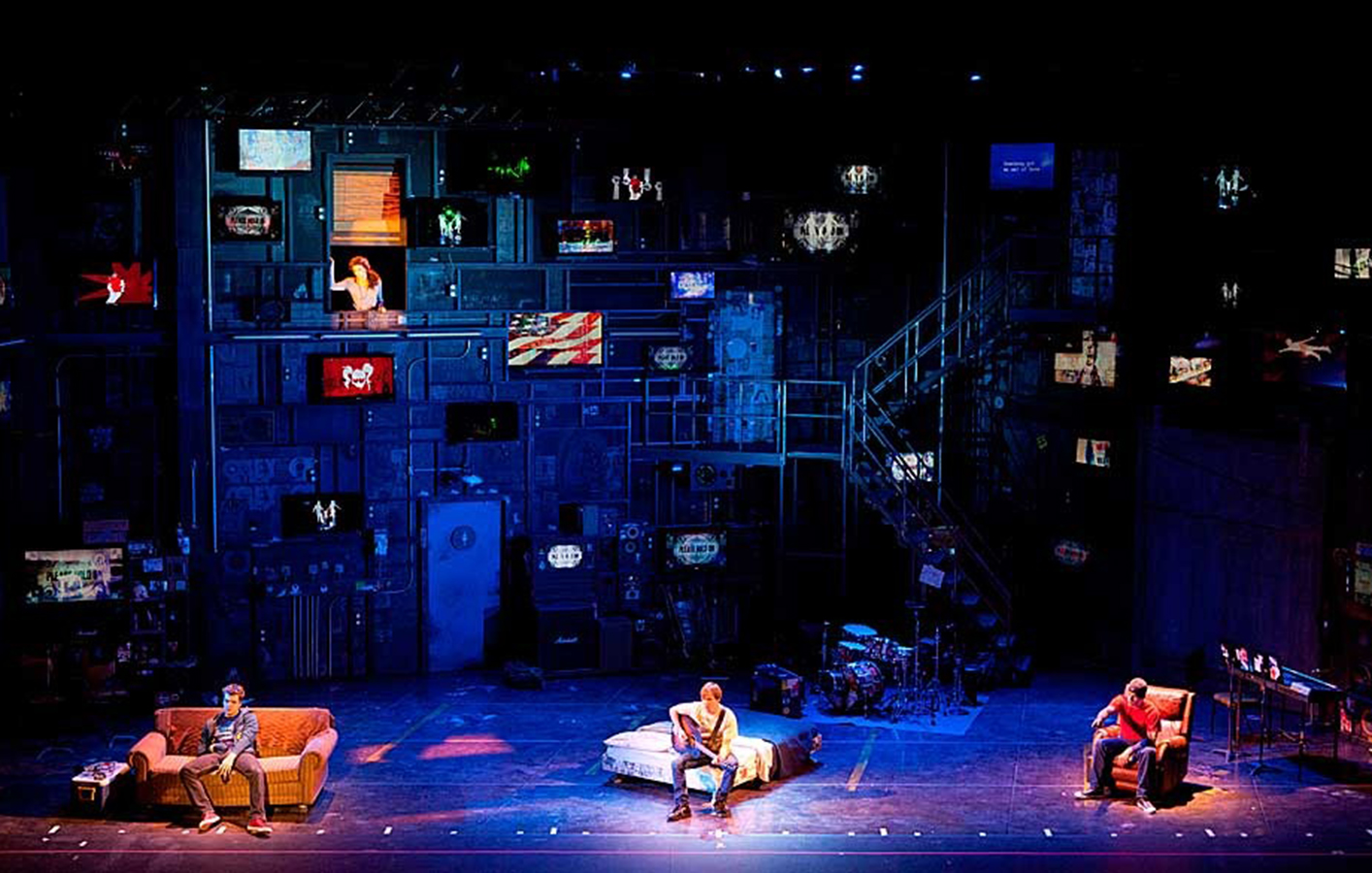 WorldStage's solution? Three 4U quad-output media servers each outfitted with a 4x multi-display adapter. Two disguise 2U machines served as main and backup masters and provided additional video feeds. WorldStage also designed the signal distribution system including the aforementioned 4x units, a large matrix router and various signal converters. Since fragile and expensive fiber optic cable was not a practical option for a touring show, the company opted for HD-SDI via coax, which is proving to be a robust choice.
"Thanks to the collaboration of Darrel, WorldStage, disguise director Ash Nehru, we were able to come up with an extremely good solution", says Williams. "The system is rock solid and does more than we ever hoped it could. We believe were doing more video more aggressively on tour than on Broadway. That's partly because the set's walls are a little over half as tall as they were, but there are still the same number of monitors so their density is greater. As a result, they have a bigger impact."
Williams reports that every time he sees the show he's amazed by the quality of the production and how solid it has been – we've had very few issues on the tour. We've got a system that works, is within our budget and delivers a product that's just unparalleled.
Credits
Content Producer

Darrel Maloney
Set designer

Christine Jones 
Systems Integrator

WorldStage