case study 2020 2 min read
Big Bash League NYE
Novatech reveal the magic behind Big Bash League NYE
"Who lives in a pineapple under the sea?" is not a question usually posed at the cricket, but when Spongebob Squarepants turned 20, Nickelodeon teamed up with sports agency TLA Worldwide to celebrate his birthday at the now-iconic Big Bash League New Year's Eve fixture at Adelaide Oval in Australia. Since 2014, the after-game celebration has become the party to be at, with the entertainment growing more spectacular each year. 
Long-term production partner Novatech Creative Event Technology (NCET) outdid themselves on December 31st, as the Adelaide Strikers took on Sydney Thunder. Video and content gurus Campfire Content put together a spectacular video programme that sent the beloved children's character into bat and bowl, in a massive, immersive show that completely took over Adelaide Oval just seven minutes after the game concluded.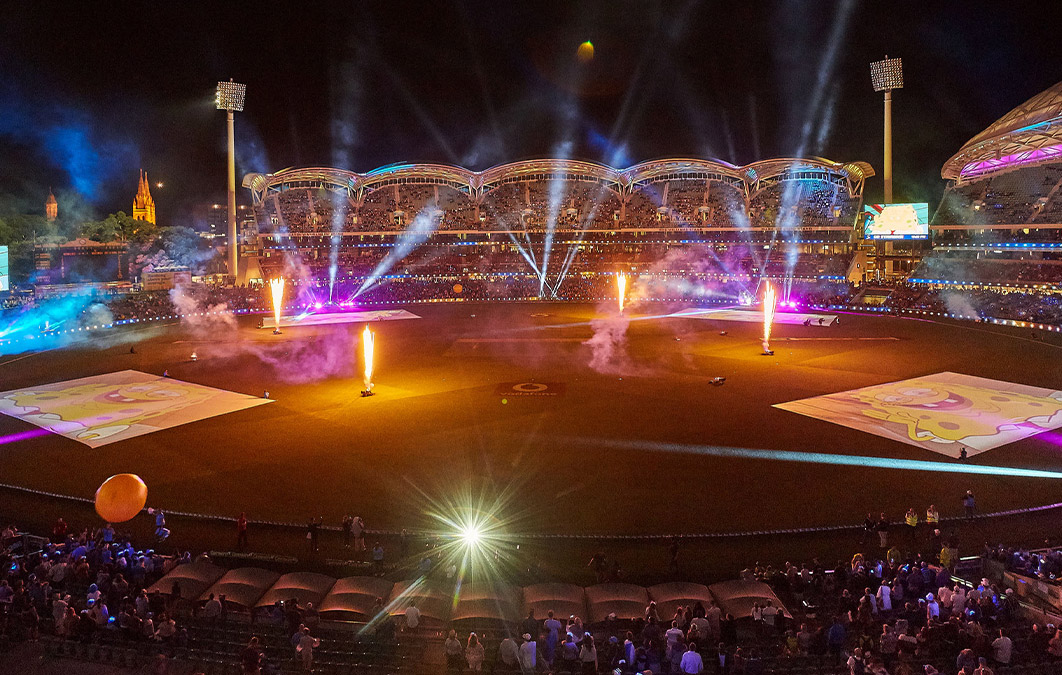 The Oval's 360 degree boundary LED screens, two levels of parapet LED screens, and three enormous LED vision screens were unified into a vast content canvas. Not satisfied with that, Novatech designed, sourced, built, and rolled out four 30 x 17 metre projection surfaces onto the field itself. disguise powered 4K projectors that were rigged at the rear of the grandstands to project onto the surfaces, using every pixel of their 4K capability to create a perfect image. 
The backbone of the show was a disguise 4x4pro, sending timing triggers to the pyrotechnics crew who set off fireworks to coincide with the video. 
"We chose disguise to handle playback, control, screen alignment, and timecode. We needed a reliable and robust system to keep everything in sync and and the disguise solution provides with us with complete trust every time."
Leko Novakovic, Managing Director at Novatech Creative Event Technology
"Spongebob Squarepants is not the first character that comes to mind when you think of cricket," admits Leko, "but the BBL, TLA Worldwide, and Nickelodeon wanted something cool and different. With some clever design and fun new tech, I think we hit the brief for six!"