case study 2018 4 min read
Hollywood Bowl - LA Philharmonic
disguise supports Xite Labs in Projection Mapping Hollywood Bowl for LA Philharmonic's 100th Anniversary Concert.
The Los Angeles Philharmonic kicked off its 100th anniversary season with a free concert for 18,000 fans at the Hollywood Bowl. The celebration marked the first project for Xite Labs, which used two disguise 4x4pro media servers to map the Bowl with dynamic projections and real-time visual improvisations for performances by Katy Perry, Kali Uchis, Yola, LAPhil, Herbie Hancock and John Williams.
LA-based Xite Labs is a design studio focused on creating immersive visual and auditory experiences. It was formed by content creator Greg Russell and visual artist Vello Virkhaus, who have headed their own separate companies for the last 20 years. "We met three years ago, started working together and found a great partner in each other," says Vello. "The Hollywood Bowl concert was the first project under our new Xite Labs banner."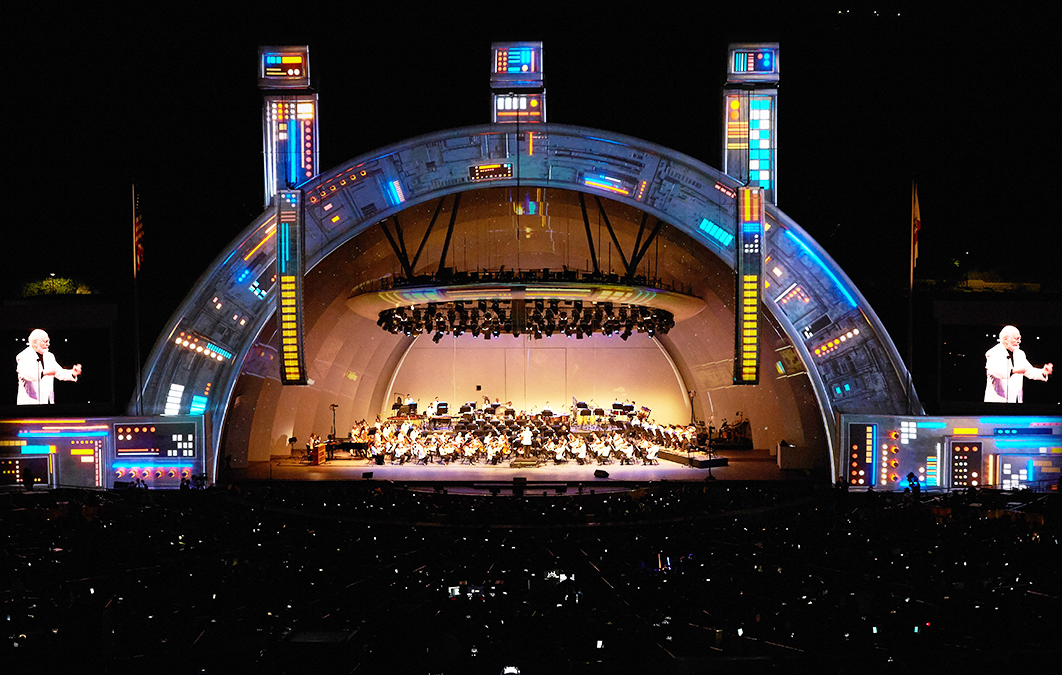 Xite Labs projection mapped the Bowl's iconic proscenium with colourful, high-energy visuals that moved in real-time with the music. LA Philharmonic Music Director Gustavo Dudamel's body and hand motions were captured by a Microsoft Kinect cameras so the tempo and pace of the music were actually reflected in the projections on the Bowl's structure.
Xite Labs crafted dynamic geometric projections to accompany Herbie Hancock's 'Rockit' guest performance. Katy Perry's cover of Queen's 'Bicycle Race' featured images of turning wheels and her performance of 'Firework' made the Bowl light up with pyrotechnic projections that enhanced the real thing illuminating the night sky. A surprise performance by composer John Williams leading the orchestra in the 'Star Wars' theme showcased projections that transported the audience far, far away to a scene evocative of Han Solo's Millennium Falcon.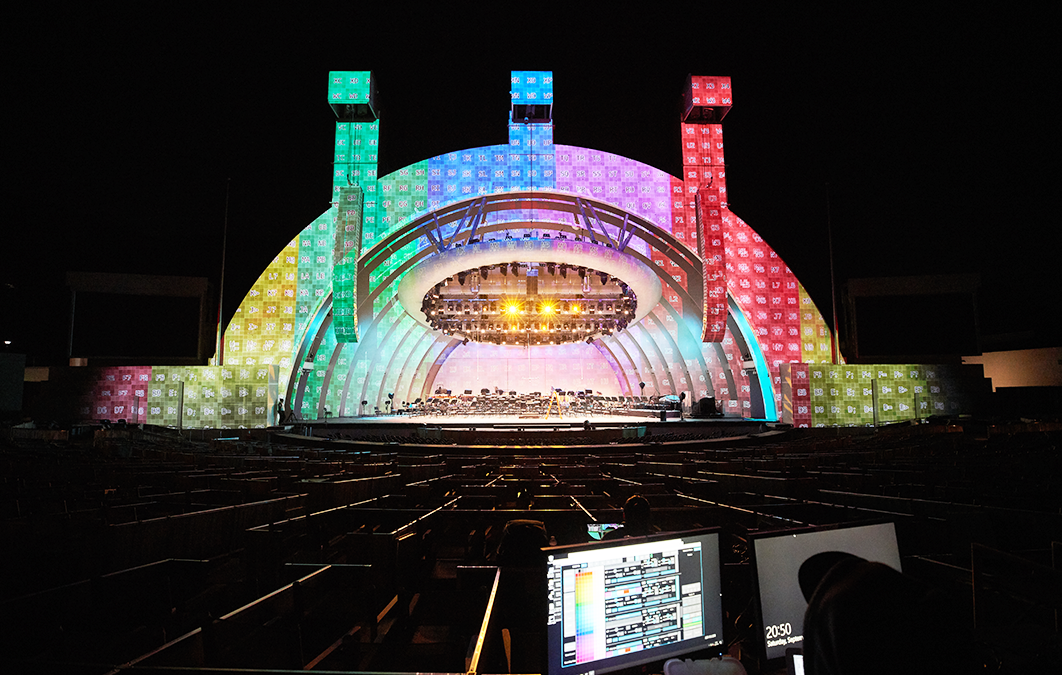 Vello described disguise media servers as "the ideal tool for our large-scale projection mapping projects. We had been using another product for most of our projection mapping, but with the advent of Notch and disguise's engine and software advances, we saw a big change. We've now focused on using disguise as one of our primary tools. I can't imagine trying to do the Hollywood Bowl project without disguise – we wouldn't have made it given the nearly impossible turnaround time for content and mapping."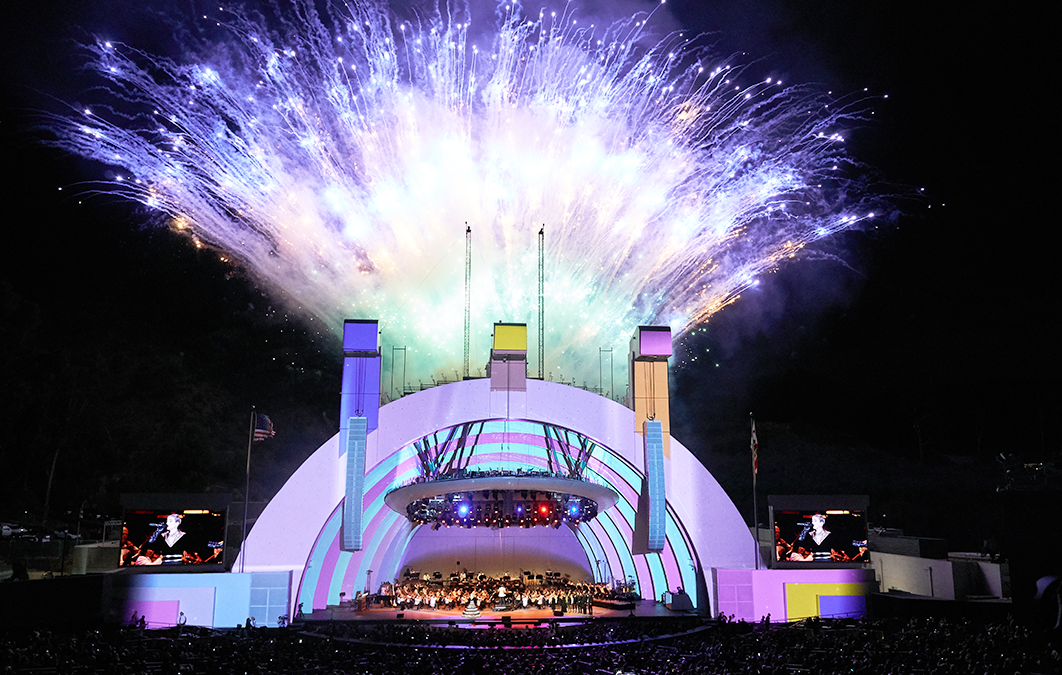 Xite Labs served as the creative directors and art directors for the entire Hollywood Bowl experience. "We were very interested in the music of the orchestra driving the visual compositions and the LA Philharmonic's long history with various genres of music in their 100 years," says Vello. "We met with each artist team, and the creative process evolved based on our original ideas and their feedback. The visuals were influenced by a convergence of sight, sound, touch, movement and music. "
"We used disguise in pre-pro for projection studies and projector placement," describes Vello. "It worked great; we love the ability to look at different views and cruise around the Bowl." The partners also like disguise's ability "to capture four video sources and use them as one 4K output or as a UV texture – that was really neat," says Vello.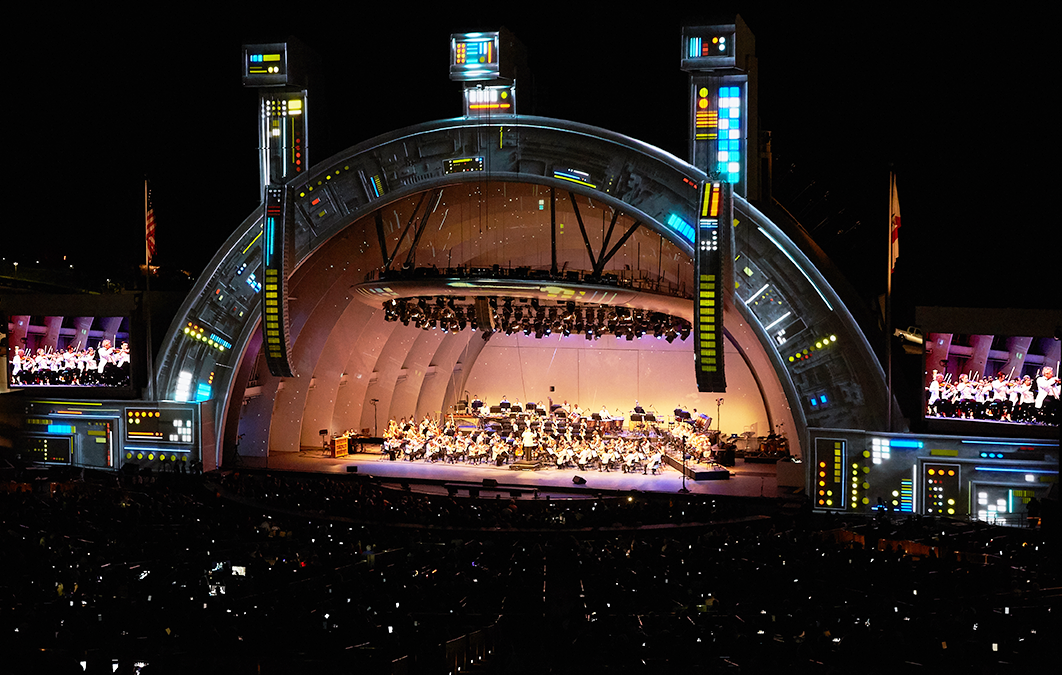 "I like how you can change mapping methods track-to-track – perspective mapping, a UV-wrapped model – that flexibility is pretty amazing"
Greg Russell
They also cite the collaborative mapping feature as being critical to the project's tight schedule. "We were running out of time and rushing to finalize the mapping onsite," Vello recalls. "To be able to have Greg working with one operator and me with another, at the same time, was an amazing feature of the software. It was the coolest thing ever to have a collaborate mapping workspace."
He stresses that "this was not a time coded show. We could not push 'go' and sync to time code. So the real-time tools we worked with to produce visuals at this level without a rehearsal were a testament to the both our development and the tools we had at our disposal. All the real-time flexibility of Notch and disguise were really central to being able to pull this off."
Credits
Client

LAPhil
Production Company

Xitelabs
Creative Direction

Vello Virkhuas & Greg Russell
Lighting Designer

Robin Gray 
Animator

Tanner Thompson, Brian Egan, Danil Tabacari, VJ Yarkus, Andrew Williams, Miguel Monteagudo
Additional Artists

Matt Guertin - Touch Designer system design
diguise Media Server Operation

Vaughn Hannon, Simon Anaya
Equipment Vendor
Main Image

Photo by Suzanne Teresa

Photographed at the Hollywood Bowl, Courtesy of the LA Phil