case study 2022 pdf
Nightscape opens immersive entertainment venue in Nashville
Nightscape's new Nashville-based entertainment venue redefines how digital technology can be used to evolve social interaction in a physical place. Using real-time video and audio rendering for immersive events and experiences, Nightscape pushes the boundaries of what was previously thought possible for private events, dining, sports viewing, nightlife and other entertainment experiences. In this case study you will discover how three disguise vx 2 media servers and four rx II rendering nodes help Nightscape realise its innovative vision to redefine multisensory immersion.
5 concepts
staged in first 30 days after launch
2000+ 
tickets sold for first 5 concepts
3 000+
mailing list sign-ups
The challenge
Nightscape is an experiential production and creative services company providing turnkey immersive experiences around the world via real-time visual and audio content. In March 2022, after four years in development, Nightscape opened, transforming Nashville's former 12th & Porter space into a state-of-the-art entertainment facility.
Featuring a main room with 360-degree projection mapping, 34 d&b speakers equipped with Spatial audio, pixel strip cove lighting and custom scent diffusers, the venue hosts events and experiences that transport visitors to any time or place, real or imagined.
"The Nightscape concept works best when the space is extremely modular, both physically and digitally," says CEO Mike Weinberg. "In order to achieve a constantly evolving and diversified space and calendar of events, we have to be able to quickly pivot from one concept to another."
Mindful of this, Nightscape encountered numerous challenges around producing visual and audio content that could be developed and changed quickly, both for Nightscape-branded ticketed experiences as well as private events, brand pop-ups and experiential activations.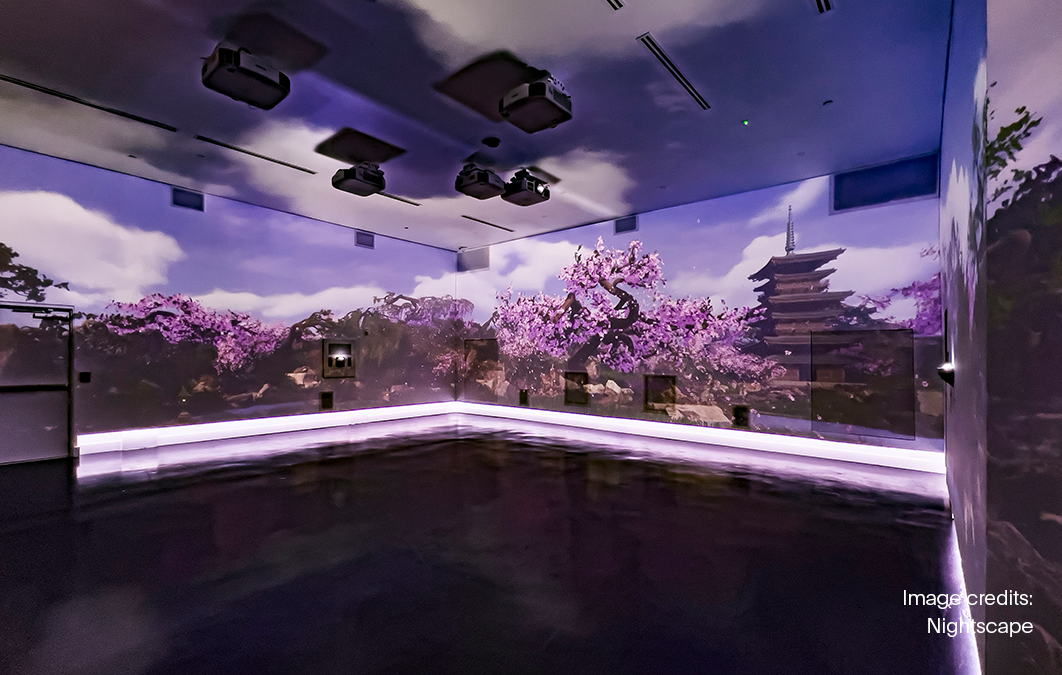 The solution

Nightscape devised its pioneering approach by harnessing the power of Unreal Engine and disguise vx 2 media servers and rx II render nodes to project the content in real-time. Vice President Kevin Longwell, who leads creative and technical for Nightscape, immediately recognised the potential of disguise.

"The various levels of support and opportunities disguise has afforded us allows us to be at the forefront of this exploding space of immersive experiences," says Vice President Kevin Longwell.
disguise was absolutely crucial to the success of our project as it was the turnkey solution for taking our highly complex real-time visuals and projecting them in the space."
Mike Weinberg, CEO, Nightscape