news 2023 4 min read
disguise brings the future of broadcast to IBC 2023
Showgoers can learn all about the latest Porta 2.2 graphics controller and experience disguise's end-to-end platform on five booths.
disguise is omnipresent at the 2023 IBC conference in Amsterdam. Visitors can expect to experience disguise's end-to-end solutions and services at not one, but five exhibition booths plus several speaking sessions showcasing how the disguise platform for content experience and graphics production drives broadcast productions fit for the future. A show highlight will be the launch of disguise's Porta 2.2 broadcast graphics controller as a single platform for show graphics (CG), MOS newsroom templates, augmented reality (AR) and extended reality (xR) that can easily be combined with existing broadcast workflows and tools.
"We are excited to bring the future of broadcast to IBC by showcasing our end-to-end solutions along with our world-class creative services," says disguise's VP of Broadcast, David Jorba. 
disguise's Creative Services team specialises in creating engaging data and content visualisation graphics, for the world's leading broadcasters all the way from concept to on-air. They have executed high-end and photo realistic visualisation for NBC, Univision, DAZN, CNN and many broadcasters globally.
"Our end-to-end broadcast solution makes any concept possible. We have the latest and greatest tools empowering streamlined workflows combined with the vision and expertise to help broadcasters engage audiences like never before," says Jorba. 
Porta 2.2: Unlocking seamless broadcast workflows with Unreal Engine graphics
IBC attendees will be the first to learn about disguise's latest release of the Porta controller. The release unlocks support for Unreal Engine's Motion Graphics, enabling broadcasters to control all their graphics types - AR, xR and motion graphics - through one single user interface from the cloud or on-prem. This innovation reduces roundtripping - streamlining workflow, tools and operations.
The disguise team will be at the INFiLED stand 2.B43 to lift the lid on Porta 2.2 and answer any questions.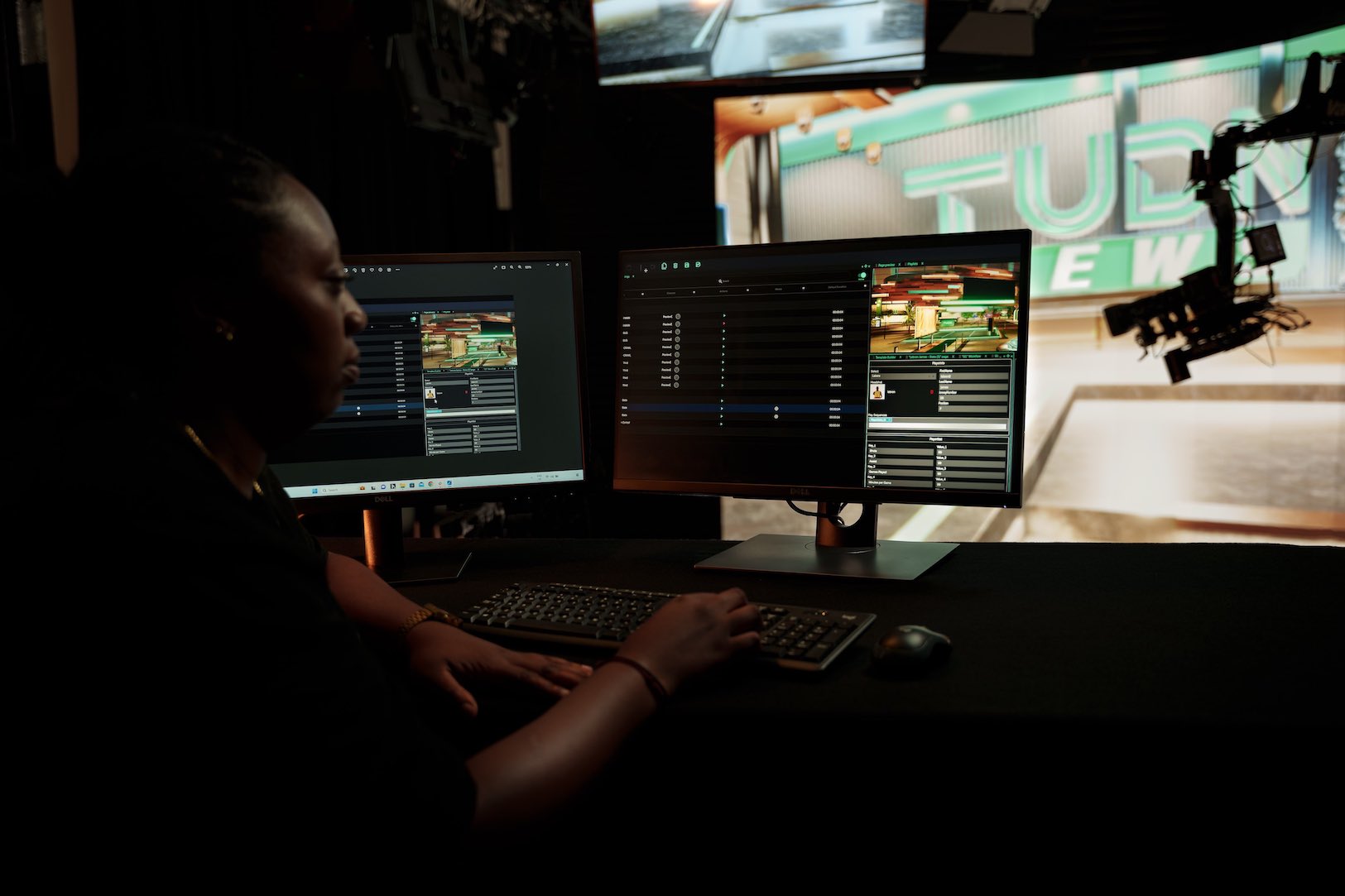 disguise solutions can be experienced throughout IBC at:
ROE Visual stand 7.C26
LED-based solutions for broadcast are highlighted at ROE Visual, including the ability to convert your LED video wall into an xR virtual production studio in one click. See for yourself how multiple cameras can 'see' different LED output frames simultaneously using GhostFrame Technology. disguise provides show control for the whole booth and has a dedicated monitor on the brainbar for the ultimate in lighting control, camera tracking and colour calibration.
On the booth, disguise will partake in a panel of experts moderated by Epic Games' BK Johanessen that is about "Media Engines for Broadcast & Film - What does the future hold?" as well as a joint presentation with Megapixel and ROE Visual called "Video over IP: What it means for me" discussing the growth of ST2110 and IP video in broadcast and the technologies that enable its widespread adoption.
INFiLED stand 2.B43
disguise makes broadcast graphics workflows practical, efficient and end-to-end by driving any graphic to any pixel. See this in action at INFiLED where there are daily broadcast and colour workflow demos from the disguise broadcast team, with motion graphics controlled by Porta. Visit this stand if you want to learn more about Porta 2.2 from the disguise team. 
disguise will also be demonstrating its integration with Pomfort Livegrade Studio on the stand in conjunction with INFiLED's new Infinite Colours (RGBW) and 1.9pp CBSF technology, showcasing how these can reduce technical barriers between Livegrade Studio's established on-set colour grading workflow and the disguise virtual production workflow. 
Absen stand 2.B24
The versatility and high production value of xR studios is revolutionising sports broadcasts. disguise will be powering Absen's ESPN-sports style broadcast xR stage, alongside a dedicated Esports area sharing content onto the main broadcast stage.
Canon stand 11.C41
At the Canon Virtual Production Studio, disguise enables a scalable high-end xR and cinematic virtual production stage. A variety of real-time virtual scenes (including photogrammetry) will be showcased, alongside Canon's new Flex Zoom cinema lenses that offer seamless integration into live camera tracking solutions. The demonstration is powered by disguise vx 2 and rx II hardware.
SmartStage/White Light stand 3.B24
disguise's new Invisible real-time markerless mocap solution is designed for creative and technical teams to achieve faster, easier, and more cost-effective motion capture for xR productions. This will be showcased at IBC on award-winning turnkey xR solutions provider SmartStage® - booth 3.B24 - with daily demos from disguise and Move.ai.
Throughout the show, disguise technical experts will be hosting regular talks demonstrating its groundbreaking capabilities in virtual production for broadcast. These include a never-before-seen presentation of a new technical paper by disguise, titled "Using MetaHumans in Large-Scale Sports Production", on Saturday, 16 September, at 11:45 at E102.