Real-time markerless mocap
Unlock the power of real-time motion capture through advanced AI and superior graphics processing.
The power of the unseen
The Invisible solution combines Move.ai's real-time markerless motion capture software Invisible with the disguise platform, making it faster, easier, and more cost-effective to achieve live motion capture in broadcast, xR, film, immersive installations and live events.
AI-driven mocap
Forget about restrictive and costly mocap suits. Performers simply need to enter the stage to be automatically tracked and rendered into a virtual scene. No need for suits, wires, or big budgets, AI identifies every single movement.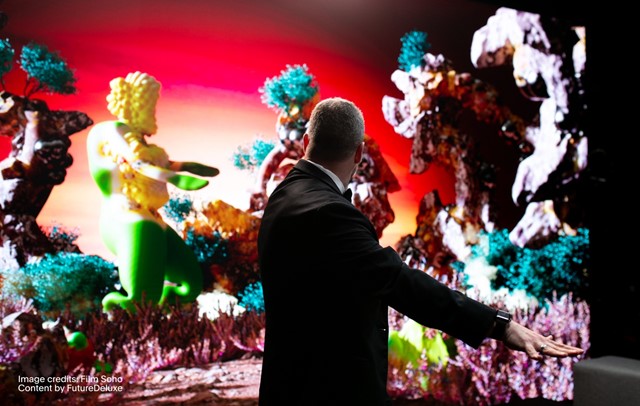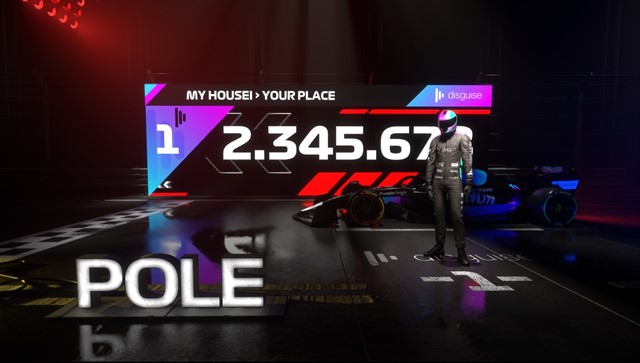 How it works
Natural human motion is captured through advanced AI within the Invisible software, and visualised real-time as a skeleton in disguise's flagship software Designer. In one click, the skeleton rig is easily transported into Unreal Engine to achieve the desired effect before mapping it out to the LED screen - all in real time.
See it for yourself!
Discover how the Invisible solution can upscale and streamline productions for your team. Fill out the form to learn more and get a full demo:
Accurate shadow casting
Make 3D a reality! Realistic shadow casting triggered by live motion capture enhances the sense of realism for the virtual scene, allowing lighting directors to better utilise their skills and reducing post-production work.
Movement-triggered graphics and effects
Interactivity to the next level! Automated, pre-programmed 3D graphics and particle effects can be triggered by gestures and movement in real time. This ensures greater creative freedom and less operational overhead.
Digital and AR characters
Enable automatic digital puppeteering for AR and virtual characters for your next production! With the Invisible Solution you can track up to two people simultaneously on stage in real time, removing the need for mocap suits and saving time on equipment calibration and setup.
The Invisible solution is an exclusive bundle from disguise designed to take your production to the next level. It combines a fixed array of IP-connected cameras with Move.ai's Invisible software and the power of disguise's platform.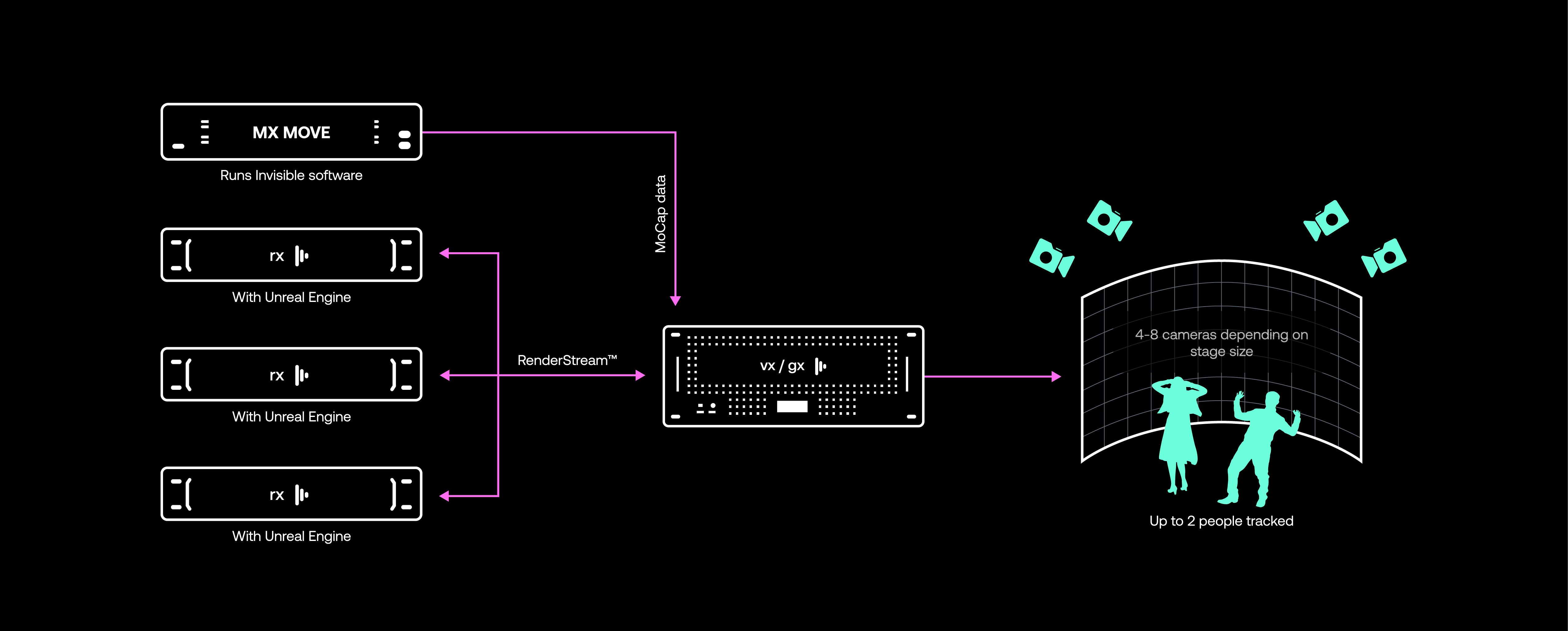 With the Invisible software licence included, the MX MOVE hardware powers the Invisible software to extract real-time human motion data from talent on stage.
Depending on the size of your volume, your Invisible Solution bundle will contain 4, 6 or 8 FLIR Blackfly® S GigE machine vision cameras, able to capture at a minimum of 1440 x 1080 at 60 fps in colour.
The solution comes with a selection of TAMRON 2.8mm, Goyo 3.5mm or LCM 4mm fixed focal length camera lenses, suitable for volumes of various sizes.
The 10Gb Netgear network switch supplies power over Ethernet for the cameras, ensuring the high-speed transfer of data from the cameras to be processed by the Invisible software on the MX MOVE.