concert touring - 2020
Dawid Podsiadlo and Taco Hemingway - Warsaw's PGE Narodowy Stadium
Record-Breaking Stadium Concert in Warsaw powered by disguise gx 2 and vx 4 Servers
It was a moment that made history when pop artist Dawid Podsiadlo and hip-hop artist Taco Hemingway co-headlined a record-breaking, sold-out concert of Polish performers at Warsaw's PGE Narodowy Stadium. An event this unique and of this scale had never taken place at PGE Narodowy and the disguise gx 2 and vx 4 powered the complex show for an audience of 60,000 fans.
Podsiadlo and Hemingway are recognised as a new wave of talented musical artists in Poland. So Pawel 'Spider' Pajak, with the creative production company and disguise studio partner Percepto [LAB], pulled out all the stops for the very special gig, which also featured Notch real-time generative content. Spider acted as Creative Visual Show Director, Content Director, Set, Lighting, Multimedia Designer for the show and is a long-time collaborator of Podsiadlo.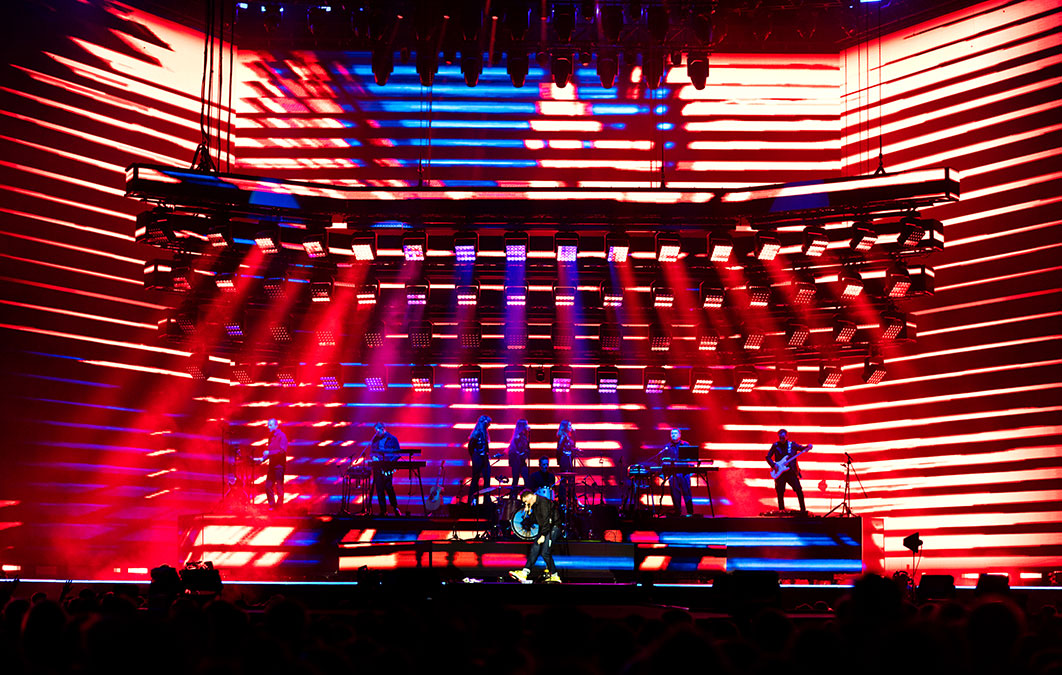 "No Polish artist has ever produced a sold-out gig at PGE Narodowy Stadium before this," says Spider. "But the demand from the music market was there. After four gigs in Warsaw's largest indoor hall last autumn there was simply no other place to have this one-off show happen."
The creative concept for the show was based on a huge 55-meter-wide video canvas with total resolution of 9540 x 1840 pixels built in a wing-style shape; the center portion considered a 12-meter-wide video wall backdrop. "We decided to avoid the classic look for IMAG screens," Spider explains. "The shape of the catwalk, the trussing and other elements matched the shape of the LED canvas. There was also a two-level, custom-made band riser equipped with LED surfaces and four custom- built truss constructions with lighting and video screens driven by Kinesys motors. The entire stage was framed by more than 130 pixel mapped LED lighting fixtures."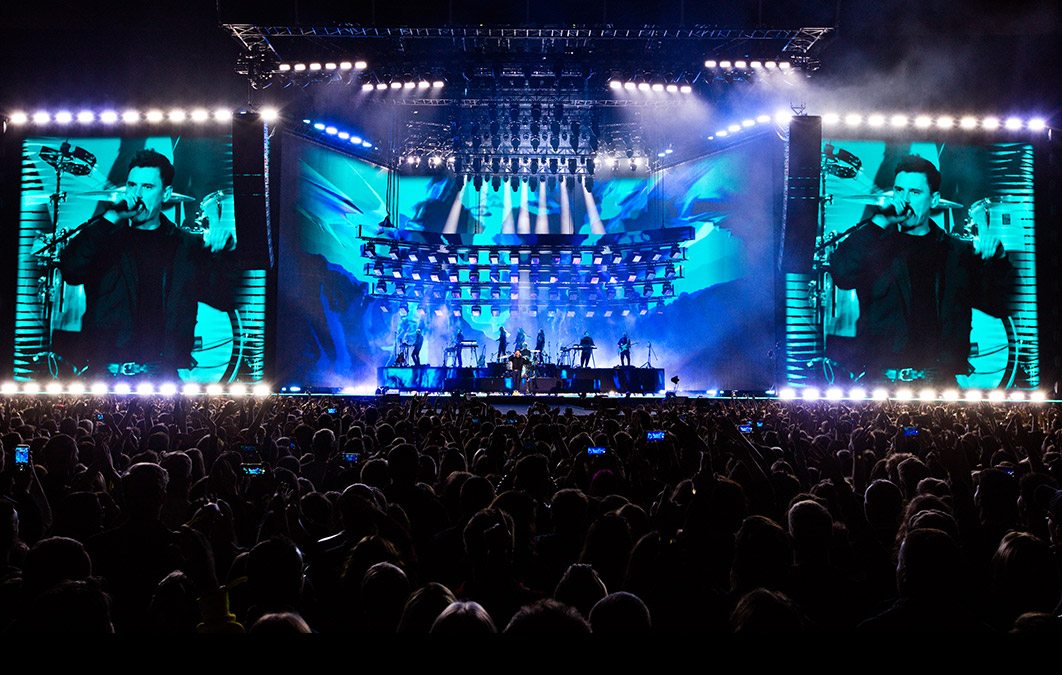 It was Spider's goal to deliver a unique experience for the audience, something that would "turn into memories and stay with them for years and take them on an unforgettable two-hour journey". Spider was however, challenged by a tight turnaround, with limited time for rehearsals and set-up at the stadium.  
Spider teamed with Notch Artist and Programmer Brett Bolton on the part of the content for the show using a remote workflow to bridge the gap between Spider's Warsaw and Bolton's Las Vegas locations. "I've been using Notch for a couple of years already so I knew exactly what I wanted to achieve. The creative concept, shared ideas and references were discussed and then Brett translated these ideas into the Notch world and used his experience and creative input to build Notch blocks.
Once beta versions were ready Spider tested them using MA2 and disguise at their previz studio. "We then sent back comments and additional requests where relevant, this ensured we got everything working exactly how we needed it to". "It was a great experience to use this workflow and collaborate with Brett" Spider explains. 
Except camera effects, Spider talks about how they also created some 3d environments controlled in real time to build stage looks for some songs. Some of the parameters were exported as MA2 device to get faster and more precise access while programming Notch blocks from desk level. "I choose disguise gx 2 for its Notch integration capabilities and the graphics power to get these 3d environments to render out in real time with different HD-SDi camera inputs. Simple and quick access gives you an option to adjust your look exactly the way you want" Spider adds.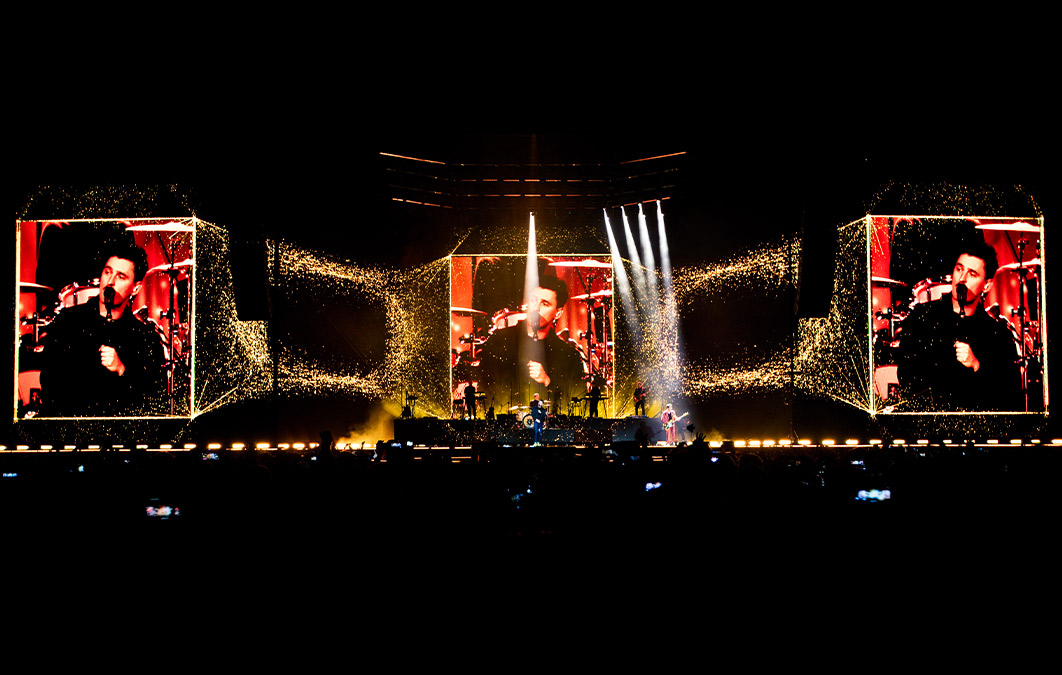 Spider selected disguise media servers for the project because "for me, disguise is about great system integration, pre-vis solutions and the whole workflow helps a lot when it comes to the creation of such a complex show." 
"We were able to get position data for trusses driven by Kinesys and use it in disguise. It was very helpful during show pre-programming as we were able to simulate and test different truss positions, store presets, adjust content and check view angles." By using pixel mapping they were then able to change lighting fixtures into low res video screens and combine them as part of larger video surface or use them within a second as separate moving video screens.
"I opted for both the gx 2 and vx4 because they are great machines that can handle this kind of large-scale production, especially with many layers of content, multiple input signals and real-time generative content. When you need to combine all of these and use an external control device to program and trigger everything, disguise is always my tool of choice."
Pawel 'Spider' Pajak, Creative Visual Show Director, Set, Lighting & Multimedia designer and Content Director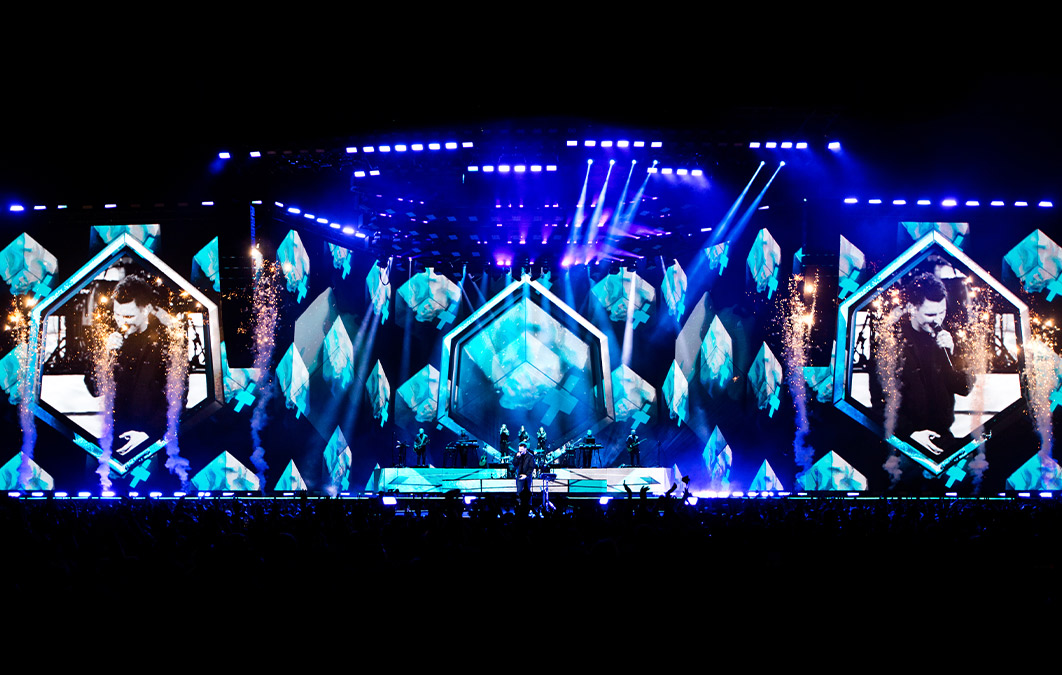 Spider utilised the disguise systems for a variety of specific features and functions they offered the show. "Their pre-vis capabilities, NDI for video signals, great mapping features and using position data from Kinesys to run the content on the movable screens," he enumerates. "Also, Notch & MA integration, mixing Sock Puppet and timeline was very helpful as well as HD-SDI inputs were very useful to bring in both camera feeds and the video input from external software."
"I had the pleasure and privilege to collaborate with a great team of creative and technical people working very hard to make this show happened."
Pawel 'Spider' Pajak, Creative Visual Show Director, Set, Lighting & Multimedia designer and Content Director
Credits
Production Agency

EastEventz
Producer

Maciej Woc and Michal Falat
Creative Visual Show Director

Pawel 'Spider' Pajak
Creative Visual Production
Set, Lighting & Multimedia designer

Paweł"Spider"Pająk
disguise / MA2 programmer & operator

Mateusz Huzar and Paweł"Spider"Pająk
disguise system Engineer

Mateusz Huzar and Michal Orlowski
LD Assistant & MA2 operator for Taco Hemingway

Michal Krumholc
Multimedia System Engineer

Michał Orłowski
Content Director

Paweł"Spider"Pająk
disguise gx 2 and vx 4 Provider
Notch Designer

Brett Bolton
Content Creation Team for Dawid Podsiadlo

Marcin Salma, Brett Bolton, Paweł"Spider"Pająk and Krystian Batyjewski
disguise/ Notch Programmer and Operator

Mateusz Huzar and Paweł"Spider"Pająk
Photos copyright

Honorata Karapuda / Percepto [LAB]