Concert touring - 2019
Dawid Podsiadło 'Małomiasteczkowa Trasa' tour
disguise gx range supports Percepto [LAB] in creating 3D immersive environments for a stream of sold out shows.
Poland-based creative production studio and disguise studio partner, Percepto [LAB], recently chose the gx range of media servers to power an immersive 3D environment for Polish singer-songwriter and former 'X Factor' winner Dawid Podsiadło's 'Małomiasteczkowa Trasa' tour. The tour played 13 shows across seven cities in November and December 2018 with the Warsaw dates selling out four times and the Krakow show drawing a record-breaking 19,000 fans. It promoted Dawid's latest album 'Małomiasteczkowy' which is certified four times platinum in Poland.
Percepto [LAB]'s creative brief was to produce an immersive 3D environment that integrated the tour band. "The concept was to have a strong geometrical set design with IMAG screens and projection surfaces that changed shape during the show," explains Pawel 'Spider' Pajak, Creative Director and Producer at Percepto [LAB]. Kinesys motors kept the trapeze like screen in a certain position while the audience entered the arena. Then the lighting sequence, combined with the screen movement kicked off the show and revealed Dawid coming on stage.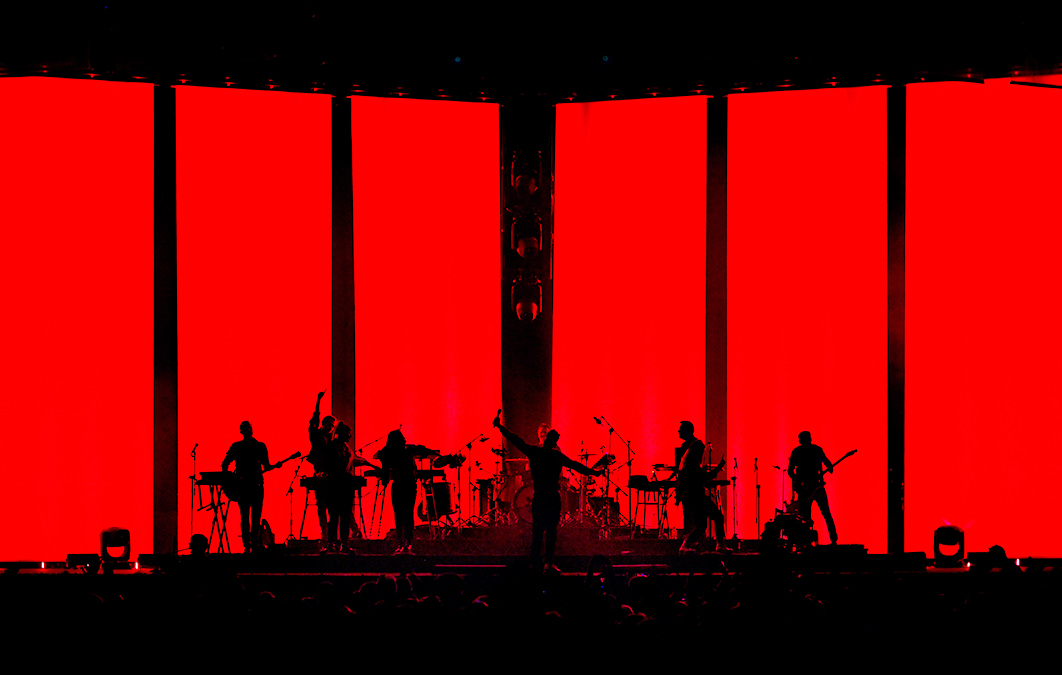 A long-time disguise user, Spider has discovered "how easily I can integrate essential show tools like MA2 lighting consoles, Notch and BlackTrax" for complex productions like Dawid's tour that featured real-time generative effects and automated scenic elements.
All the video elements of the show were powered by a gx 2 server. "Considering the workflow using timelines, SockPuppet, Notch and lots of video layers, the gx 2 was a natural choice," Spider reports. "I didn't want to limit myself: I am always bringing in some crazy ideas throughout the pre-pro period and also during the tour."
"disguise has been very helpful in my productions not only as a standard media server but also as an advanced pre-production tool helping me visualise ideas and creating a space to develop something new. I love the versatility of being able to use disguise differently for different shows."
Spider - Percepto [LAB]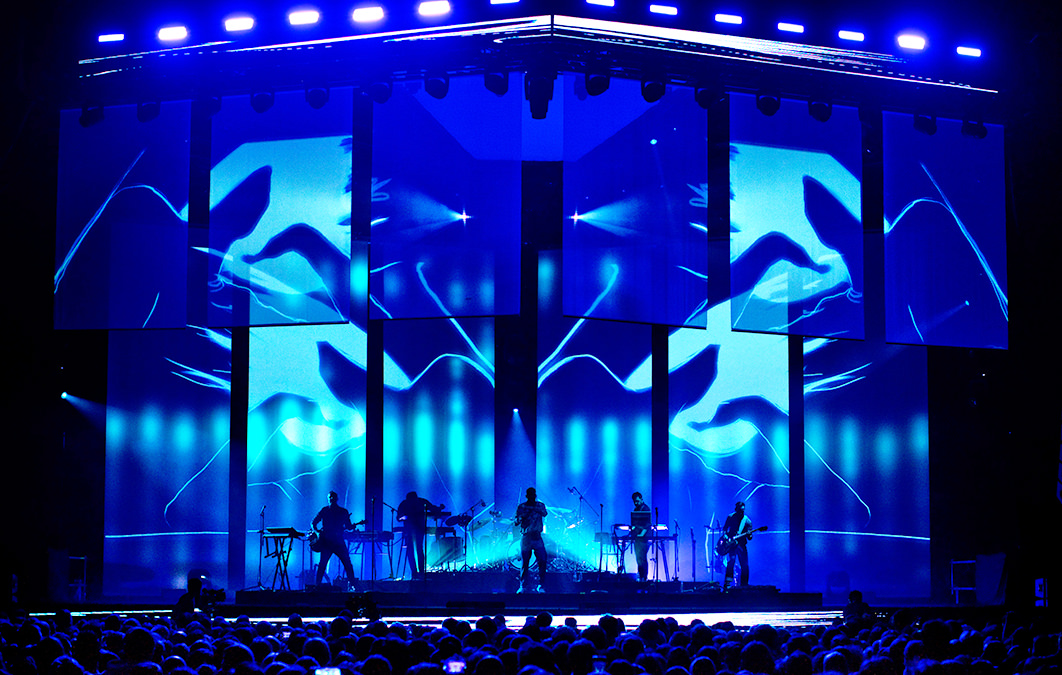 The show featured projection surfaces alongside IMAG screens and an upstage wall of Barco Mistrips. Spider used the gx 2 to send camera feeds and video content with real-time effects to both IMAG screens and projection surfaces to manipulate them. "These days shows are mostly LED screens, so it was great to play with projection surfaces, the different transparency of these surfaces and have full control of the height of the projection surfaces," he says. The show's primary projection surface included twelve motorised roll drop screens which each measured 2.4m wide by 8.5 high; in addition, a trapeze-like screen offered something extra for certain moments of the show. Combining all these elements together gave a "different way to play with video content" and create the projection environment.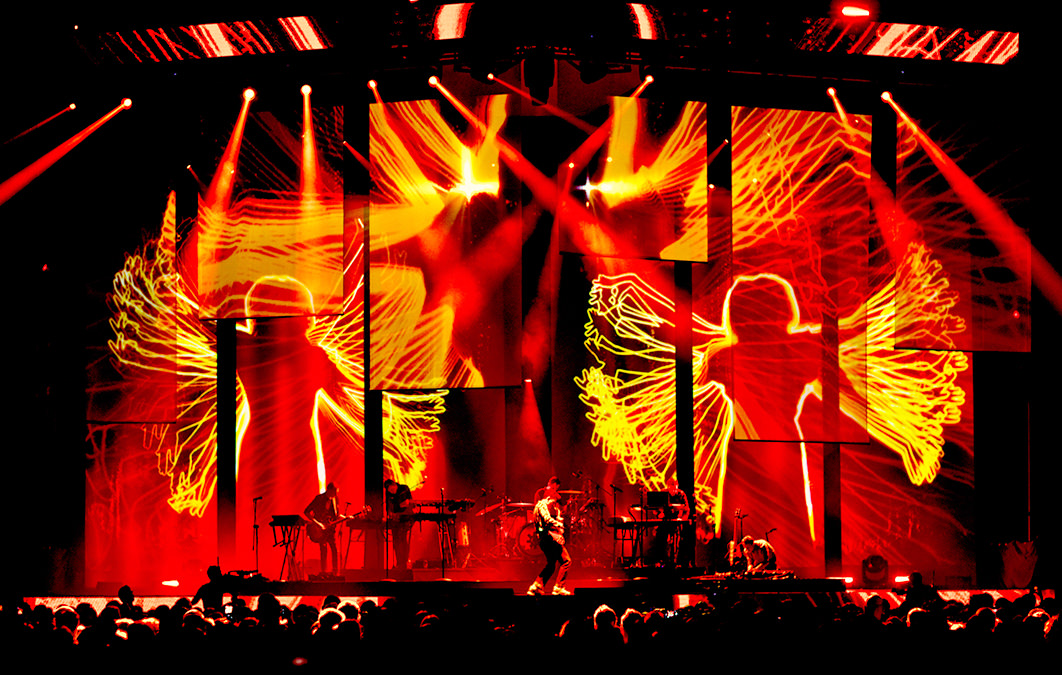 For this project, disguise was particularly helpful in pre-pro thanks to its quick projector calibration, multiple mappings, fast editing, live feed inputs and projector control. Spider also made use of exposing selected important parameters for MA2 control for faster and more effective programming. SockPuppet played a key role in show programming. "I experimented with using a workflow that combined Art-Net for SockPuppet with a dedicated timeline tracks with Notch blocks," says Spider.
In terms of the show's workflow and design, "there was always something new to consider" as the show evolved, he says. "I love to challenge myself and keep looking for new solutions that I've never tried before."
Overall, he was very happy with the performance, efficiency and stability of the gx range for the tour and looks forward to working on future projects with disguise.
Credits
Production Agency

East Eventz
Creative Visual Production

Percepto [LAB]
Creative Visual Director

Paweł 'Spider' Pajak
Set, Lighting, Multimedia designer

Pawel 'Spider' Pajak
disguise & MA2 programmer

Pawel 'Spider' Pajak  
disguise project set up

Jo Pauly
disguise tour Engineer

Michal Orlowski
Video content production

Piloci Studio, Percepto [LAB], Marta Kacprzak Motion Stories
Projectors, Screens, LED Screens, gx 2

Wizja Multimedia
Lighting

Transcolor
Photo credit

Honorata Karapuda