concert touring - 2015
Ed Sheeran 'X' Tour
disguise and Notch formed a powerful combination and facilitated the creative treatment for the Ed Sheeran 'X' World Tour.
For most pop music tours IMAG is simply a way to ensure that fans get to see what's happening on stage. Traditional left and right IMAG screens just enlarge live feeds of the band – the really creative visuals happen elsewhere on giant LED walls or huge hero screens where graphics, animation or pre-recorded video interact with the artists. Ed Sheeran's "X Tour" redefines IMAG through clever use of disguise and Notch (formerly Demolition), a real-time effects generator, exclusively available on the disguise platform.
"Everything came together in disguise, and we got a very accurate representation of what to expect. You see so quickly what works and what doesn't – all ahead of time – and I believe that pays off in terms of making creative decisions."
Matt Swoboda - Notch
The English singer-songwriter and musician began his worldwide tour last summer in support of his second album by the name of X (pronounced multiply); the tour continues through December visiting stadiums as well as arenas. His creative team has turned IMAG on its head bringing it front and center with ten differently-sized screens in five columns, which display innovative content to engage fans without detracting from Sheeran's strong stage presence. Using disguise famed software suite and two 4×2pro media servers have enabled the team to craft unique, multi-layered looks for each set in the show.
The creative concept behind Ed Sheeran's Live Production was driven by Lighting & Production Designer Mark Cunniffe & Production Manager Chris Marsh. Cunniffe's brief to content creators, The Third Company, was to move away from traditional I-mag and wherever possible immerse the Artist within the visuals created. No small task considering that Sheeran was the only person present on stage.
"It was clear that IMAG would be a big part of the show with Ed being the only person on stage," says Damian Hale, a creative director at London's Treatment/The Third Company; (Content Creation for Sheeran's "X Tour" was a Third Company project.) "But I was determined that [IMAG] could not compromise the design or distract from the content, so from the very beginning my aim was that the audience should not be able to see the line between live imagery and content. Using IMAG as such an integral part of the design meant that the screen content, like the sound, would be unique in each show."
When lighting and production designer Mark Cunniffe commissioned The Third Company to create the content for the tour Mark was introduced to Matt Swoboda, creator of the revolutionary real-time effects generator, Notch. Notch can be used on request exclusively with disguise media servers.
Swoboda says, "What I like so much about this show is that it's not dominated by video: It's dominated by the artist. To have a vision like Mark had and to be able to carry it out with the right people like The Third Company, that's something you really don't see that often. The result is so much more than 'just video': It's all these different visual effects coming together, and becoming something more than the sum of its parts."
Swoboda calls this technical concept "very brave" and says "not all designers and content creators would go this far in using new technology. But both Mark and Damian really understood the power of what we could do."
"Notch, in conjunction with disguise, allowed me more creative freedom than any other approach I know of," says Hale. "They work together so smoothly and allow for a very fluid workflow. Looks and effects can be tweaked and updated all the way through the process without holding things up or disrupting the flow of ideas."
Rowan Pitts, a freelance disguise specialist, handled the previs and preproduction programming for Sheeran, including three sold-out dates at Wembley Stadium in July where a tour documentary was shot. "Ed Sheeran's tour really breaks down the boundaries of video content and IMAG," says Pitts. "IMAG is now part of the overall aesthetics of the stage."
"Previs is a massive help for short time frames [like Wembley], especially when we were able to work within the disguise 3D virtual simulator. In rehearsal we only had two of the ten screens rigged, but it was important to see what the other screens were doing and we could simulate that. When all the screens were plugged in at Wembley we didn't have a massive amount of tweaking to do."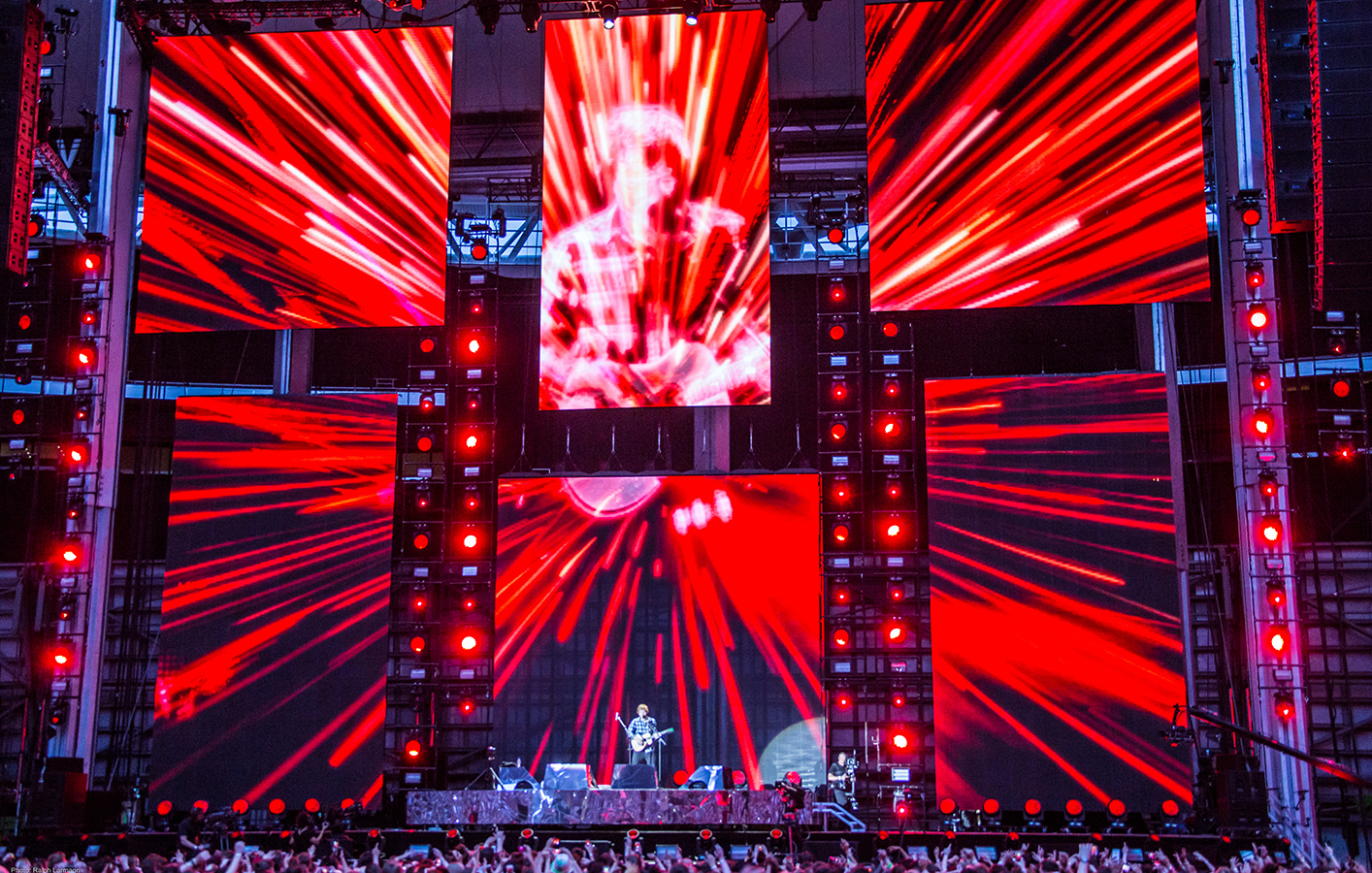 Hale concurs. "The disguise visualizer is great and has become an essential part of the process allowing me to see the work in situ as I go along and helping clients to visualize the final result."
Notch's versatile real-time effects capabilities enable Hale to craft unique, multi-layered looks for Sheeran that take IMAG visuals to new heights.
"After seeing Notch in action I knew it would be the ideal tool for the job as it allowed me such freedom from a design point of view," says Hale. "With Ed being such a tactile performer, the very digital graphic looks usually associated with live-generated effects would never have worked. But Notch was capable of making far more subtle and interesting looks.
"For the most part these looks were completely bespoke: I would design the desired look and Matt would build an effect to match. The final results were far more organic and textural than any live imagery I've seen before, and the final results were never compromised, which was extremely rewarding and essential for an artist such as Ed."
Hale sometimes sandwiches the live feed of Sheeran into layers of pre-rendered animation. "For example, we have Ed sharing the screen with hand-drawn pen and ink animations," he explains. "I made a layer of animated brush strokes which filled the dark areas in the IMAG. This was then layered onto a paper texture, animated paint color washes and layers of ink splashes and specks. It gave us a seamless result – the closest thing to hand animating IMAG in real-time."
"There were lots of layers to program: a base layer covering all the screens, treated IMAG on top of that and at times another content layer," Pitts notes. "Real-time-generated effects require quite a lot of computing power. As far as I know, the disguise system is the only one with the power to support the Notch effects and render all the content out to the screens."
A stereo 3d broadcast camera, supplied by Telegenic, "really pulls Ed out of the background" for the live feed effectively creating "a real-time green screen we can work with," says Swoboda, "these cameras are usually used for filming sports for broadcast on 3d TV but at Wembley for the first time we used them to to analyse and process the IMAG and perform greenscreen-style keying of Ed from background in real time. Mark and I came up with the idea, it's never been done before to my knowledge. Telegenic supplied camera and operators and were most helpful in the R&D process getting the technology working beforehand. All the processing is done by Notch."
Credits
Content Producer

Damian Hale from Treatment / The Third Company

 
Production Design

Mark Cuniffe 

 
Production Manager

Chris Marsh
Previs & Pre-programming

Rowan Pitts
Touring programmer

Phil Mead
Lighting designer

Mark Cuniffe