concert touring - 2019
Fedez 'Paranoria Airlines' Tour
disguise takes off with Italian rapper Fedez on his 'Paranoia Airlines' tour.
Italian rapper Fedez has embarked on a tour of major Italian cities in support of his third solo studio album, 'Paranoia Airlines.' A pair of disguise 4x4pro media servers powered the dynamic and colourful graphic content displayed on the giant LED cube in which Fedez performs.
Fedez kicked off his 'Paranoia Airlines' tour in March 2019 in Florence and will wrap up in April 2019 in Conegliano. The show features an on-stage cube (10 meters wide, 8 meters high, 8 meters deep) formed by blow-through crystal 3.9mm LED screens on the sides and front and an Acronn Ultrawave 9 LED screen on the back wall. Although the cube is fixed in position, the front panel is divided into two and opens with a Kinesys rail to allow Fedez to move freely around the stage and to provide a surface for IMAG effects.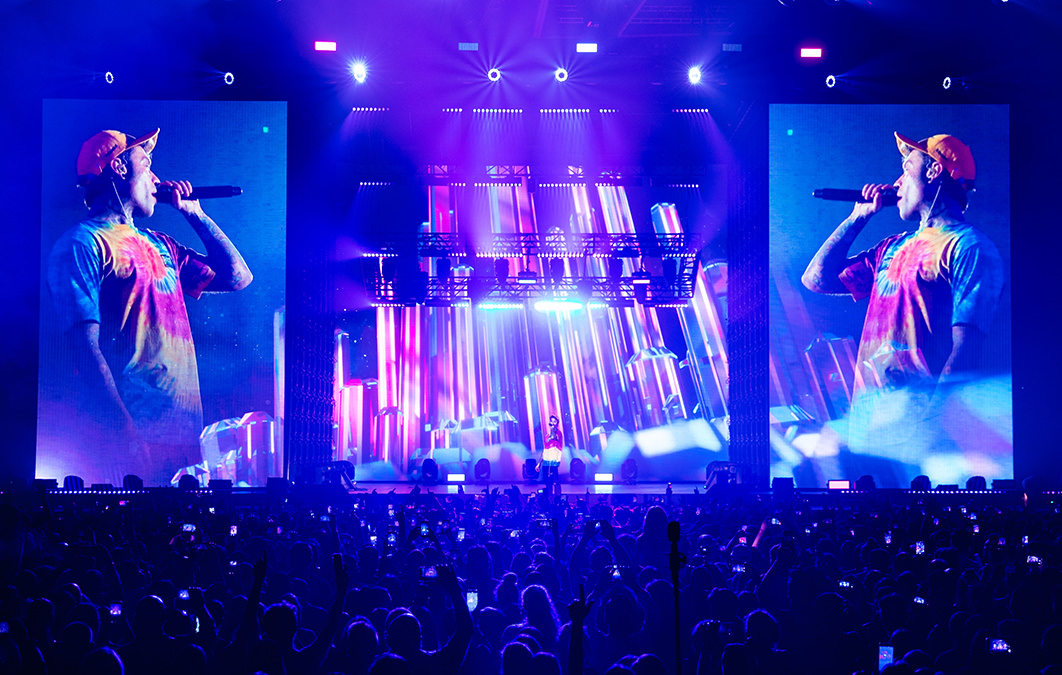 "We start the show with the artist inside the cube. After an intro and two visually intense songs the cube opens, low fog fills the stage and lighting trusses are lowered inside the cube. With Kinesys the screen can open in less than 25 seconds," reports Lorenzo De Pascalis, Creative Director of the tour and Director of design company IAMDEPA Ltd. Once the cube is open IMAG footage can be layered on top of video using Notch real-time generative content.
"From the beginning of the project to the rehearsals disguise has been an amazing tool to work with in terms of its ability to support the content we were building, the real-time Notch effects, the quick changes we made, mapping fixes and the BlackTrax data we imported along with multiple camera feeds," says Lorenzo.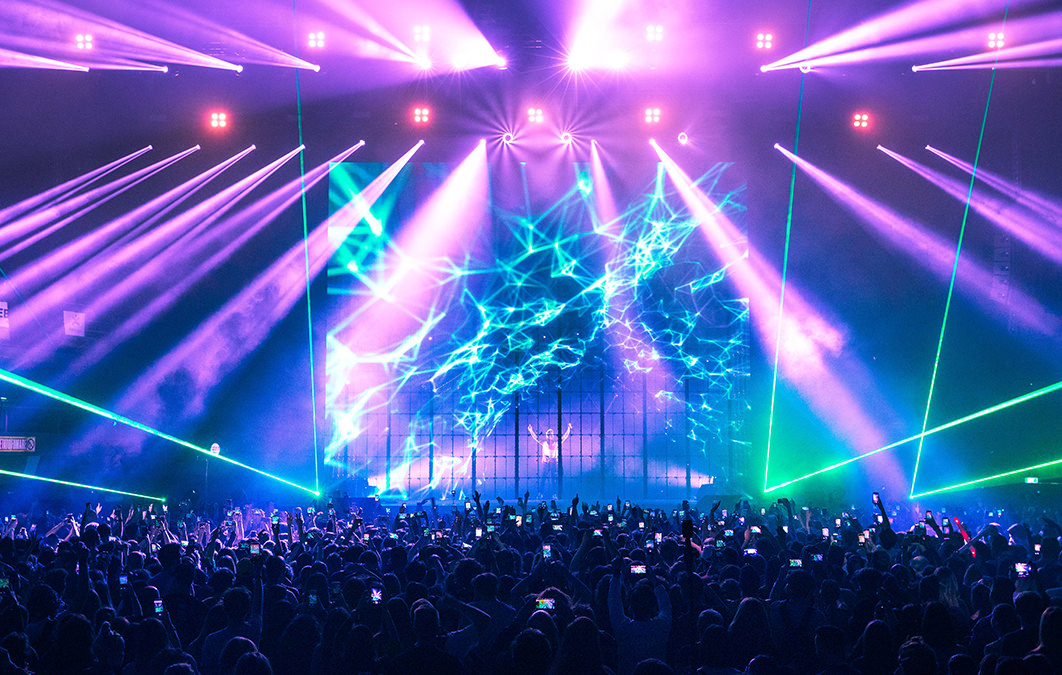 "Having a 3D LED structure gave us immense possibilities as well as challenges, such as cameras in 3D software, Notch and designing the interaction between the artist and the screens," he explains. "Therefore, being able to see at any point what we were doing was fundamental. From the moment we hopped on this project Notch Programmer Marco Martignone built a preview stage in disguise to set the values for the interaction the artist had with the screens. Since the structure has a volume and is not a big flat screen, this meant that for some of the content we designed we had to make multiple renders with different cameras in 3D software to get the best perspective and angles to give people in the side seats a good viewing experience as well."
disguise Operator and Programmer Nicholas Di Fonzo built a project with finalised pixel maps and mapping options that were used both for Notch and for previewing content.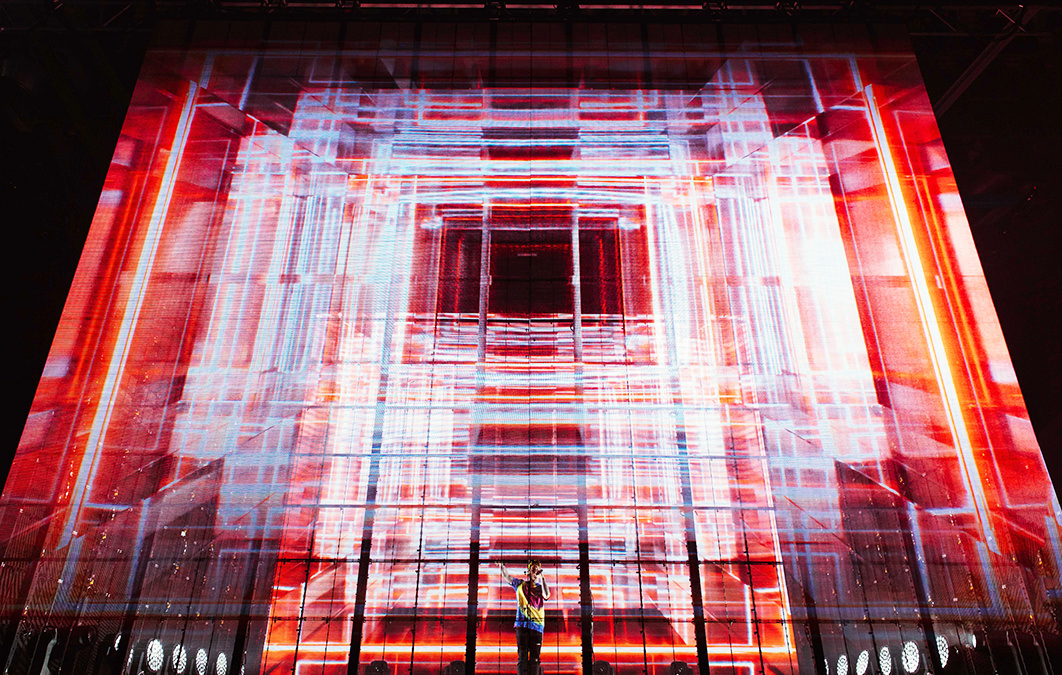 The show was driven by one main and one active spare 4x4pro each with four VFC DVI cards and 13 active outputs.
"When the cube is closed content reaches a maximum of 9216 x 2048 pixels, which is absolutely no challenge for disguise," says Lorenzo. "When the cube opens up content is run at 5120 x 2048 giving us some wiggle room as the screens move."
For the seven songs that integrate Notch effects "every patch is uploaded to the server and has full interaction with BlackTrax inside the cube," he reports. "During the interactive portion of the show, BlackTrax tracks Fedez inside the cube as his movements sideways and to the front and back change effectors and visuals in real time. We have a few different effects running from tunnels following him around the stage. Particles get attracted, and cloth simulations are moved and pushed by his position. It was super-interesting and exciting to work on this project especially because of this interaction!"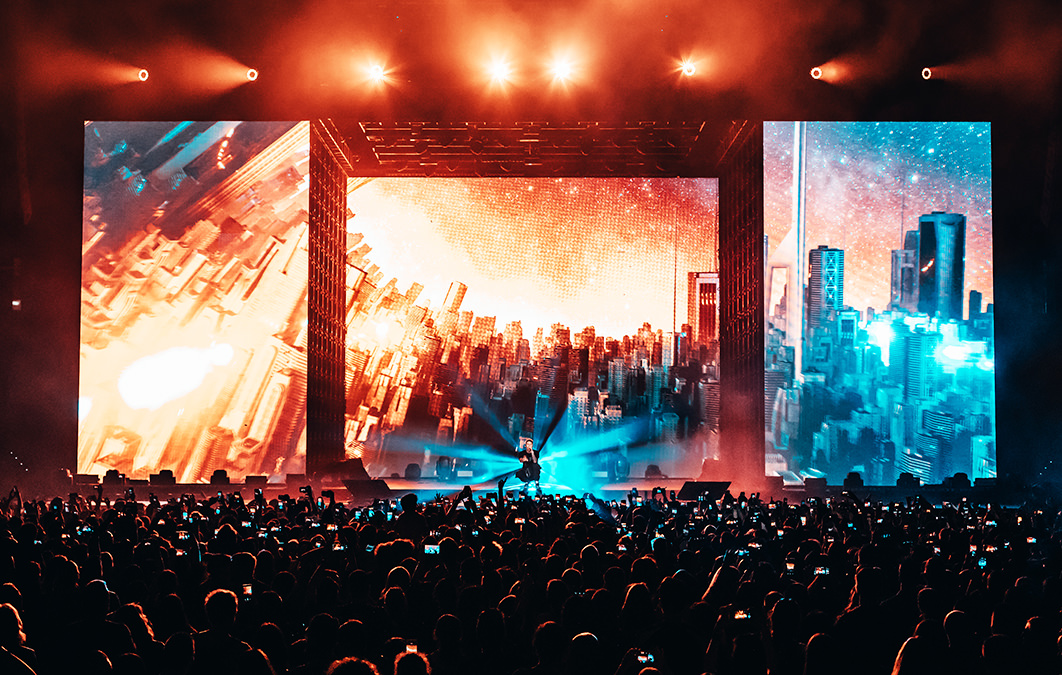 Given this complexity, "from particles to trails and line renders, passing by a few OBJs and camera effects, the 4x4pro is always pushing great frame rates," Lorenzo points out.
disguise's content versioning feature proved particularly helpful as the show evolved and changed, he notes. "The project was three weeks long and delivering content of that size was a huge challenge: Changing, updating, adding things during rehearsals happened day and night, and disguise had the perfect system in place for that."
"disguise has been a very reliable server for us on the show. Its integration with BlackTrax, Kinesys and Notch made it the perfect solution for us!"
Lorenzo De Pascalis, Director of IAMDEPA Ltd.
Credits
Creative Director

Lorenzo De Pascalis - IAMDEPA Ltd. 
disguise Operator and Programmer

Nicholas Di Fonzo
Notch Programmer

Marco Martignone
Content design

IAMDEPA

TwentythirdC

K1LABS

Akral

Teun Van der Zalm

Darrion Granieri
Show Directors

De Pascalis and Jacopo Ricci
Lighting Designer

Jacopo Ricci
LED Screen Provider and disguise provider

STS Communications
BOTW Supplier

BlackTrax