concert touring - 2016
Nick en Simon - 10th Anniversary Concert
Live Legends, using Notch and disguise, effectively executed a different mood and feel for each song on Nick & Simon's sell out Tenth Anniversary concert in Rotterdam's Ahoy arena.
Since 2006, Dutch singers, Nick Schilder and Simon Keizer, have been better known as the duo Nick & Simon. Originating from the iconic Dutch village, Volendam, they bring songs about life and love.
It has become a tradition for the duo to host a big concert at the end of each year, and this time it was a sell-out week of shows in Ahoy. For these shows, Ad de Haan, Co Owner and Creative Director at Live Legends, become an essential part of the team, supplying beautiful images to enhance the vibe of the performance.
Ad's vision for the Nick & Simon shows entailed: make an environment to situate the scene, use small changes and additions to set the mood for each song. In 2015, video content realized a giant snowglobe to fit the Christmas theme, for the 10th anniversary, of Nick & Simon, 2016, he envisioned a virtual theatre.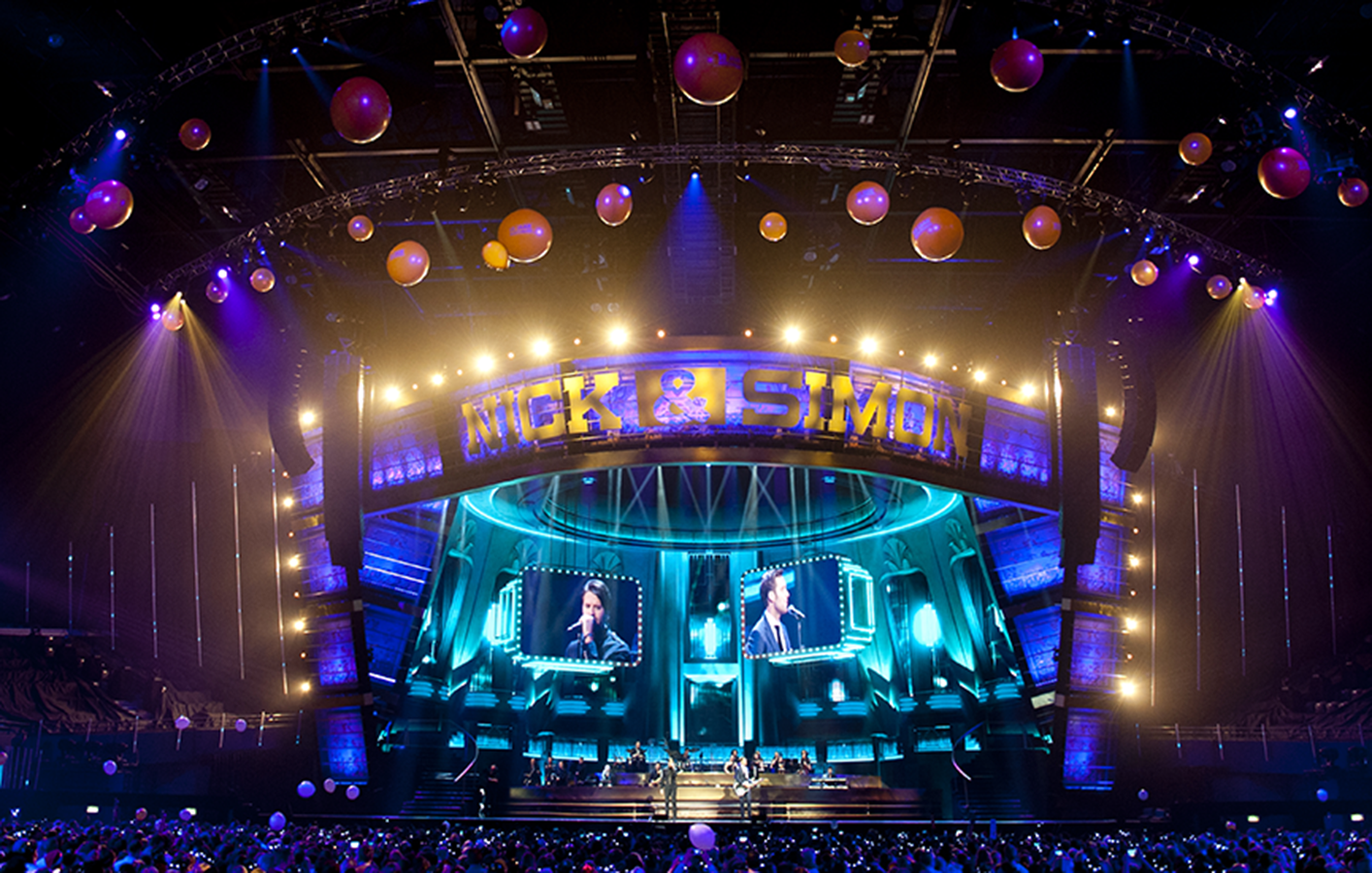 When Ad's previous company, LiveLab, merged with The Unit Showcontrol, to create Live Legends, Ad got introduced to disguise, and as did Nick & Simon. To set the base for this project, a 3D model of the theatre was designed. With the disguise visualiser this model was tested to see if it would work at the venue from all angles. It was essential to do that so early in the project, not just to get clients approval, but to have the basics right.
The show consisted of lots of different songs which all needed their own mood with their own individual changes and additions. To be able to produce that much content, a group of content creators were selected and each assigned different songs. By all working from the same 3D model, with the same camera specifications, all different elements would line up and match in style.
A new addition for this concert was realtime content generated by Notch. This was used to fulfil an everlasting desire to do something different with live camera than having it as a flat PIP. The content creators made 3D models of screens which matched the mood they created for the songs. That model was loaded and textured in Notch, so the live signal would stick to the virtual screens. This could additionally be mixed with the original video clips, selected by a Midi controller. The position and orientation of the screens could be sequenced on the disguise timeline. Proper masking inside Notch would make it look like the screens were actually coming from an opening in the ceiling of the theatre.
Ad de Haan adds, he always likes how on shows like these, the work of so many people can come together. "But with Notch this was brought to another level. As people are used to look at flat live PIPs they couldn't believe what they saw. I've actually had (even technical) people who had seen the show, who afterwards wanted to enter the stage to see that it was just a flat LED screen. I've heard audience members being impressed, by how we were able to 'bring that many stage pieces down from the roof'. "
"This new technology lets us think differently about video, the capabilities of a media server and its operator," says Dave van Roon, Live Legends' disguise specialist. "This was the second show I used Notch on and it got me addicted. It's not that you don't have to render your content, or that you can make content as you go. It's that you can amaze your audience with some amazing, interactive and responsive content. Besides the 3D screens we also added Notch on 2D elements, such as a spherical live pip on a Christmas ball, as if it was a reflection. Or, as we loaded the model of the theatre in Notch as well, create a virtual projection mapping."
Credits
Client

Volendam Music
Tour/Event Name:

Nick en Simon: 10 Years 
Content Producer

Ad de Haan, Desiree Van Giezen 
disguise Project Setup:

Live Legends
disguise Programmer:

Mark Honsbeek 
Notch Programmer:

Dave Van Roon 
Content Designer:

Flip Buttinger