Robbie Williams takes disguise around the world once again for his most recent tour.
Once again the disguise media platform is on the road with British singer/songwriter Robbie Williams as he circles the globe on his eleventh and latest world tour. The disguise creative software suite and servers were deployed on Williams's "Let Me Entertain You 2015 Tour," which wrapped dates in Eastern Europe in August. The Australian leg of the tour begins in October.
"Last year I used a couple of disguise servers on Robbie's 'Swings Both Ways Tour' to [play back] content onto a large, curved Austrian drape that wrapped around the whole of the main stage," says Screens Director Philip Haynes.  "I was amazed on a daily basis how I was able to adapt to differing trims and shapes of drape. This really put the disguise technology in my mind as capable of doing more involved camera-as-content type shows. "The brief for this year's arena tour was to dispense with traditional IMAG screens stage left and stage right and have both cameras and content composited together live on a very large upstage LED screen," he explains. And using disguise was front of mind for the project.
"Support from the disguise team has been brilliant throughout the tour. They're always on the end of an email or the phone for me."
Screens Director - Philip Haynes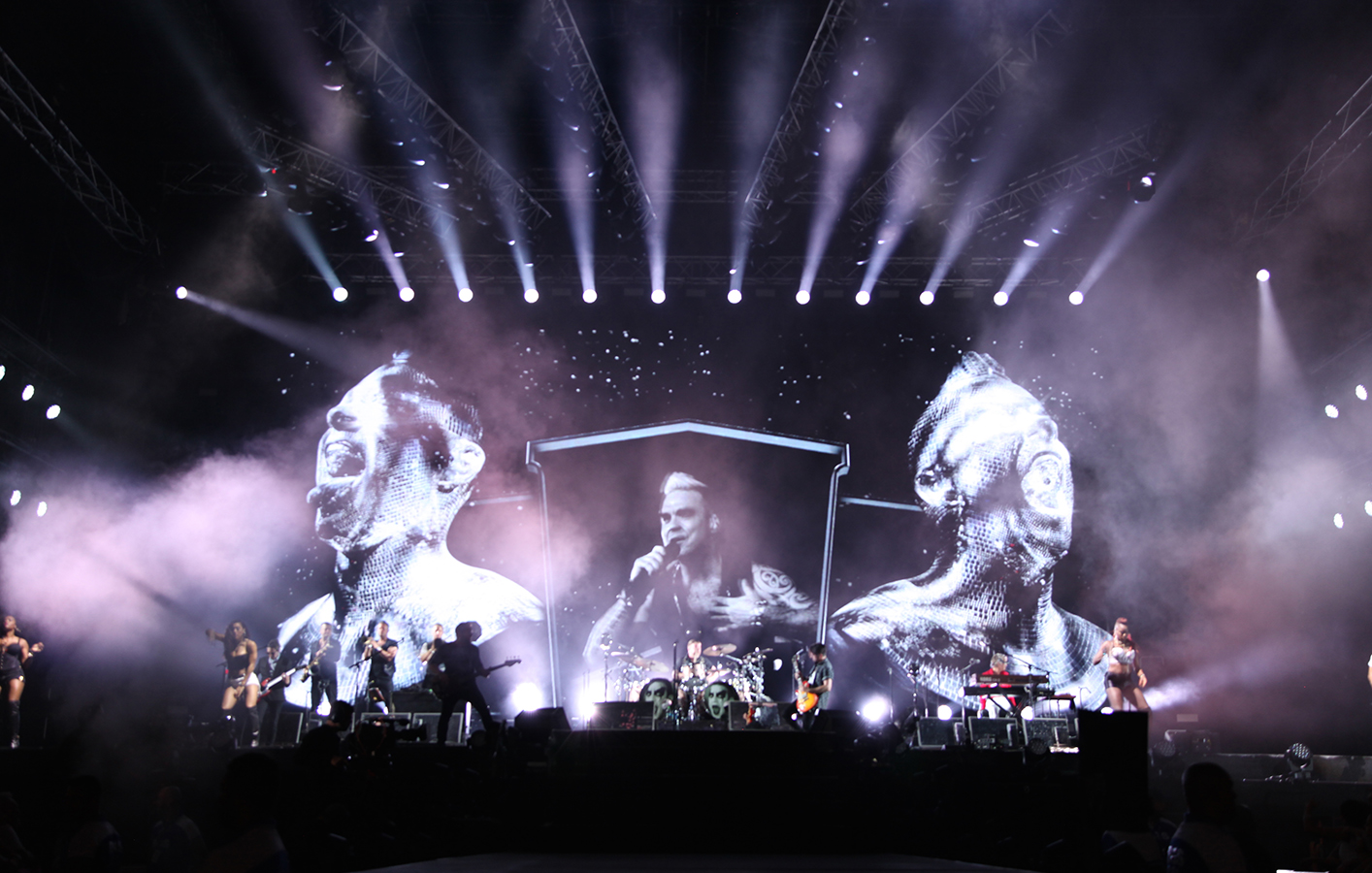 "Phil put forward disguise as the best tool for the job. I had always thought of [it] as being a special toy for very special occasions like pixel mapping and myriad other high-precision [tasks] that disguise is so clever at," says Video Director Jon Shrimpton. "I'd never have thought of using disguise for a flat-screen project. But after seeing it on the first day of rehearsals, with its total pixel accuracy and extraordinary low latency, I became a disguise fan!"
It was precisely those qualities that led Haynes to select two 4×4pro's for the new tour. He also liked being able to use Pro-Res files with disguise. "Pro-Res files are a very defined workflow within content houses, and we know the outcome when working with LED products, which are always the hardest on showing banding in content played back," he explains.
"The disguise system has the advantage of extremely low latency plus pixel accuracy, unlike some other systems, which have a very slight interpretative aliasing not noticeable on a monitor or projection but which can look a little soft on LED."
Philip Haynes - Screen Director
In addition, "the capture makes a big difference in quality. disguise uses broadcast standard cards that are far superior to frame grab cards," he notes. And "the media SSD raid has been invaluable with just over 1Tb of show content loaded on both machines."
A lot of Haynes's prepro was based on checking the stability of the workflow and solving creative problems presented by the show design. "We had to make the workflow clear for Neil Harris and content house Shop. We have had to use so many layers to achieve some of the composited looks; we had to work out what performance hits we would take by running so many layers with alphas and tracking mattes and running with four HD-SDI 720P/50Hz sources," he explains.
"Feeds have been invaluable since the tour has four different-size screens depending on venues – then with the fly-away shows with huge ranges of screen size, they always give me a way to work around daily problems," Haynes states.
Despite excessive heat in Abu Dhabi and Athens and oppressive humidity in Bucharest and Italy, disguise has been putting on a show every time in every venue, he reports. "disguise support has been brilliant, they wrote patches on a Friday night during rehearsals to solve some problems presented by my Pro-Res workflow. I can't praise them enough."