disguise supports record-breaking video mapping at Circle of Light Moscow International Festival.
The Russian capital recently hosted the 6th Annual Circle of Light Moscow International Festival where lighting designers and 3D graphic designers from around the world utilized urban space as a canvas for amazing multimedia installations. At two of the venues, Moscow State University and the Krylatskoye Grebnoy Channel, disguise media servers supported massive video mapping projects enjoyed by thousands of spectators.
Moscow State University (MSU) was home to a double record-breaking display that used 211 Panasonic HD video projectors to map the 40,000 square-meter surface of the University.  Each show lasted approximately 50 minutes.
The first piece, "The Boundless MSU," revealed the world of knowledge and scientific breakthroughs within the university walls.  The second, "The Keeper," celebrated a century of Russian conservation areas with a journey through ancient forests, the Kalmyk Steppes and Lake Baikal.  The content was provided by Sila Sveta and Dobro.
Rental provider SDI Project deployed nine disguise 4x4pro media servers to map the vast expanse of MSU. To bring together nine 4x4pro servers, SDI worked with disguise rental partners Dream Laser and QED Productions from the UK.  A mixed master ran 16 outputs while three slaves ran 16 outputs each; four were understudies that were also used for fast content ingest via a 10Gb network.  
SDI Project selected disguise media servers for their dependability, foolproof understudy redundancy and their ability to output in sync 16 separate video signals per server.  SDI Project provided the programmer and system tech for the disguise and projector connections; disguise furnished extensive technical assistance and support before and during the show.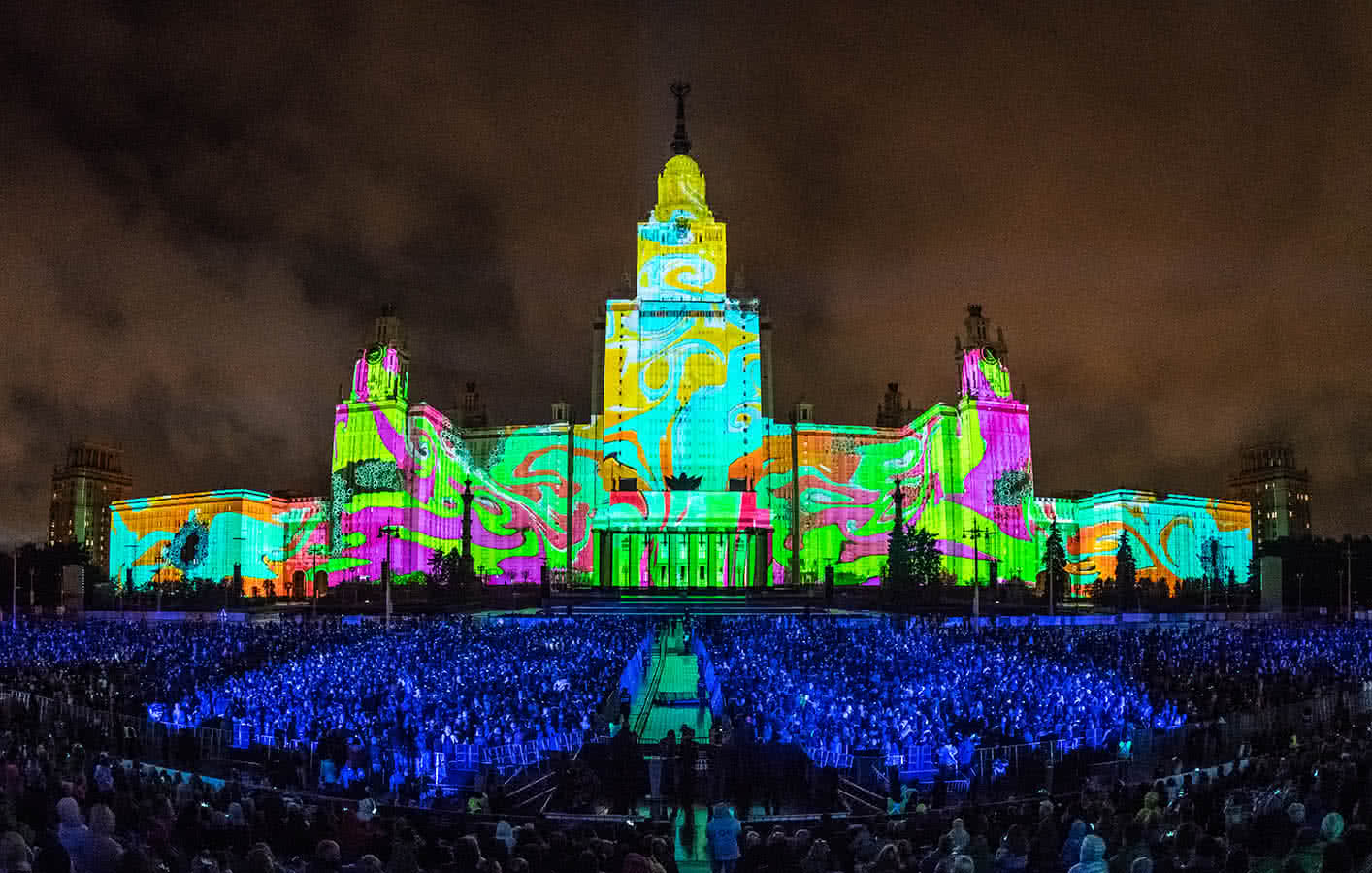 The disguise media servers were used to pre-visualise the content in 3D and pre-program the show before arriving on site.  The understudy redundancy system provided SDI Project with a reliable playback system. The company also took advantage of the disguise Automatic Matrix Routing, fast line up of projectors and rock-solid playback.  The LSI RAID controller meant quick and easy set up of larger RAID arrays for additional storage.  
At the Krylatskoye Grebnoy Channel venue, a rowing canal in Moscow, long term disguise Partner Dream Laser provided video engineering and SDI Project supplied 75 video projectors.
Dream Laser utilized two disguise 4x2pro servers for the large-scale display, which mapped images of 50-meter high cities and their inhabitants onto a purpose built structure, which had been specially made for the projection. Water, fire, light and pyrotechnics enhanced the atmosphere of each location.
The disguise servers were chosen for their ease of use, friendly interface, scalability, connection to outside synchronizing sources and integration into the show's overall systems.  "The disguise support was fantastic throughout, they managed to meet our requirements 100 percent," says Denis Chuchko, Business Director at Dream Laser. "We have always been confident in voicing that disguise has the advantage of reliability - being able to use it for a record proved this."
In addition to the international light festival, an educational program, called Digital October, also takes place. The annual event offers leading lighting designers, architects, scenographers, producers and programmers a chance to all come together and collaborate. As part of this year's programme, Chris Simcock, Founding Director of Sensel Studio, ran an introduction disguise Workshop and Presentation. This gave participants a chance to look at key disguise projects, such as the Virgin Media "Be The Fastest" campaign and Super Bowl 2015. Simcock also taught attendees some disguise fundamentals, this included key sequencing and projection mapping methods used in the field.