disguise Rental Partner in Poland, VES, provided the multimedia and lighting services for this years' Empik Bestseller Gala held at the ATM Studio.
Empik Bestseller Gala is one of Poland's most important cultural events and an original creative brief for set up was required. By using modern graphics with analog forms and scenography, the design was an ideal fit for Empik's campaign slogan – "najważniejsze znajdziesz w środku" (what's important is on the inside) and its trademark – a coma.
A spacious mobile white structure, featured a curved projection screen, and a rotating stage was built in the middle, with each performance captivating the attending guests and TV audience.
Viewers were under the impression that the "scenographic coma" was a transparent shape with animations displayed within its interior, which amplified the effect of the multidimensional projection.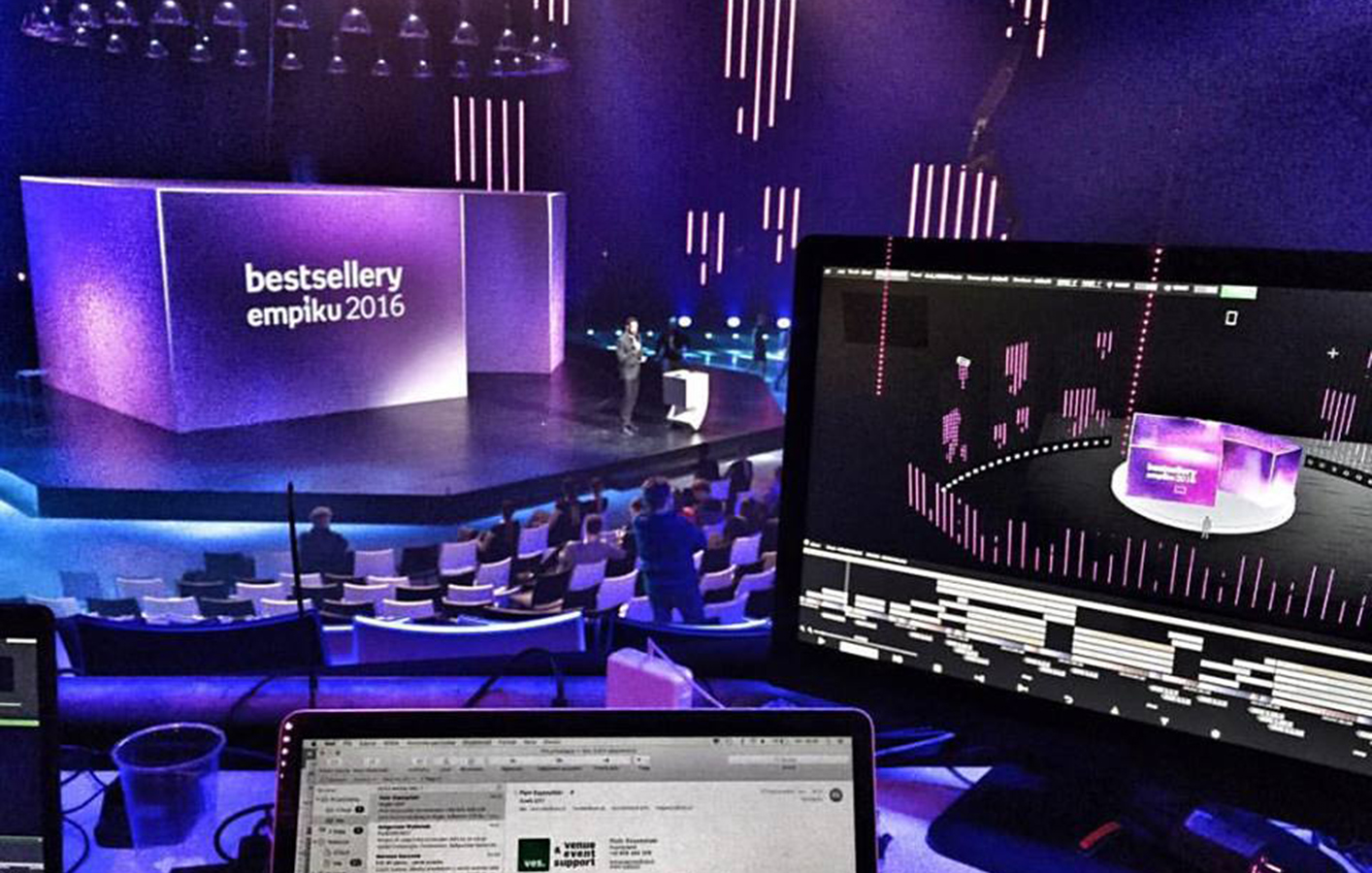 The power of the 4×4pro made it possible to handle many high resolution files at the same time, achieving an extremely authentic and fluid image and providing the Gala Guests with unforgettable visuals.
The background for the main stage was a multimedia wall comprised of 470 Barco MiStrip LED diode panels – "It's what parallel and feed mapping was designed for. Moreover – we mapped automated luminaires as well." – says Łukasz Meliński, one of disguise programmers onsite.
Meliński adds "by using the disguise real-time 3D stage simulator it was possible to use the same 3D model for creating both content and physical scenography – which significantly shortened the time needed to prepare for the entire event. The multi position quick-cal feature allowed us to do initial projector setup in just 3 hours, time we couldn't achieve by using other products."
The multimedia effects were created by a lighting setting which featured installed mobile beams on the round-shaped layer structure, that was suspended above the main stage controlled by disguise and grandMA (full size MA Lighting, on Pc Command Wing).
Credits
Show Producer

Anna Beszczyńska – Allegro Agency
Creation and Production

Allegro Agency
Show Director

Anna Beszczyńska – Allegro Agency
Production Manager

Iwona Czarnata – VES
Head of VES Technical team

Marek "Kozi" Kozłowski
disguise project setup

Łukasz "Melina" Meliński, Jacek "Jaca" Kamiński
disguise programmer

VES: Łukasz "Melina" Meliński, Jacek "Jaca" Kamiński
Graphic Design

Red Square Piotr Maruszak
Lighting Designer

Green Beam Design – Jacek Chojczak