Drive Productions and Orion Arts collaborate on a spectacular multimedia show in St. Petersburg for the opening ceremony of the G20 2013.
Peterhof Palace, known as 'The Russian Versailles' was transformed into a series of intricate scenes, celebrating a historic summit. Creative production agency Drive, responsible for all 4D content creation and complex projection technology, partnered with Orion Arts to re-imagine the facade.
The 20 minute son et lumiere encompassed bespoke motion graphics, including a two-story tall pirouetting ballerina; a live and exclusive performance by a full orchestra and pianist Sergei Zhili; and a performance by the Phoenix Fire Dancers, who interacted with the multimedia effects and projection.
The scale of the Peterhof Palace was a challenge in itself: 18 projectors were used to map the 293m wide building. It has been the widest building Drive has mapped to date. Ben Fender, CEO at Drive, comments: "It has been a fantastic opportunity for Drive to work on this high profile project with some of the world's leading artists and designers celebrating the G20. Multimedia global events and performances draw upon the full range of talent that we have created at Drive."
A carefully orchestrated and timecode-heavy show, two towers with 6 triple stacks of 20K projectors were brought in to map the palace, running on 3x 4U v2.5 systems set up in a master-slave network. Nils Porrmann technically managing the workflow and on-site to ensure smooth disguise operations, assisted by Joel Geddes from Drive. Based on a 3D model consisting of over 250K vertices, disguise could easily manage the content made to transform Peterhof Palace into an elaborate and theatrical canvas.
With 18 projectors to be installed and calibrated in a short amount of time, Nils and Joel worked closely with Jo Pauly and Niel Beelen from VER who provided the equipment. After an initial physical lineup of the master projectors in each stack, Nils and Joel could calibrate in detailed, using the disguise QuickCal and MultiEdit features, after which the next stack could be adapted to the first one. This allowed the VER team to use the disguise test patterns and 3D wireframe to converge the second and third projectors in each stack.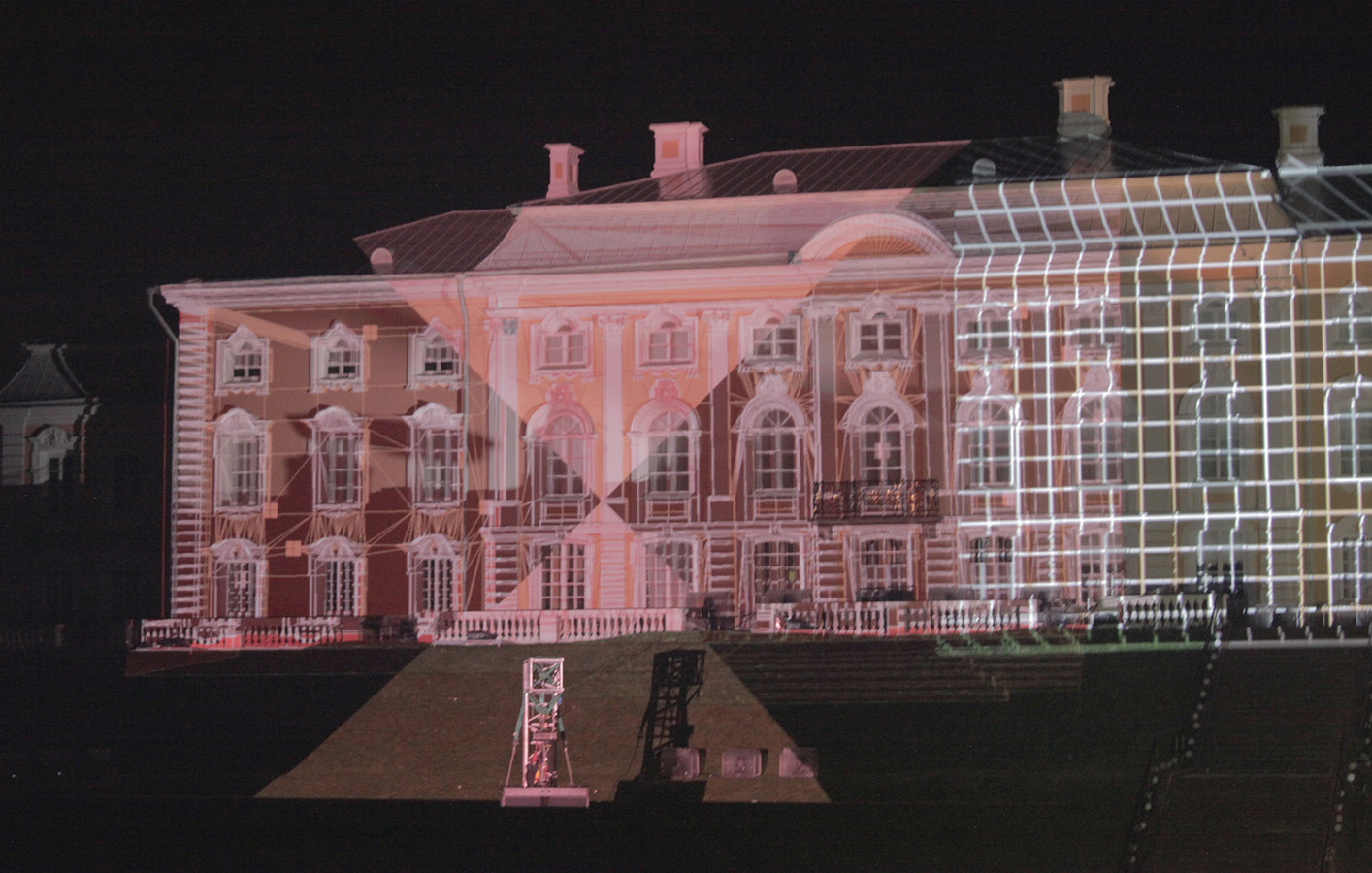 The 3D stage simulator as part of the disguise platform was useful during the set-up of this project as it showed precisely where projection-shadows would occur at certain installation heights. With a very deep-set stage featuring the actual palace facade in the back, and several layers placed in front containing balustrades and stairs, disguise could show precisely where shadows would fall, and how they would affect the experience from the audience's perspective. This feature can help decide where projectors should be installed before set-up, or help manage expectations with the client before the show.
Ben Fender on using disguise: "For Drive to undertake the high profile G20 project, we had to specify technology that we could rely on. disguise was the only answer. The equipment was 100% stable. The back-up configuration was solid. When it came to show time, I was able to watch the show without a hint of stress. Thank you disguise, it gets better every time."