live events - 2016
Latin Grammy Awards
disguise media servers deliver big looks to Latin Grammy Awards.
The 17th Annual Latin Grammy Awards show from T-Mobile Arena, in Las Vegas, celebrated winners across a broad spectrum of Latin music.  It also presented an abundance of performances on a colourful, media-rich, stage set, supported by 5 4×4pro media servers from disguise.
The Latin Grammy Awards was broadcast live on Univision Network, on November 17, 2016.  Among the honourees were, Person of the Year, Marc Anthony, Best New Artist, Manual Medrano and Album of the Year winner, the late Juan Gabriel.
Set Designer, Jorge Dominguez, and Creative Director of Content, Bianca Moncada from Darmah Studio, teamed with media server Programmer and Content Specification Coordinator, Laura Frank, of Luminous FX, to bring the stage to life for the award presentations and the array of dynamic performances.
"This was the third year that we're using this set.  It's very flexible in terms of supporting video content so the challenge is to refresh the environment year to year," says Frank.  
"Jorge's design is unique: He finds ways to break the planar aspect of LED walls with curved elements and broken screens punctuated by voids and lighting.  We had two projection surfaces and 80 wall components, including curved columns of LEDs."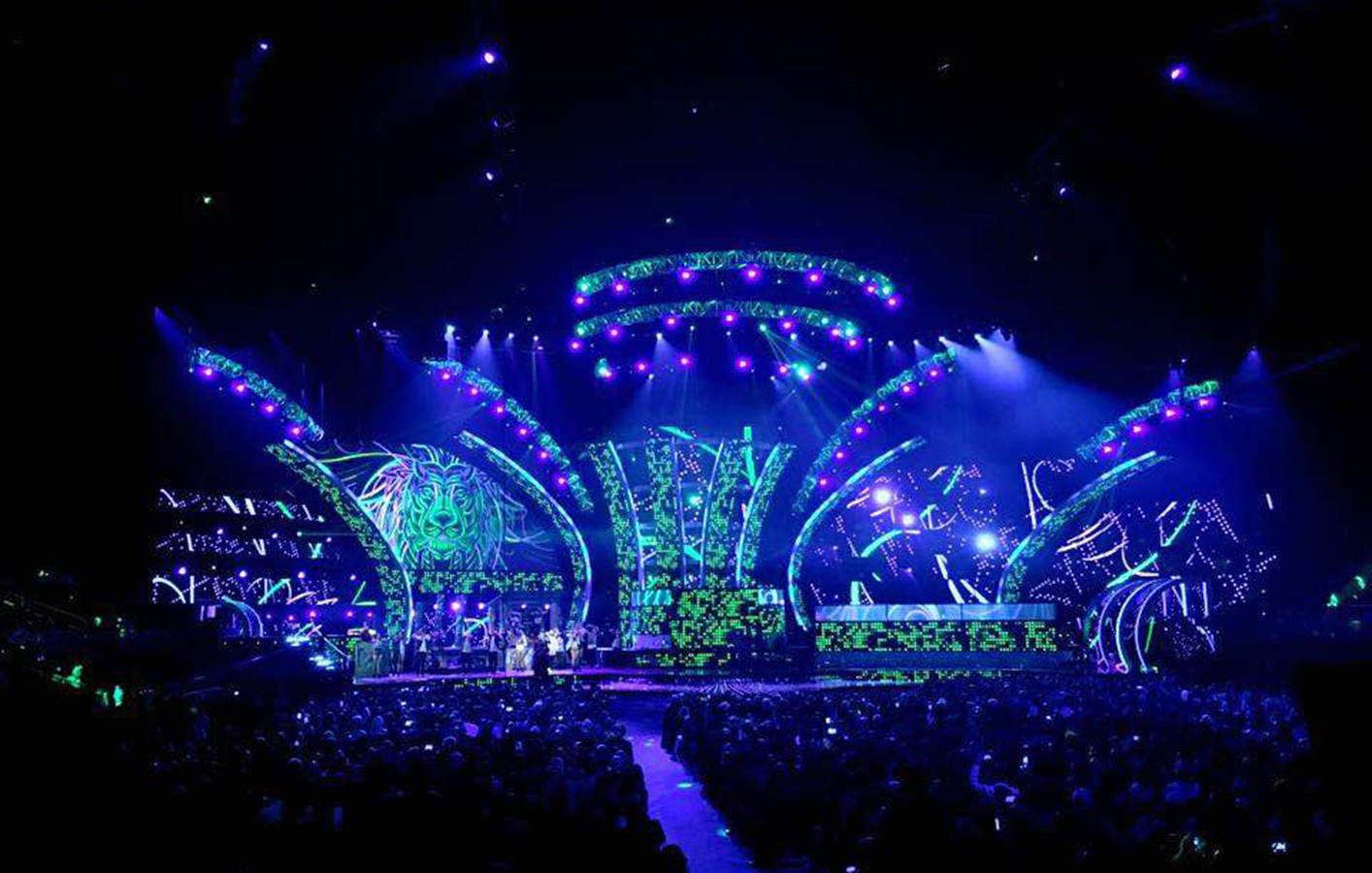 VER supplied the projection and playback equipment, LEDs and four 4×4pros: a dedicated master, two slaves and an understudy.  
Darmah's Design Studio also supplied one 4×4pro. "With Jorge's design style having a 4×4pro dedicated to the content development and pre-programming was definitely the best way to take advantage of the multiple video surfaces," Says Rodrigo Proal CEO of Darmah. "This early start allows content visualization, programming and sequencing some of the performances even before the set gets built," adds Moncada.
"Chema Menéndez from Darmah's team programmed and sequenced content on the disguise timeline, whilst I programmed Sock Puppet for the host looks and a few performances.  We were able to work in parallel to build looks for the show." Says Frank.
The disguise QuickCal toolset was used for the special duet between Jennifer Lopez and Marc Anthony and Notch software rendered content in realtime for the performance. "disguise was used to program this content, we were also able to rendered out movies to share with the producers for their review." Says Moncada.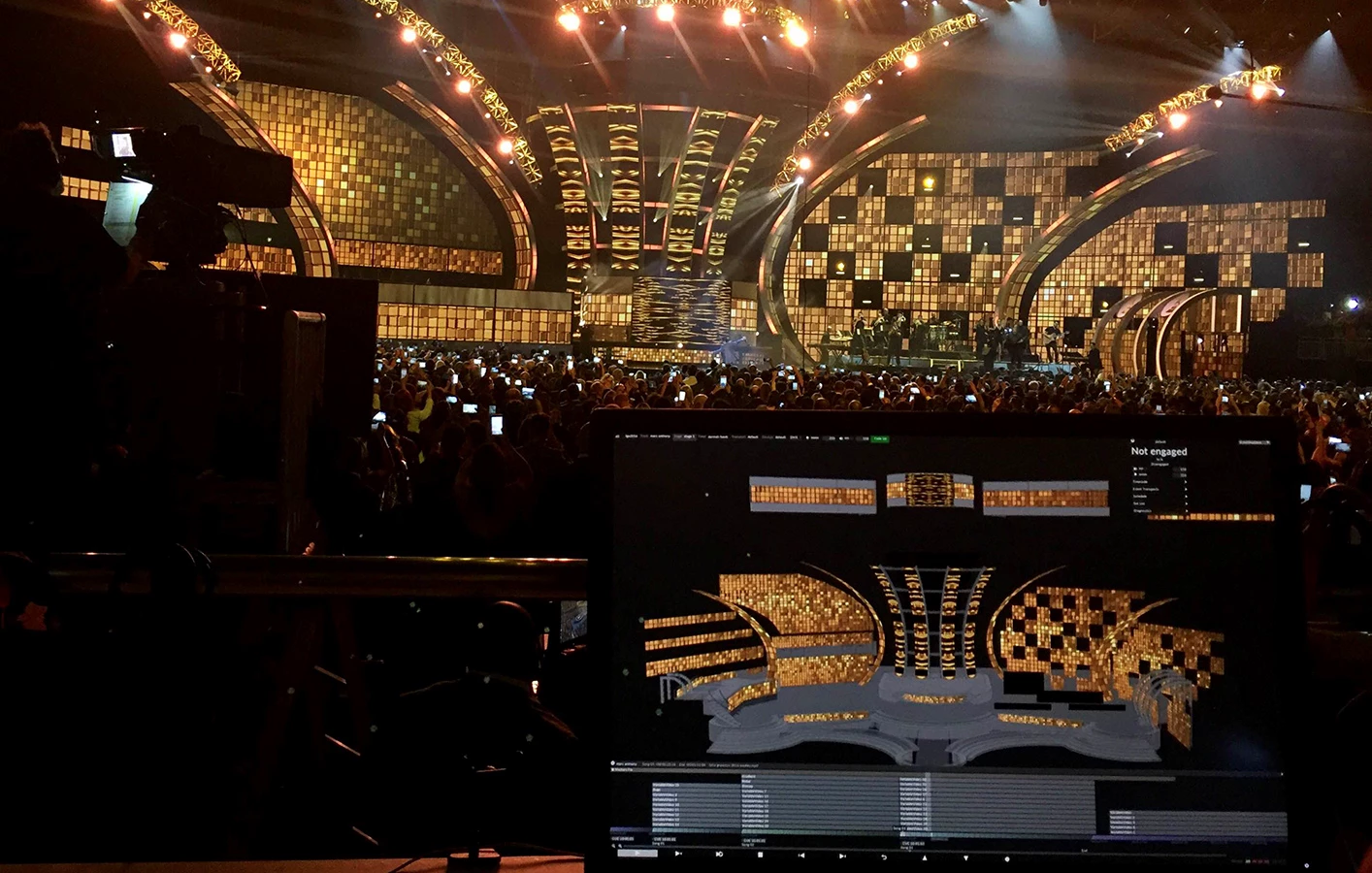 "Univision shows are very intense and collaborative," says Frank.  "We pack a lot into the set and the looks are very dynamic — Univision and the Latin Grammys don't shy away from big looks.  We had only three days to put together a three-hour show and 20 performances.  Not many teams can pull that off."
"The advantages of being able to work ahead on content prepro using the disguise timeline and taking advantage of all the design tools and visualising features saves time and avoids many hours of content re-renderins on site. It just makes everything more efficient." Concludes Moncada.
Credits
Show designer

Jorge Dominguez 
Creative Director of Content

Bianca Moncada – Darmah Studio
Content Specification Coordinator

Laura Frank - Luminous FX
disguise server provider

VER and Darmah Studio
disguise programmer

Laura Frank – Luminous FX, Chema Menéndez – Darmah