disguise 4x4pro Powers Extensive LED Displays at Shanghai's MYTH Electronic Music Festival.
disguise Studio partner Live Legends, under their Chinese brand United Live Creations, provided comprehensive creative and technical services for the MYTH Electronic Music Festival in Shanghai. Using disguise, United Live Creations handled everything from concept to execution for the two-day festival, which showcased 40 local and international DJs.
MYTH, from organisers Modern Sky, presented a Sixth Element theme on the main stage in Shanghai's Expo Garden Park. Live Legends' creative director Daan Oomen was responsible for the show design concept, which brought the five elements – wood, water, fire, metal and earth – to life and introduced the sixth element – music – that takes us to a realm beyond.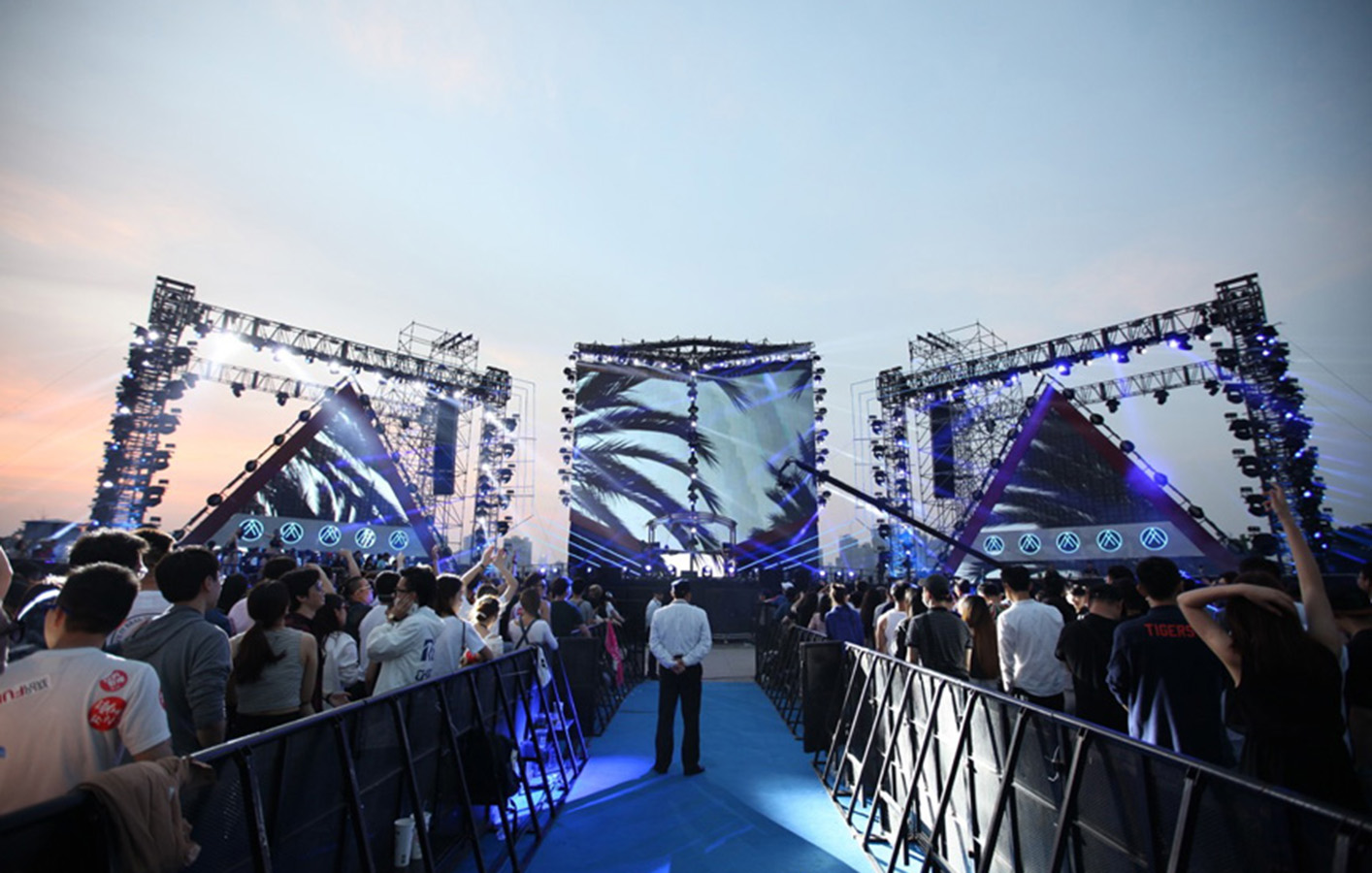 Oomen's innovative concept and set design immersed audiences in a total visual and 
audio experience showcasing each element in a different chapter onstage. Using a single d3 4×4pro media server to play six custom pixel-perfect timecode shows, one for each element, on giant LED screens.
"The video set up was massive with 450 square meters of 3.6mm LEDs," says Oomen.
"Besides the six timecode shows we also needed the flexibility to quickly switch to one of the DJ inputs. The DJ inputs had a different, more light-weight pixel map to make it workable for live performances.  With the disguise 'remappable' set up we were able to provide a high-resolution pixelmap to the content creation team and a DJ pixelmap to our guest DJs early in the process. This gave the content team a huge time win."
Additionally, "on some screens we mapped the live video input on top of the video content," he reports.
Live Legends' Bas Knappers was the lighting operator for the festival, Jim de Brouwer the disguise programmer/operator, and Dave van Roon and de Brouwer the disguise project set up team. Muen Hang from Illuminate Productions provided the disguise media servers.
disguise maintains a network of partner studios worldwide dedicated to helping fulfil customers' disguise requirements, from consultation and support to client demos and more. Live Legends and United Live Creations are a disguise rental partner as well as disguise Studio offering a full disguise workflow as its in-house solution for pre-production and production of live events across Europe and now the Asia Pacific.
Credits
disguise Server Provider

Illuminate Productions

 

 
disguise project setup

Dave van Roon & Jim de Brouwer

 

 
disguise operator

Jim de Brouwer

 

 
Lighting designer

Bas Knappers