Live Events - 2014
Theatre of Illumination
Theatre of Illumination is an ultramodern white light show that premiered on Vincent Harris' iconic neoclassical Civic Hall building in Leeds, UK, to an audience of 30,000 people for Light Night 2014
After winning the commission for the project, OMNI Pictures director and designer Will Simpson took on the challenge to bring his work to life with the help of a specially assembled team: Julien Lasson (3D artist), Lee J Malcolm and Tom Hopkins (sound design) and QED Productions for projection.
Simpson had a clear vision for the creative design from the start: "I have always wanted to create work that used only white light. Certain colours in the spectrum work better than others, and you often find yourself creating content that's extremely high in contrast in order for it to be seen. When looking at a project stylistically, certainly on the stage, I would always go for high contrast or white light if the project allow for it in the design. Monochromatic design has great impact and means that you have to tackle the design in a different way. I really enjoyed that challenge. It left us to focus on the design rather than constantly changing our ideas because of the limitations of the medium."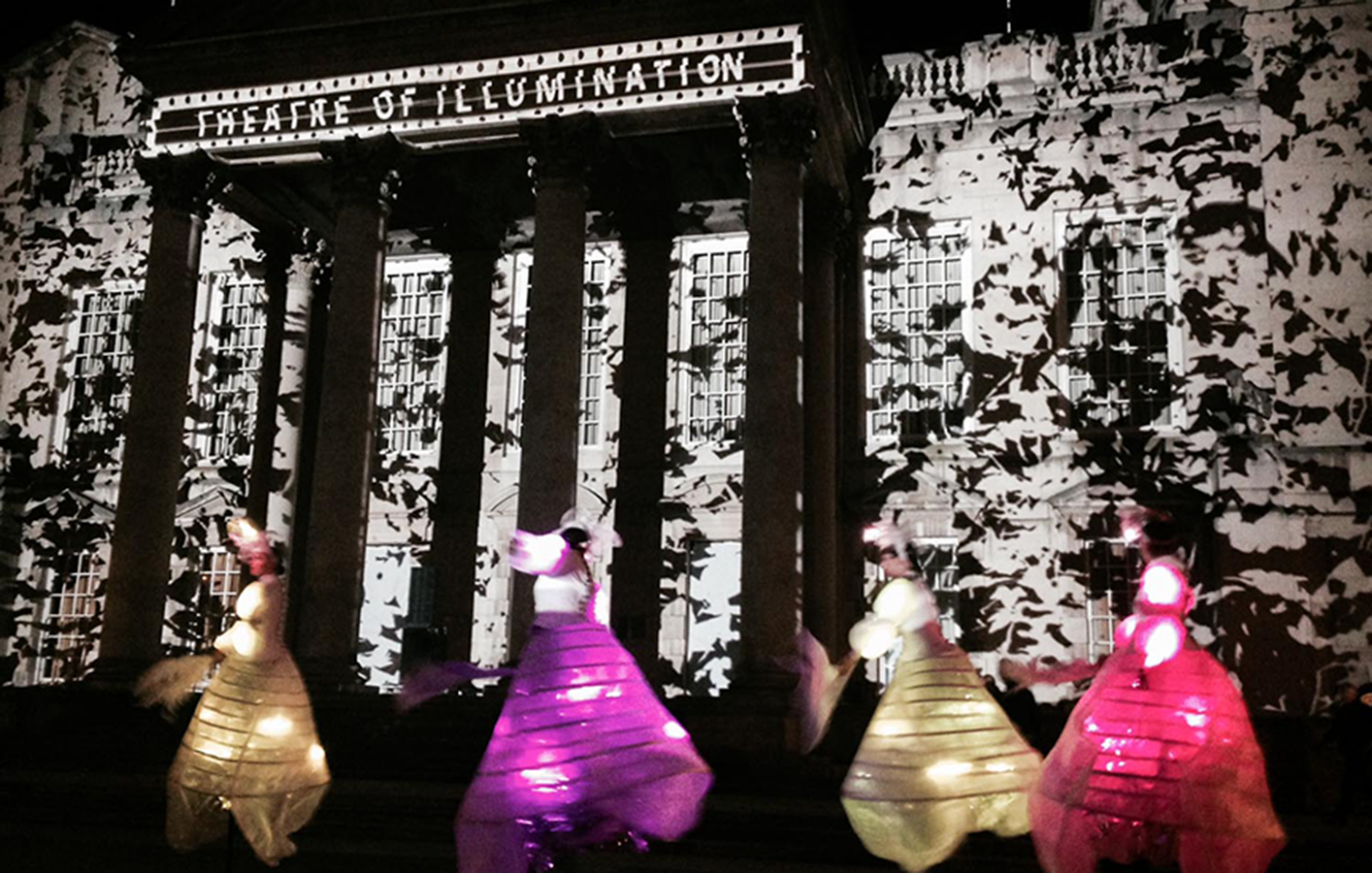 Dan Gray at QED Productions, who provided the disguise equipment and specific projection expertise, says of this creative approach: "Here at QED we knew from the outset that in order for this project to be successful the template for the content had to be as accurate as possible, to avoid line-up problems onsite. It also needed to be conducive to the OMNIworkflow to allow them to create the animations, specifically the straight line effects, parallel to the edges and features of the building. Resolution was also key, so we opted to deliver everything at 4k."
Without a 3D laser scan of Vincent Hall's iconic neoclassical Civic Hall building available, Simpson and his team used photography to work towards a usable content template. Simpson elaborates: "A 3D scan is ideal of course but not always an option. We took photographs and used a head shot of the building, corrected the perspective, and started working with that. It's a rudimentary way of doing things but it works."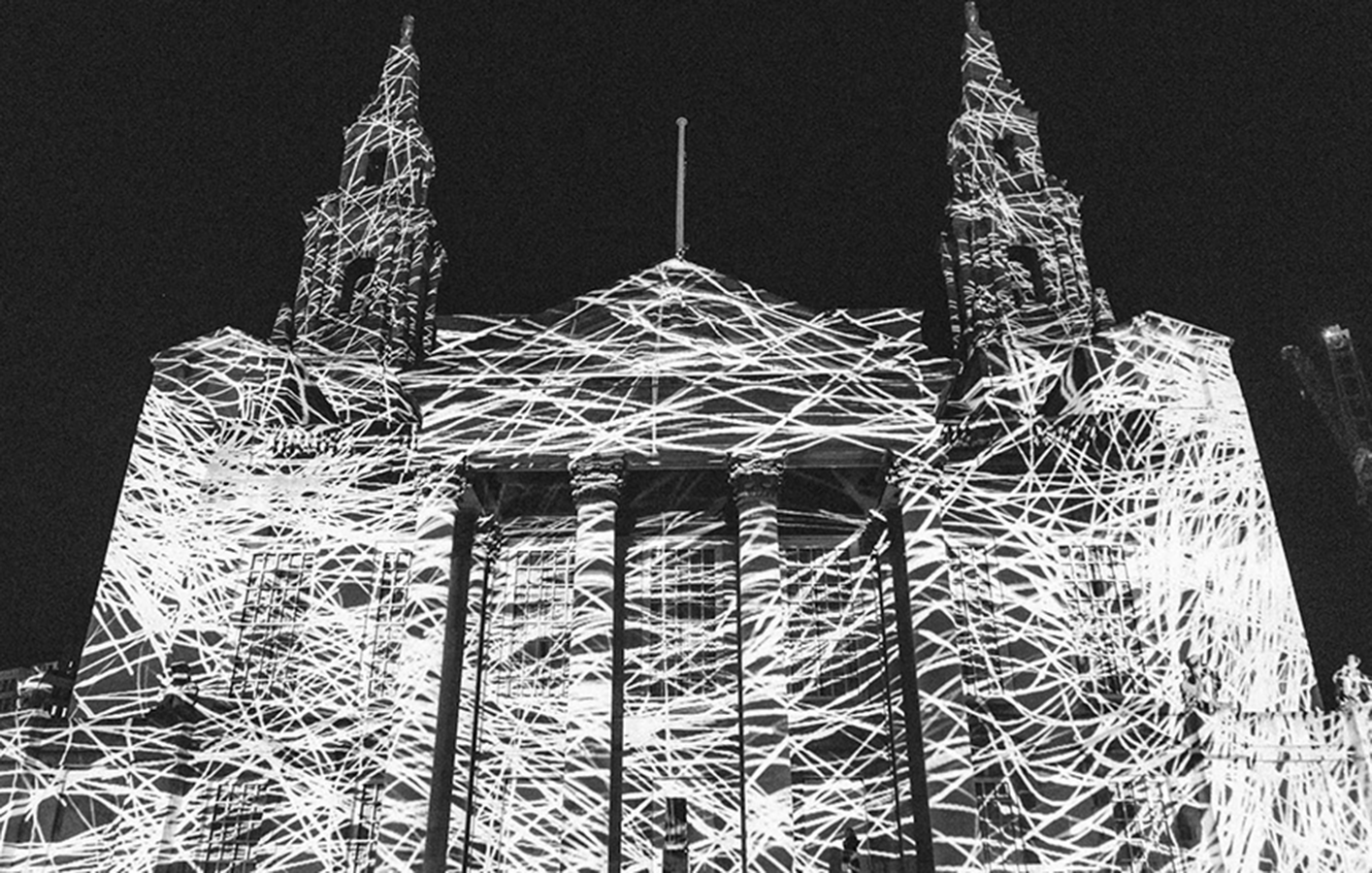 It was the first time OMNI Pictures worked with disguise, which was introduced to them through QED Productions. Says Simpson: "I was just amazed at how the disguise server held up. We had a single 4000×4000 pixel video render that took around 48 hours to finally export and this was broken up across the building with multiple copies of it running out through ten 20K Christie projectors. The disguise system really came into it's own in the mapping for me: the fine tuning and edge blending between all the sources was superb. We had a limited amount of time to get setup, only one night before, and without using disguise I don't think we could have realised it."
Gray adds to this: "We chose to use disguise as it provides the best functionality and tools for projection mapping such as multiple layers of keystone and warping per output, masking and blending per output, true cross server sync and frame lock along side instantaneous mater/slave backup. In addition, our disguise systems provide playback of up two two simultaneous layers of 8k content without dropping a frame. So, playback of the 4k native content for Theatre of Illumination meant for an ultra smooth trouble free show."
Credits
Show Producer

OMNI Pictures Ltd.

 

 

 

 
Show Director

Will Simpson – OMNI Pictures

 

 
Show designer

Will Simpson – OMNI Pictures

 

 
3D Artist

Julien Lasson
disguise server provider
Sound design

Lee J Malcolm and Tom Hopkins

 
disguise server provider and operator