live events - 2016
Virgin Media - "Be The Fastest Campaign"
disguise Helps Virgin Media Showcase "Be The Fastest" with Usain Bolt and 100-Meter Floating LED Screen
It was an event of Olympian proportions. In the run up to the Summer Olympics in Rio, Virgin Media's new "Be The Fastest" campaign from Curb Media celebrates speed and the fastest man of all time, Usain Bolt. How better to demonstrate Bolt's blazing speed than with a 100 meter-long horizontal LED screen, floating on the Thames at the foot of the London Eye?
Mark Bustard produced and directed the event. Video was synced with a complementary lighting scheme that illuminated the London Eye and other nearby structures. The London Eye served as a giant stopwatch, counting down Bolt's 100-meter record time, set in Berlin in 2009.
"The brilliant disguise software and hardware solutions helped make it possible. The product just continues to excel in the live events industry."
Chris Simcock - Sensel Studio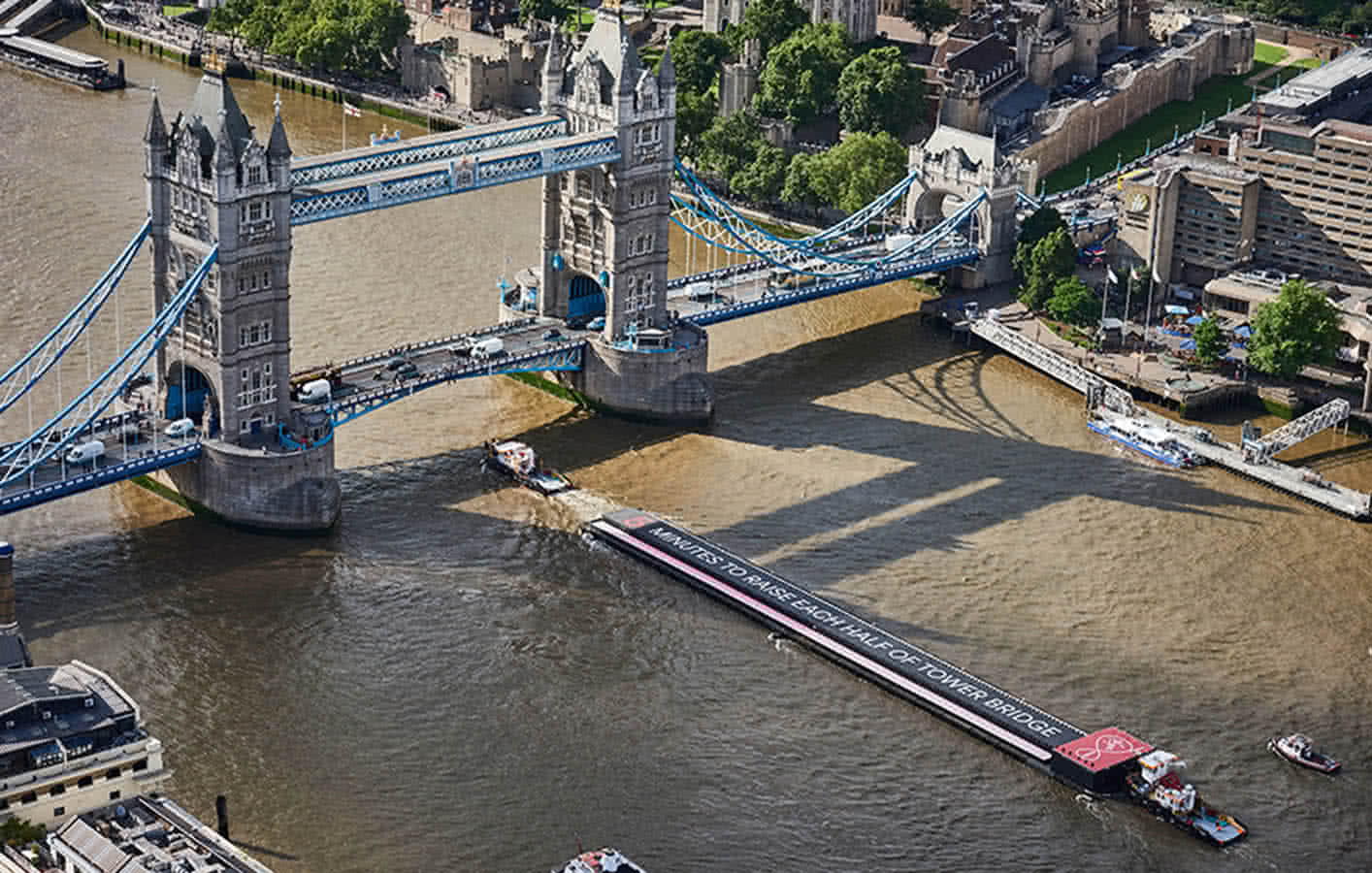 A disguise 4×4pro media server running r13 software played a key role in the event, which showcased a three-minute, emotion-packed film by Treatment Studio. The film focused on the concept of speed and a pivotal season in Bolt's career.
Part of the film dramatized, in realtime, Bolt's record-setting 9:58-second run across the 100-meter span of the flat screen. VER UK supplied the custom horizontal LED screen, the longest of its type ever constructed. It topped 108 pontoon decks and covered 600 square meters.
VER UK also supplied the disguise 4×4pro to play back the three-minute film. The media server's streamlined timeline user interface enabled Chris Simcock, the operator and programmer from Sensel Studio, to sequence to hours, minutes, seconds and frames. This allowed Simcock to quickly and easily update the timeline when new content arrived from Treatment Studio, who sent a number of updates towards show day.
Simcock sequenced the finale to start at precisely 9:58 pm. "That was crucial because other show elements – lights, sound, etc. – followed the same timing," he explains. "For disguise to play back in synch with other show elements, GPS timecode was fed to the control rack and converted to MTC for disguise to track. As a result, at precisely 9:58 pm the big finale showcasing Usain Bolt was triggered for viewers from the London Eye and Victoria Embankment to see."
The disguise intelligent output feeds allowed the giant 6K image canvas to be divided into HD outputs, which were fed to two LED processors.
"Excellent teamwork by VER UK, Treatment Studio and Sensel Studio resulted in a fantastic show," says Simcock. 
Delta Sound UK was the audio integrator for the show. Adam Power from Spindrift Projects assisted with systems integration.
Credits
Show Producer

Mark Bustard
Show Director

Mark Bustard
Animations
disguise server provider
disguise programmer

Chris Simcock – Sensel Studio
disguise operator

Chris Simcock – Sensel Studio