Protec pairs disguise and BlackTrax for World Air Games Opening Ceremony in Dubai.
The World Air Games 2015 in Dubai got off to a dynamic start with a colorful opening ceremony featuring extensive projection mapping by
Protec
(Production Technology
LLC
) using 4×4pro's in tandem with a BlackTrax real-time motion tracking system.
The 4th FAI World Air Games (WAG) included participants from more than 50 countries; nearly 5,000 spectators attended the opening ceremony held along the beachfront at Sky Dive Dubai.
Protec, the region's largest event rental company, was tasked with providing projection on a 54×21-meter hemispherical backdrop screen, the central 20×20-meter stage floor, and a 6-meter diameter rotating inflatable sphere that rose from the stage during the spectacle. Projection mapping the moving sphere required the integration of BlackTrax and disguise to motion track the moving sphere and map its surface with seamless, edge-blended images in real time.

After aerial performers dressed as skydivers and paramotor pilots flew over the audience suspended on cables, the sphere rose from the stage displaying moving earth content, historical footage of the games, key statistics and the flags of the participating nations. The sphere was mapped with the games' logo once the WAG torch was lit.
""We selected disguise for its projection mapping, BlackTrax tracking capabilities and multi-editor function. disguise great graphical interface also made programming the show off-site possible."
Peter Jones, Protec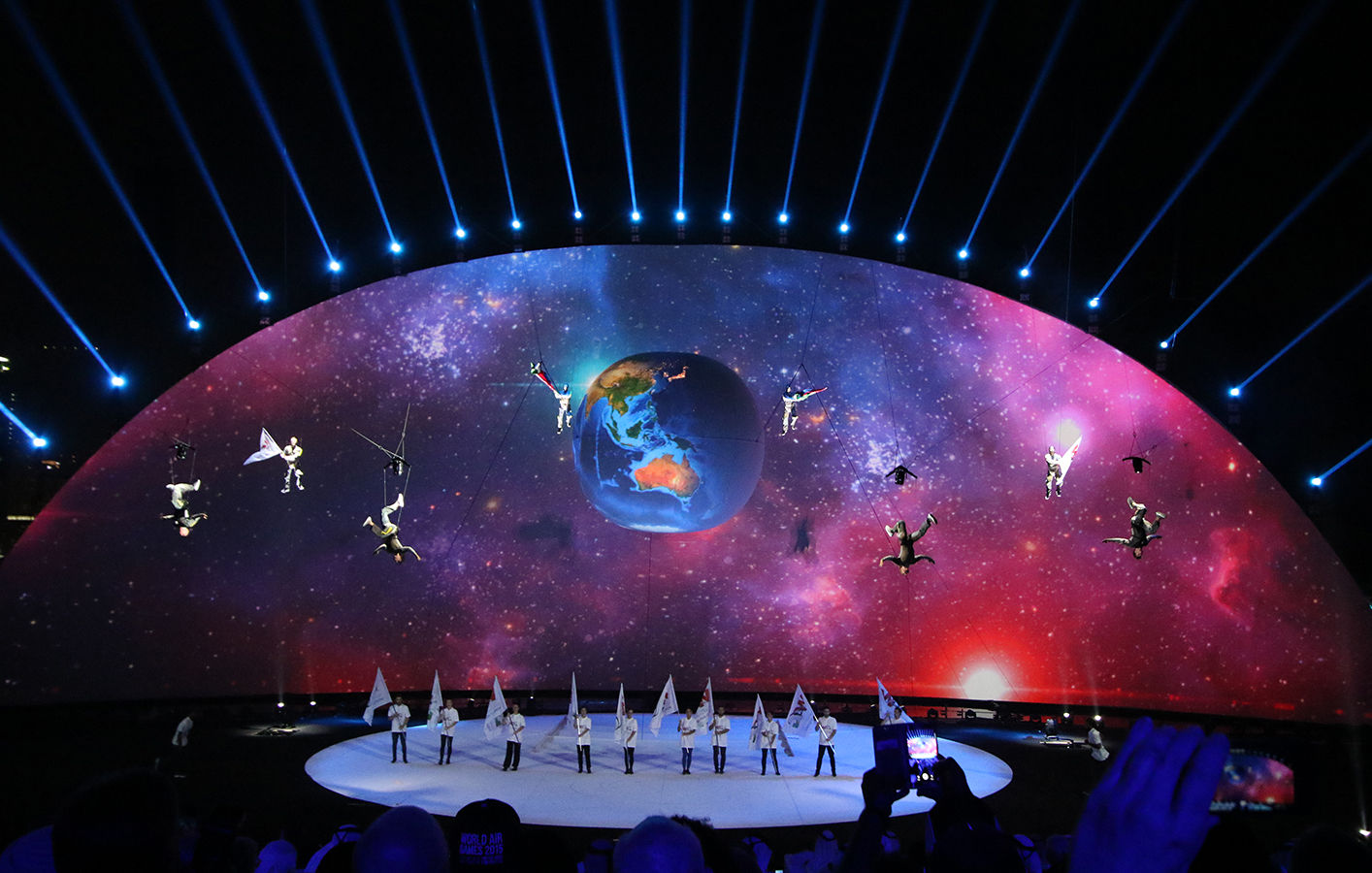 Peter Jones cites the disguise and BlackTrax ability "to calibrate the projectors in 3D space with the use of an OSC app on an iPad to map pixel positions within each projector. disguise is our preferred server for its ease of use and tight BlackTrax integration."

Jones notes that a new disguise software release prior to the games introduced some new elements to the interface and menu structure. "disguise responded immediately to any questions we had and helped us get up to speed with the changes," she says.
Credits
disguise Programmer

Peter Jones 
disguise Operator

Amir Haghshenas
BlackTrax Operator

Aaron Russ