theatre - 2013
Flashdance the Musical
First, there was nothing... and then, to celebrate the original film's 30th birthday, there was Flashdance the Musical! Having kicked off the US tour on 1 Jan in Pittsburgh where the original story is set, Flashdance the Musical will tour around until summer 2014, when it is due to go on Broadway. Theatre designer Peter Nigrini chose disguise as the solution for his clever set & projection designs.
With electrifying dance at its core, Flashdance the Musical tells the inspiring and unforgettable story of Alex Owens, a Pittsburgh steel mill welder by day and a bar dancer by night with dreams of one day becoming a professional performer. When romance with her steel mill boss threatens to complicate her ambitions, Alex learns the meaning of love and its power to fuel the pursuit of her dream.
Celebrating its 30th Anniversary, the original Paramount Pictures film was a worldwide smash hit that became a pop culture phenomenon, grossing over $150 million and featuring a Grammy Award-winning soundtrack. Flashdance the Musical features a score including the hit songs from the movie, all of which became Top Ten hits on the radio around the world including the Academy Award-winning title song "Flashdance – What a Feeling," "Maniac," "Gloria," "Manhunt," "I Love Rock & Roll." In addition to these hits, 16 brand new songs have been written for the stage with music by Robbie Roth and lyrics by Robert Cary and Robbie Roth.
Directed and choreographed by Sergio Trujillo (Jersey Boys, Memphis, The Addams Family), the projections designs have been created by Peter Nigrini. Working with several screens at various depths on stage, Peter was faced with several technical challenges.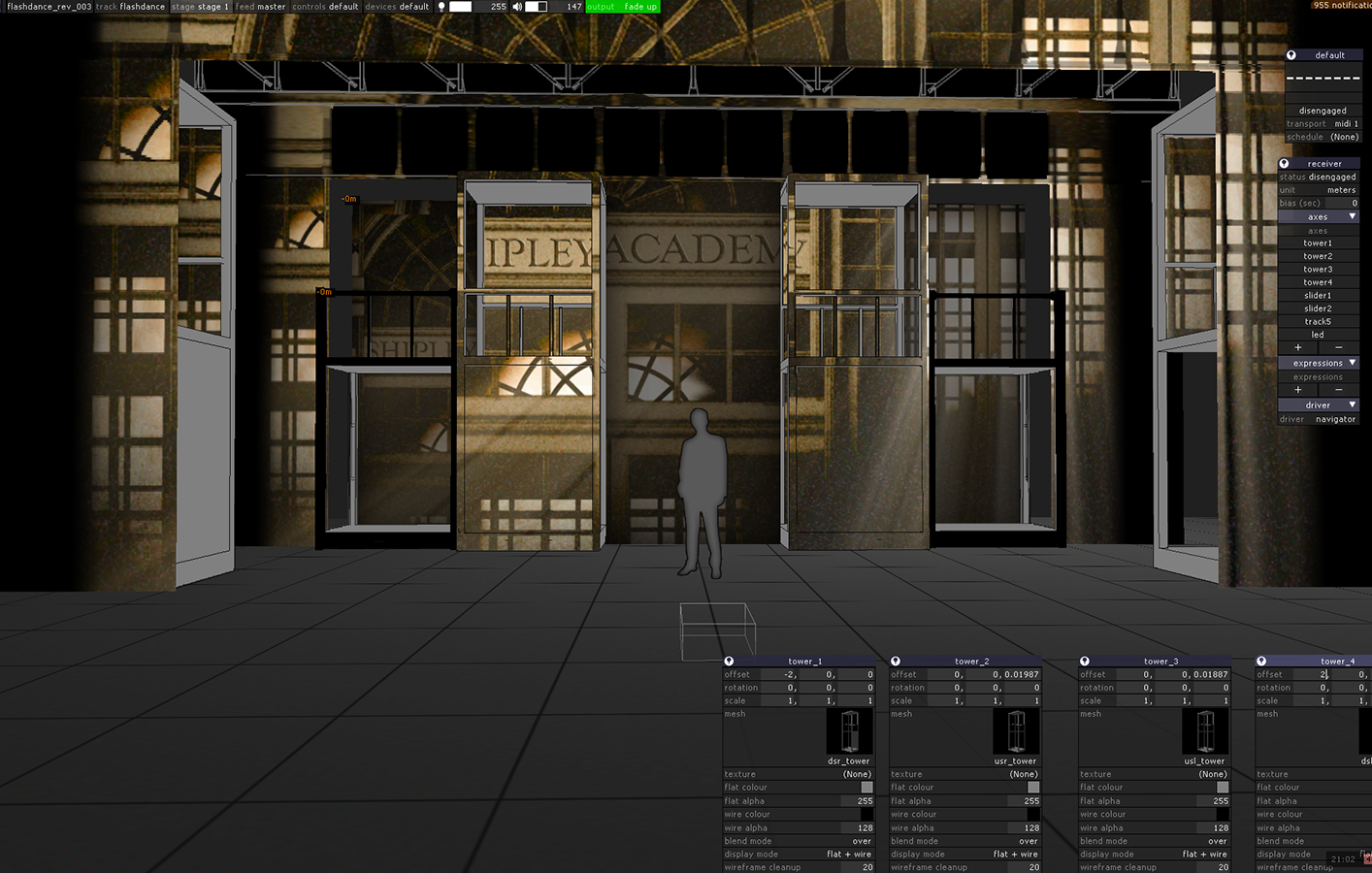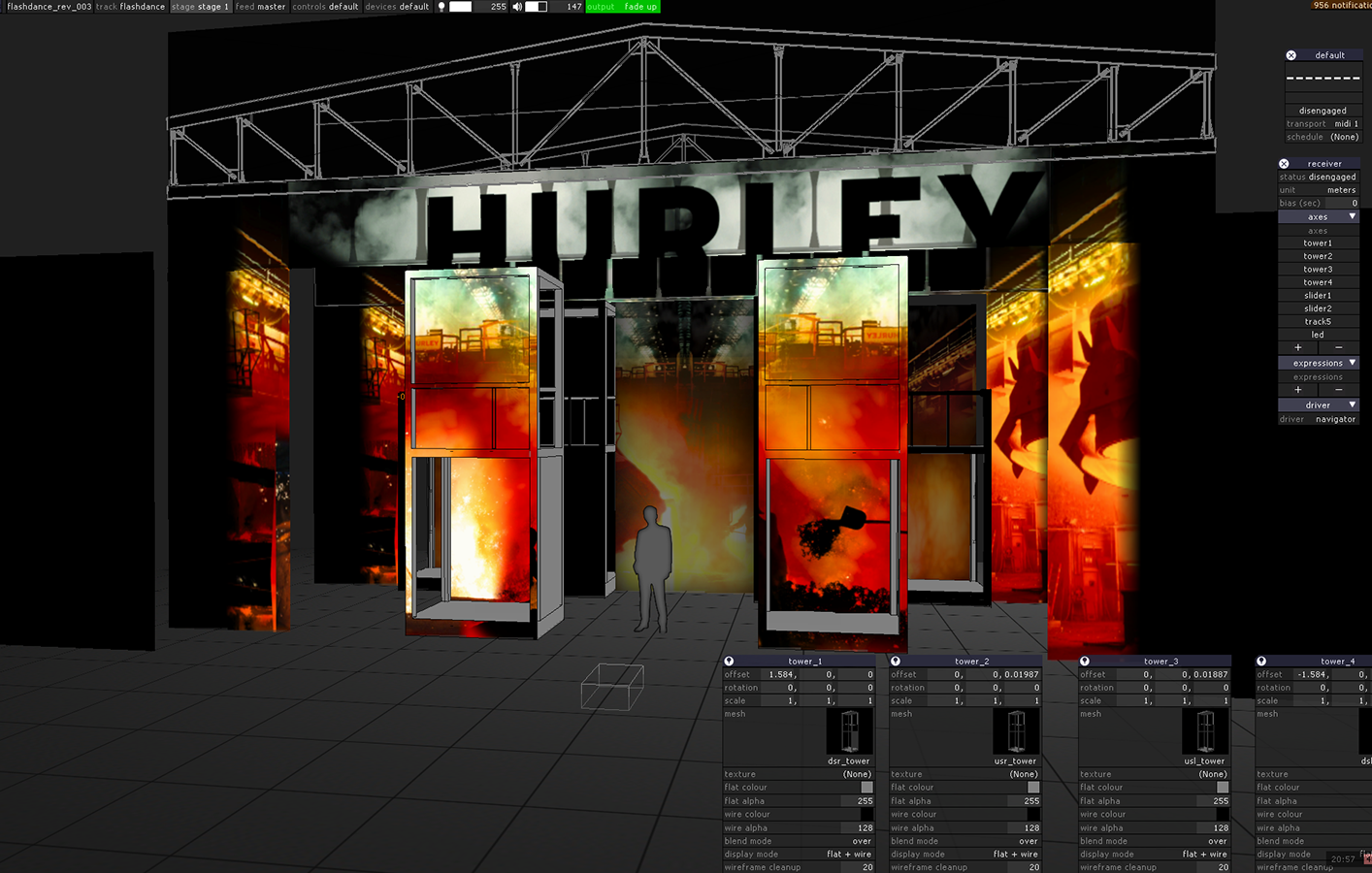 The design relied on the ability to project a single image across 18 different scenic surfaces in 9 different z depths. In addition, the majority of these scenic surfaces were automated in the x y or z plane. disguise provided the ability to maintain an accurate model of the stage with feedback from scenic automation and place content precisely in relation to the physical set.
Understanding the disposition of the scenery was even more critical as the primary output was a full stage shot, comprised of an array of 4 10.6k projectors. Not only did these 4 projectors need to be converged in each of the 9 different z depths, the touring schedule allows less than 45 minutes for projector focus start to finish.
With disguise, it became a trivial problem to map content to totally arbitrary combinations of stage surfaces, allowing environments to co-exist or overtake each other in an organic-feeling manner, frequently eliminating the need for cross-dissolving or fades to black between scenes.
Credits
Content Producer

Peter Nigrini 
disguise Programmer

Benjamin Keightley 
System Integrator

Sound Associates