Theatre - 2011
Little Prince
disguise runs projection design in the highly anticipated new Nicholas Lloyd Webber musical The Little Prince.
Showing for 8 weeks over Christmas 2011 in Belfast's newly rebuilt Lyric Theatre, the production features music by James D. Reid and Nicholas Lloyd Webber, son of theatre legend Andrew Lloyd Webber.
Based on the popular childrens book by of the same name, by Antoine de Saint-Exupéry, Reid and Lloyd Webber have been developing the production for two years to create a fantastical world of strange characters, who find themselves traveling across intergalactic space and battling against Saharan plane crashes.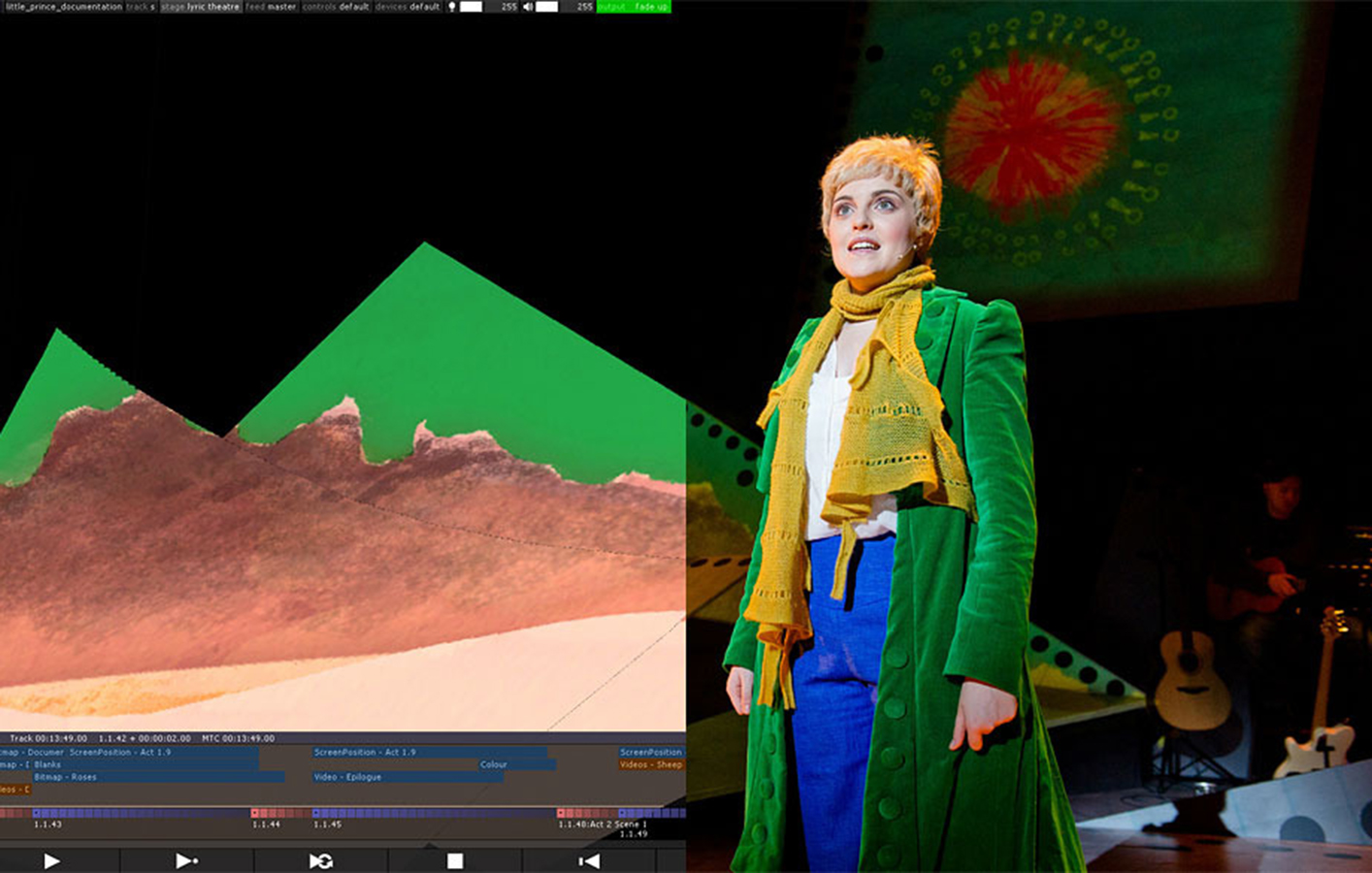 Gary McCann's ambitious set design showcases a series of curved and angled note pages, which create a blank canvas for video content to be projected onto. The pages form a dynamic landscape with flown elements that reconfigure the space depending on the requirements of each scene.
As with most new Theatre productions, budgets and time-scales are tight, plus the new Lyric Theatre has an existing infrastructure we had to interface with.
With so many various parties involved it was essential that workflow be controlled, communication kept flowing, and under such pressure, deliver on time, ready for rehearsals.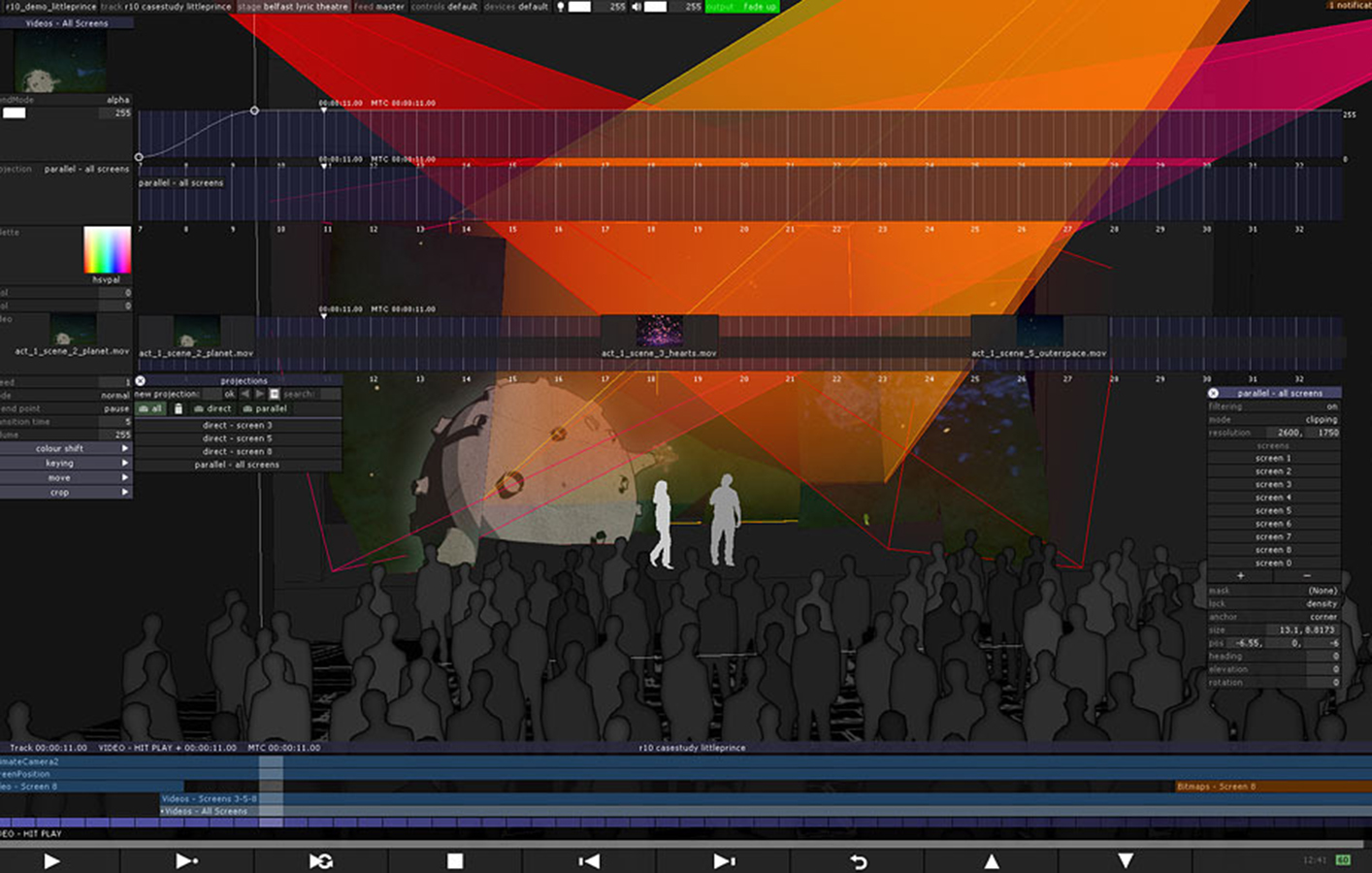 Used as the beginning to end solution, disguise was invaluable to the Producers and Design Teams in the early stages. Allowing for real-time pre-vis and instant communication between teams meant that everyone was on the same page right from the start.
Using the disguise advanced Projection Simulation tool-kit, disguise could successfully identify the correct projector and lens configuration, then suggested a number of mounting position solutions. Throw distances, lens options, and resolution was all simulated in disguise, then screen grabs were sent to the projection company and theatre for sign off. Once we got the go-ahead, we quickly prepared effective content template from within disguise and sent them to VTR Digital so they could get cracking on the content.
All the unusual screen surfaces together with limited space and mounting options for video projectors created a real issue for both the projectionists and content teams. This also meant that very unusual content templates were required.
Well after everything had been signed off and the build was underway, we found out that the screens had not been made accurately to the original models, throwing the specially made content into jeopardy, as no time was available to re-render.
disguise loaned VTR Digital a 4U disguise system so they could prepare content and test it immediately. This 'right-first-time' workflow meant that when the content arrived on site the disguise Operator knew exactly where it went, what it would look like and how to sequence it into the show.
Like many productions, the set doesn't always match with your plans, thankfully, the disguise advanced Projections Simulation tool-kit coupled with it's Feed Warping and Projection Mapping abilities meant that we could easily re-configure the 4 different outputs on-site, so we didn't have to go back and re-render content.
We relish the opportunity to integrate, and writing the appropriate control profile in disguise for the ETC console took just an hour or so by one of our excellent disguise Operators. (This profile is now available for all our users). This level of integration, along with the disguise rock solid performance meant that we could leave them with this solution with confidence for a trouble free 8 week run.
Credits
Animations

VTR North
disguise Project setup

Chris Simcock 
disguise Programmer

Zak Haywood 
Set Designer

Gary McCann
System Integrator

Creative Technology London