tv broadcast / film - 2017
59th Annual Grammy Awards
disguise Media Servers Help Give Visual Impact to 59th Annual Grammy Awards.
The 59th Annual Grammy Awards made headlines for Adele's five category wins. Behind the scenes, disguise media servers video mapped the stage's big screens, delivering high-impact visuals that matched dynamic performances by Adele and other top artists.
The Grammy Awards show was hosted by James Corden from the Staples Center in Los Angeles and broadcast live on CBS. Three 4×4pros with SDI VFC cards, running a beta version of r14.2 software, were used along with two 2×2plus systems: one a pure master and the other an understudy.
"disguise allowed us to be more flexible than we have ever been in the past. We could really get in there and map the architecture so it looked like light was coming from actual pieces of the set. We could also add details to the architecture."
The disguise media servers were chosen for their content management features, media mapping abilities and industry-leading realtime simulation. Their 10G content network, native 4K outputs and native SDI outputs offered advantages over other server systems.
The stage, designed by Brian Stonestreet, had two main stage performance areas, a passerelle for award presentations and performances, and a circular "dish" performance stage out in the house. Seven high-resolution LED walls in portrait mode spanned the two main stages with LED scenic units far left and right. Each stage could be closed down, with big walls that came in from either side, or opened up for a full stage look. The "close downs" themselves acted as projection surfaces throughout the show.
"As these shows get bigger and the resolution of the screens larger, we need a media server that can think about the system as a whole. disguise does a very good job of helping us to manage and preview our LED and projection canvas on one system," explains screens producer Drew Findley, who was involved in the Adele, Beyonce and Katy Perry performances.
Screens producer and creative consultant Raj Kapoor, who was responsible for eight performances, says that "this year we tried to treat our close downs as surfaces that would change and come alive in different ways. In some cases, we tried to use the architecture of the set. In other cases, we wanted to blend reality and video."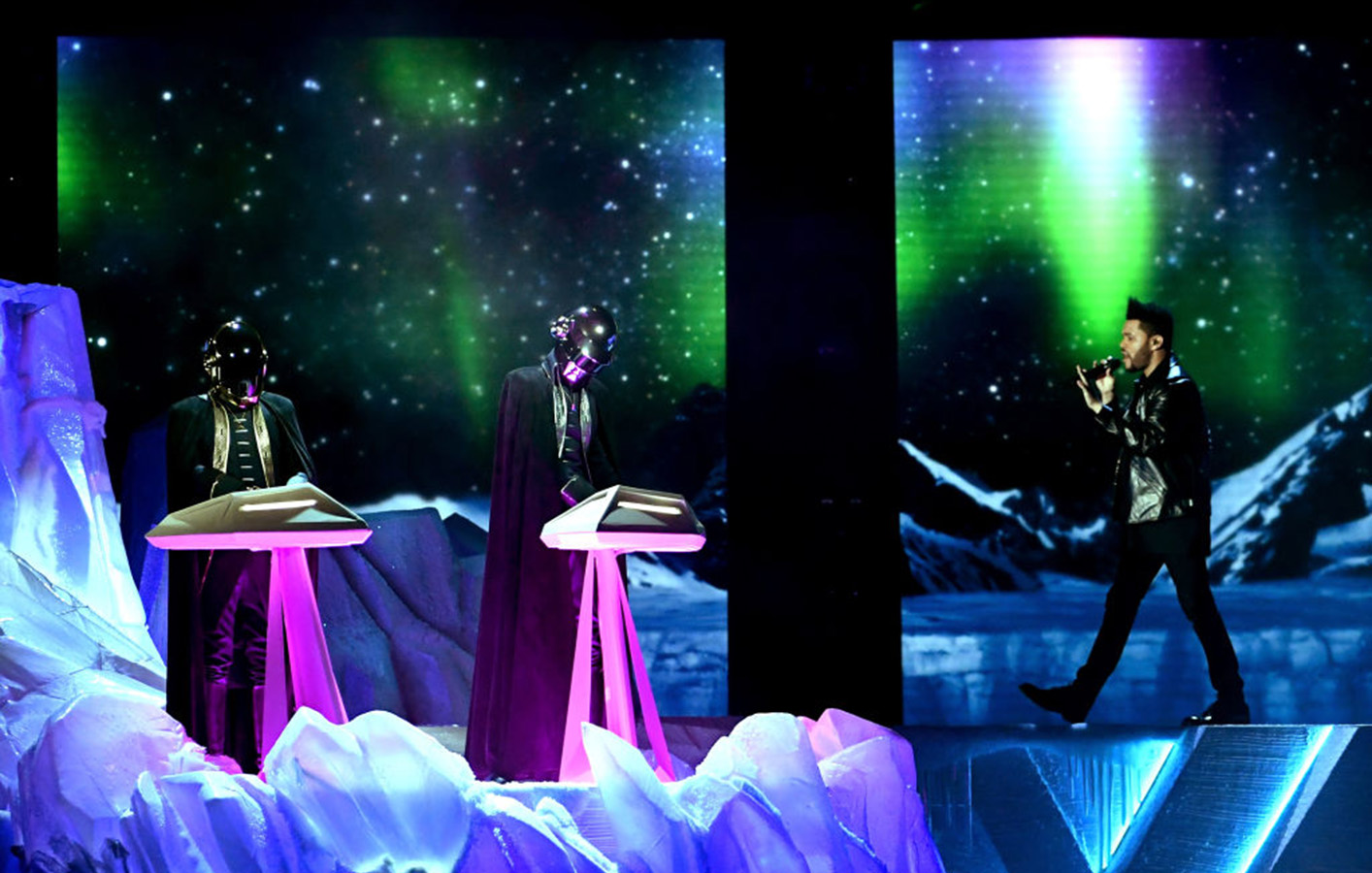 These capabilities "allowed us to make much bigger visual statements with big surfaces that could change depending on the performance. We could fly in big scenic pieces during the awards that became part of the architecture of the show and a giant video surface for disguise to map. We had a new presence and new visual vocabulary for this show."
The flexibility of disguise facilitated creative changes during rehearsals, notes screens programmer Matthew Cotter. "Content changes happen right up until the last minute as artists rehearse. With disguise the entire creative team was able to look at the lighting, media, scenic and performance elements for the first time on camera. Content versioning and content frame replacement allowed for quick replacement of media assets."
Findley says that the disguise "UV mapping for our close down projection was a great way to allow us to design content that mapped correctly regardless of projector location. I also used content frame replacement for the first time this year and love the flexibility it provides."
Cotter says he's become "an avid user of the timeline environment" of disguise; he used the system's QuickCal feature for fast projector calibration and "put the 14.2 beta release through its paces."
The compact size of the disguise media servers really streamlined equipment requirements, Cotter adds. "disguise provided a lot of outputs in a tiny footprint. Our show this year had 16 feeds with redundant backups; in previous applications this would have meant 10 or more rack cases of gear. With disguise, it was reduced to two or three."
Cotter also gives kudos to the disguise on-site support. "We had two disguise reps with us for all of rehearsal week helping with any questions or issues we had. It was great!"
Credits
Screens Producer

Drew Findley
Screens producer and Creative Consultant

Raj Kapoor
Screens Programmer

Matthew Cotter
Technical Manager

John Pritchett
Screens' Technical Director

Allan Wells
disguise Server Provider

E-Ticket Studios, Inc.