tv broadcast / film - 2014
Eurovision Song Contest
disguise drives Eurovision Song Contest 2014 with partner Mediatec Solutions Sweden.
The disguise 4U v2.5 made its Eurovision Song Contest debut at the 2014 competition in Copenhagen. After two broadcasted semi-finals, approximately 180 million viewers in 45 countries tuned in to the finals held 10 May. disguise ran Claus Zier's stage design which delivered a strong, masculine look without sacrificing any of the gold, glitter and glamour the ESC is known for.
Named the Official Event Supplier for the ESC 2014, AV rental house Mediatec Solutions Sweden partnered with disguise to provide a powerful media server solution for all the LED and projection content at the B&W Hallerne venue, a former shipyard.
"When we arrived, we just plugged the disguise output into the Martin P3 processor and whoosh, the LED strips were mapped up. A huge amount of time was saved by preparing this virtually in an office environment and then just doing small tweaks on site."
David Bajt
The media-rich show featured a diamond-shaped stage featuring LED strips with individual pixel control, a huge wall of LED light cubes (with 70 glass display surfaces projected by worlds largest Barco HDQ2k40), configured like the prow of a ship, an enormous 110×12-metre (1170 sqm) LED screen that acted as a backdrop, and 169m2 of the Mediatec tecViz BS10 Interactive LED floor.
Video by BAJT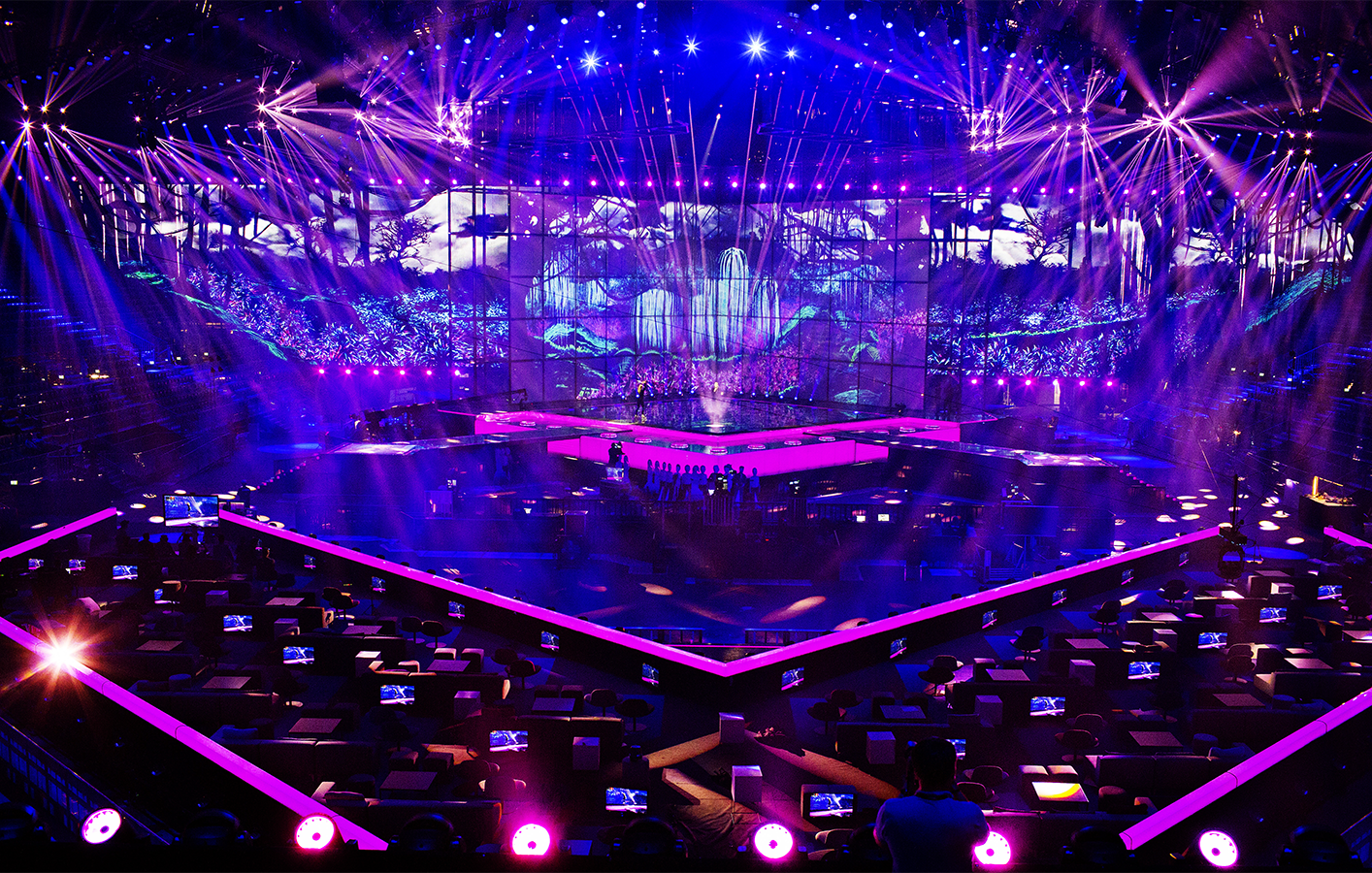 The disguise media server was selected for its real-time 3D pre-visualisation, advanced mapping features, ability to handle a limitless number of layers on the timeline, and ability to sequence directly to the beat of a song.
Almost all of the content for the performances was pre-produced in Adobe After Effects and Maxon Cinema 4Daccording to the pixel-perfect content templates generated by David Bajt, external video consultant and disguise specialist. All content houses received a Designer license key, too. "That meant they could pre-visualise the content for the tracks and interval acts before final delivery," explains Bajt. "One content house even delivered a ready-sequenced disguise track directly to the operators."
Next to being a crucial part of the content workflow, Bajt notes that disguise was also used at an early stage to simulate projector positions and lens options. When working in a 3D real time environment, he adds, all outputs could be prepared well ahead of the on-site installation. "Martin lead video technician Jens Pedersen and I prepared the disguise output and pre-configured the Martin P3 processor a few weeks before going on site," Bajt recalls. "When we arrived, we just plugged the disguise output into the Martin P3 processor and whoosh, the LED strips were mapped up. A huge amount of time was saved by preparing this virtually in an office environment and then just doing small tweaks on site."
Nine disguise media servers were on hand at the venue. The system comprised a master and four slaves, plus four understudies to guarantee redundancy. All of the slave machines fed their video outputs into a 32×32 Lightware matrix switcher, which then fed video to the various screens via fiber. The big system handled content over a network delivering distinctive graphical and video elements for each performer in the spotlight. All of the servers were genlocked for perfect synching and SDI latency.
"In addition to playing back pre-rendered content assigned for each screen, the disguise advanced mapping features also enabled operators to virtually assign project content for the back wall to the LED strips," Bajt explains. "This added another layer and gave a sense of depth to several acts in the show."
An additional two HD SDI inputs enabled the projection surfaces to display live votes and the voting representatives dialing in from their home countries.
disguise controlled the matrix presets directly. Media system operator Pontus "Bullen" Lagerbielke used custom OSC plug-ins for transport controls of the disguise timeline as well as certain parameters of particular layer types. He and assistant operator Luke Collins have been using disguise for several years and now consider it their first choice in media servers. Lagerbielke marked his sixth ESC in Copenhagen, his fifth as a media system operator.
"I think disguise enables you to work faster, it's so much easier to move a layer within disguise than in any other system, especially those controlled by a lighting console. The way you map the output to screens is also so much easier."
David Bajt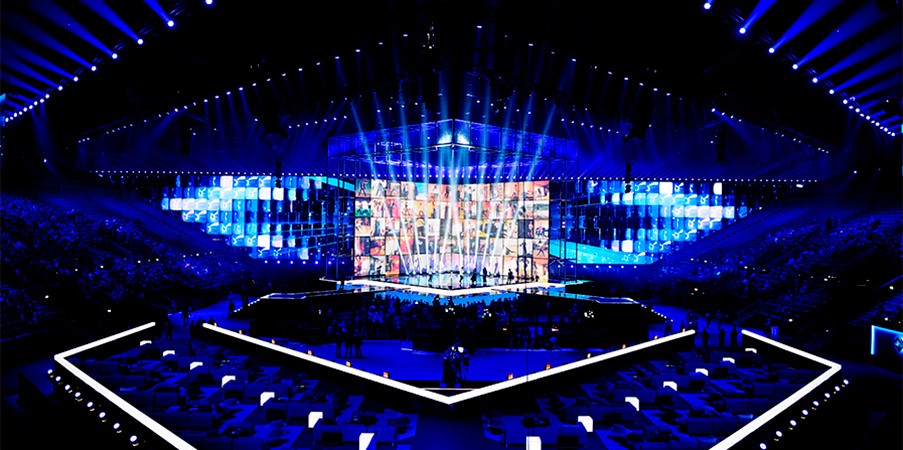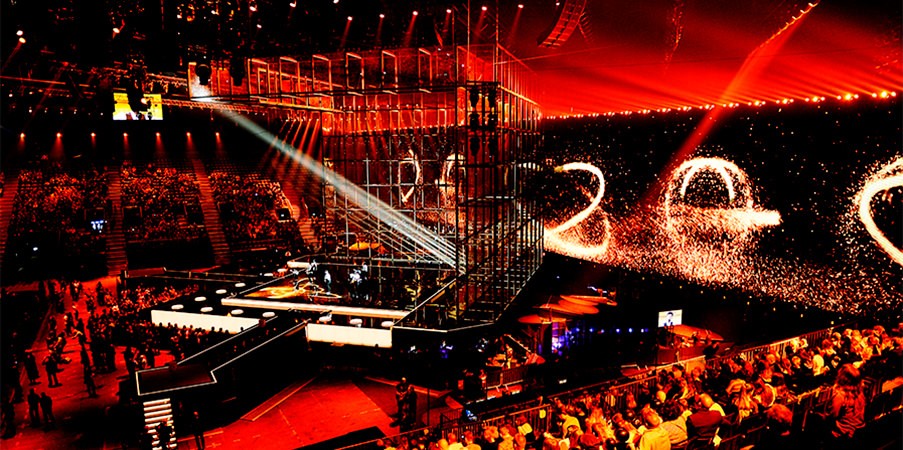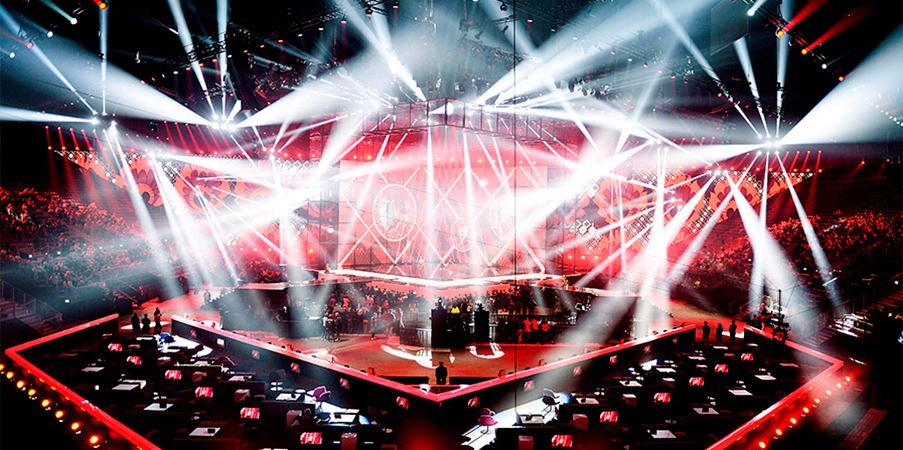 Bajt says the ESC "proved that disguise can handle a huge amount of content and a vast number of tracks: 37 songs plus interval acts and other graphics. Most importantly, it showed that you can edit and make changes super-quickly."
Collins found the disguise MultiEdit tool "incredibly useful. It allowed me to prepare a completely different track from the one Bullen was rehearsing with on the master machine; edits were not limited to what was currently being output."
While Bajt, Lagerbielke and Collins agree that the entire ESC production showed off the disguise capabilities, the system could really shine in certain performances.
Switzerland required "virtually projecting" content intended for the back wall onto the LED strips, says Bajt. "The fact that there is no limitation to the number of layers you can use was a great plus. The creatives weren't limited by the technology. We also used some really useful output features, such as QuickCal, which allowed us to calibrate the bottom row of HDX projectors to the actual structure of the cubes rather than to the surface itself. That made it possible for us to calibrate one projector in two minutes or so."
Finland was sequenced on site "with just short loops of disguise generative content," Lagerbielke points out. "A lot of things were happening to the beat." And Montenegro, and a few of the interval acts, utilised a new custom plug-in developed for the touch-sensitive LED floor, which offers new possibilities for generative content creation, Collins says.
The winning performance by Austria, "Rise Like a Phoenix," featured searing flames and undulating stylized wings playing across all the surfaces especially the back wall. "The song used the disguise ability to easily handle multiple screens as one canvas, meaning we were able to map the content from the back wall onto the LED cubes," explains Collins.
"We didn't encounter any major problems," Lagerbielke concludes. "On a big show like this there are always small issues, but nothing that couldn't be solved by either disguise or ourselves."
"It performed exceptionally well," Collins declares.
Credits
disguise server provider
disguise project setup
disguise programmer

Pontus "Bullen" Lagerbielke; Luke J. Collins
disguse operator

Rowan Pitts, Morgan Brown (disguise Technicians)
Set designer

Claus Zier
System Integrator

Niclas Ljung, David Bajt