fixed install - 2019
Concorde at Aerospace Bristol
Pixel Artworks brings icon of the sky Concorde to life with support from disguise.
Award-winning creative production house, Pixel Artworks formerly known as Projection Artworks, were recently tasked with bringing icon of the sky, Concorde to life with innovative video projection at Aerospace Bristol.
Pixel Artworks undertook this large-scale, highly prestigious installation, creating a stunning projection show and interactive experience based around the Concorde aircraft, bringing together British heritage and cutting-edge technology. Located in Aerospace Bristol, the 200m squared Concorde Hangar which featured the Concorde 216, was the backdrop for the impressive video projection. The project was able to bring inspiration for the next generation with a dose of aviation nostalgia.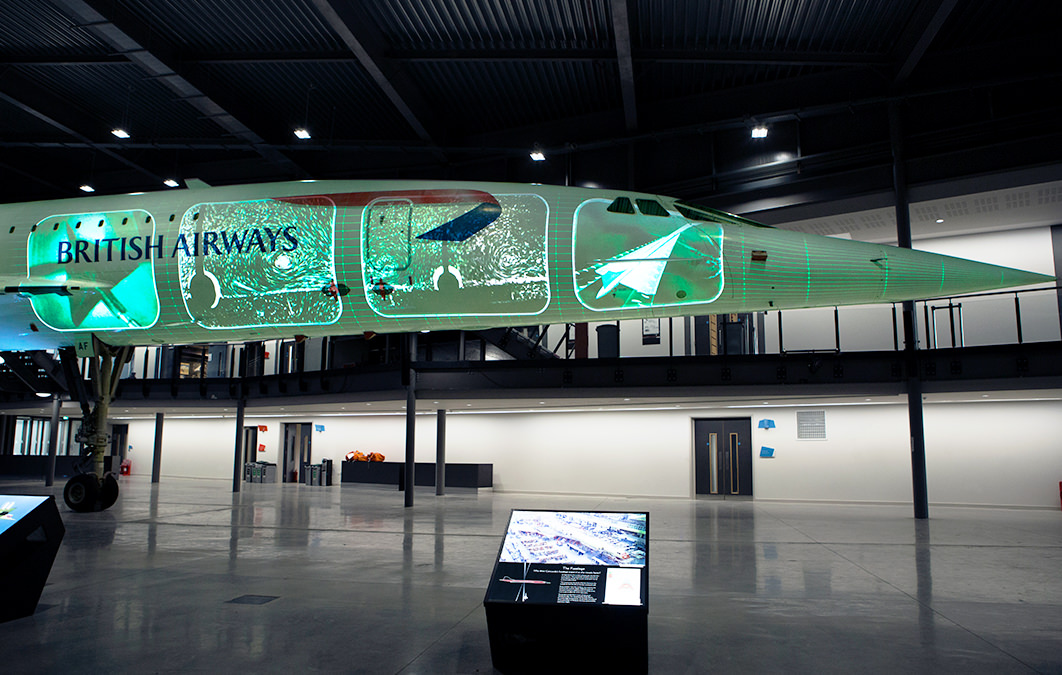 "We've been in business for 14 years and work with large businesses and agencies to create memorable audiovisual experiences that bring people together," says Jackson Tayler, Head of Technology at Pixel Artworks. "We are unique in the industry in that we produce the whole workflow, from initial concept to delivery."
"Prior to disguise, determining the best solution for a project more often required an iterative approach, which proved time-consuming – but we can now be well-informed when making key decisions ahead of time," says Jackson Tayler. "disguise allows us to create a well-thought out workflow for each project. We can figure out any potential issues and remedy these before we get on site, through pre-visualising a project, and making tweaks before final installation. Everything is then ready to go before the kit even turns up at the job location."
"The disguise workflow affords us a level of polish and attention to detail otherwise unattainable on most projects; we have the peace of mind that it can do the job to the highest standard, particularly as the scale and complexity of projects increase."
Jackson Tayler - Head of Technology at Pixel Artworks
"The idea was to project directly onto the body of Concorde as well as the area around the plane, to celebrate Concorde's history and its huge technological significance," explains Jackson. "Divided into six stages, from fuselage projection telling the story of how Concorde was designed, to an interactive experience revealing the technical intricacies of the engine, our team worked on several elements simultaneously, while audio bites from engineers, pilots and stewards, who were lucky enough to work and fly with Concorde, helped bring this triumph of modern engineering to life."
The team used disguise Designer to pre-visualise the content in 3D. "To be able to show clients a quality visual representation of the final project in situ, and make tweaks that are immediately reflected in the pre-vis, has positively transformed our production process. From a content creation perspective, using 3D models off-site we can reproduce shadows and ambient light conditions. This then acts as a guide for our studio on how best to utilise the canvas and consider colour grading" says Jackson.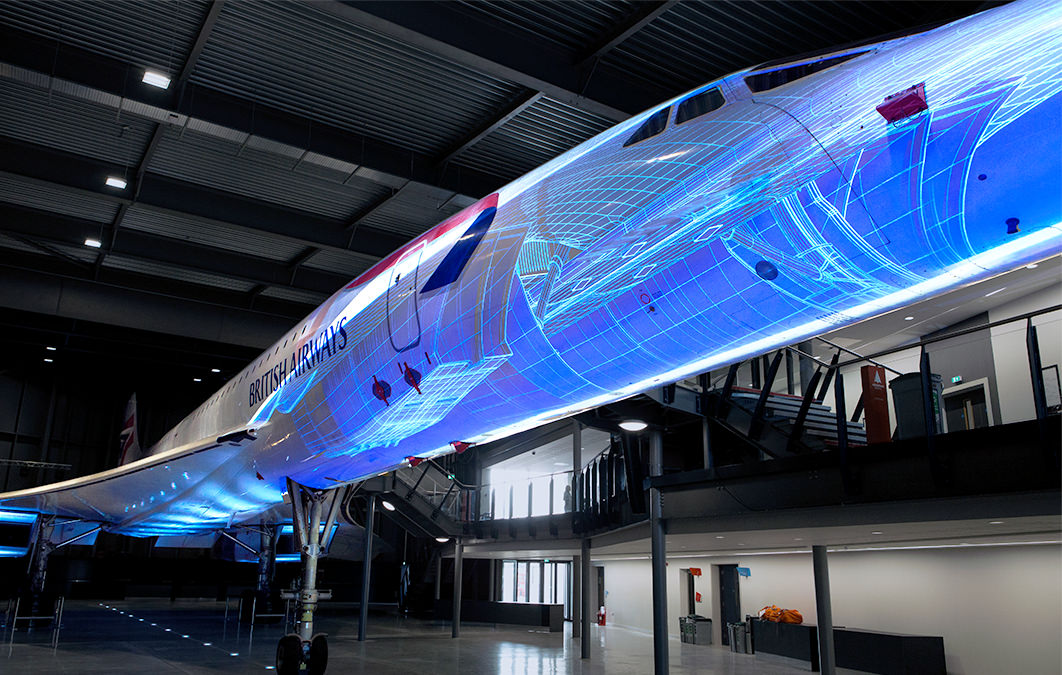 They used a disguise 2x2plus server for test projection in-house as well as installing one for the final installation. "Concorde is a big canvas, so we needed to perfect the projector calibration – again, disguise was the ideal tool," adds Jackson. "It also integrated very well with existing systems at the museum, the ease of use meant we could set up a system which Aerospace Bristol could control."
The installation has been a glowing success, showcasing the beauty of technological achievement and providing a fitting tribute to Concorde's remarkable role in aviation history.