FRAY Studio and disguise creates a changing world for Disney's Frozen The Broadway Musical
The highest-grossing animated film of all time, Disney's Frozen, made its stage debut on Broadway in May at the St James Theatre, NYC. Award-winning video design team FRAY were tasked with delivering the production's theatrical world of snow, ice and the Northern Lights for the stage.
Working with leading media server manufacturer disguise and real-time effects software Notch, FRAY co-founders Finn Ross and Adam Young are taking the infallible magic of Disney and rendering it with full integrity in the theatre.
"Disney Frozen – The Broadway Musical is a show about transformation, a spring-time world that moves to a frozen one, a frightened woman to a self-empowered leader," says Young.
"We wanted to take the normal world of Arendelle and transform it to a glistening, crystalline, frozen space, in a way that an audience would not expect. Elsa is the centre of creating this world; we were tasked with helping bring her magic and powers to life."
Finn Ross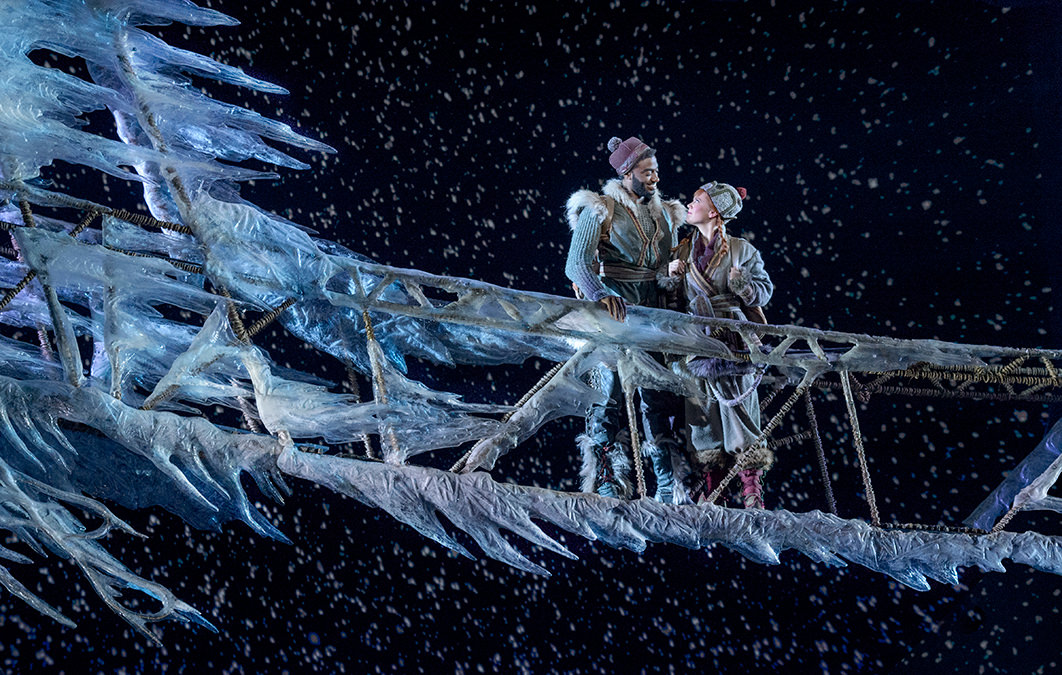 To do this, FRAY collaborated with Set and Costume designer Christopher Oram and Richard Nutbourne Scenic Studio to develop a technique to make scenery look like stone or wood under normal theatre lighting, but then magically transforms into ice when a series of custom-made LED screens embedded beneath the scenic surface are activated.
"The result is that the once wooden textures take on an ice-like quality as light passes through the surfaces," says Young. "Front projection then etches in delicate frost and ice patterns, allowing the set to transform in ways that do not seem possible."
From the show's conception, Ross and Young were set upon using disguise's latest media server gx 2, supplied by WorldStage, as their control component.
Young continues, "disguise afforded us the privilege of near 24-hour virtual support, regardless of time zones," he says. "They had developers in the room to see how we used the software in a real-world setting, so they could best fix any issues that arose."
"We were taking on a lot of new and unique challenges in an incredibly time sensitive and public arena. We needed to know we had a media server team behind us 100% and that we had a server powerful enough to handle our workflow."
Finn Ross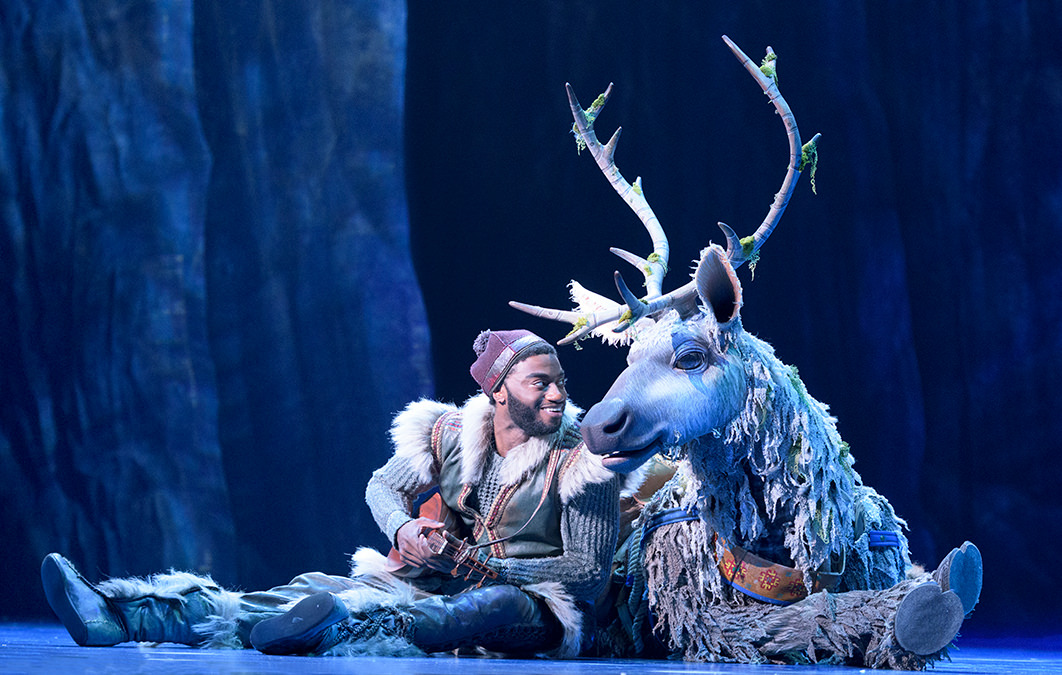 The gx 2 servers come with a integrated Notch playback license, meaning that FRAY did not have to contend with dongles or additional costs to concern the show's producers.
"The gx 2 has been built purposefully to allow for complex, real-time graphics," says Young. "The component parts inside the gx 2 allow for increased head room for graphics processing. This meant that we could develop the Notch blocks much further than we previously thought we could. It allowed us to fill the block with extra details, grading and a level of finish that we previously wouldn't have been able to achieve on a conventional machine. By using the gx 2 we didn't have to limit the art of the show."
FRAY worked closely with video programmer Zach Peletz and video system designer Jonathon Lyle both of whom were instrumental in integrating the Notch and disguise platforms into the Frozen video workflow.
"The importance of Jonathon and Zach's input in the video aspect was huge, real-time work flow adds an additional layer of complexity for system designers and programmers," says Ross. "Jonathon designed design a system to allow this and Zach became part programmer part animator making Notch do all we wanted. We couldn't have done it without a brilliant team."
Weaving throughout the show, across the set's 12m x 9m LED backdrop, is one of the production's most jaw-dropping effects - a constantly shifting, immensely intricate and entirely live rendering of the Aurora Borealis, or Northern Lights. "Night after night, the Aurora is unique and never repeats itself as it's not on a loop," he says. "It's live generated using Notch, meaning no two audiences will ever experience exactly the same show."
"It was revolutionary for me to see content shift in shape, speed and colour, with no cross-fade and no locking timecode.  Being able to instantly respond to an idea in the moment was liberating,"
Finn Ross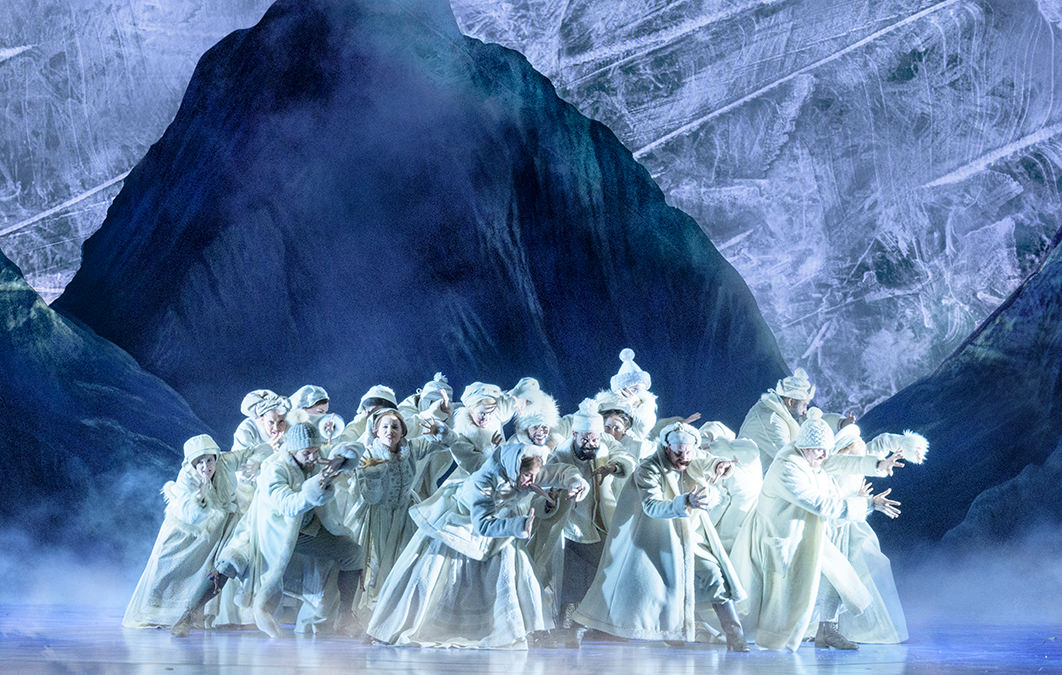 By using live rendering, FRAY was also able to overcome what would usually be a lengthy animation process, avoiding large files and keeping to a fast-paced workflow.
"We also used Notch to drive any snow in the show so it could be easily cued to ever-changing music, lines, scene changes etc, as we went through the show's six months of development. It also drove a lot of the animation of ice textures, keeping the whole process fast and flexible," says Ross.
"Ourselves, Zach and Jonathon have done a lot of development with Notch and disguise to optimise how they work together," says Young. "For Frozen, we knew Notch was going to be part of the show and the show has a lot of big canvases, so we needed the power of the gx 2s."
Frozen is playing at the St. James Theatre, Broadway. For more information and tickets visit http://frozenthemusical.com
Credits
Video Design

Finn Ross and Adam Young - FRAY Studio
disguise supplier
Video Programmer

Zach Peletz
Video System Designer

Jonathon Lyle 
Set and Costume Designer

Christopher Oram and Richard Nutbourne - Scenic Studio
Image Credits

Deen van Meer
Content and Write-up