라이브 이벤트 - 2017
Ed Sheeran's ÷ Tour
disguise Spans the Globe with Ed Sheeran's ÷ (Divide) Tour
Multi-award winning singer/songwriter, Ed Sheeran, has commenced his third global world tour, Divide, taking disguise with him once again.
The tour began last March in Turin, Italy, and will run through August 2018 playing a total of 187 shows in support of Sheeran's newest studio album.
Mark Cunniffe, the tours Show Designer - who has been working with Ed since the + (Plus) tour - designed a goblet-like, 42-foot wide touring video installation for the show.  The production chose disguise media servers again, after having used them for Sheeran's previous X (Multiply) world tour.  
"The disguise server fulfills all our workflow needs, both in pre-production and with the live show. What worked so well with the visuals for Multiply was making sure the artist was the centre of the show's design, supported by video and effects. So, for the Divide tour Mark ensured the implementation remained very similar, only changing the video wall set up and the Notch real time effects."
Phil Mead, Video Director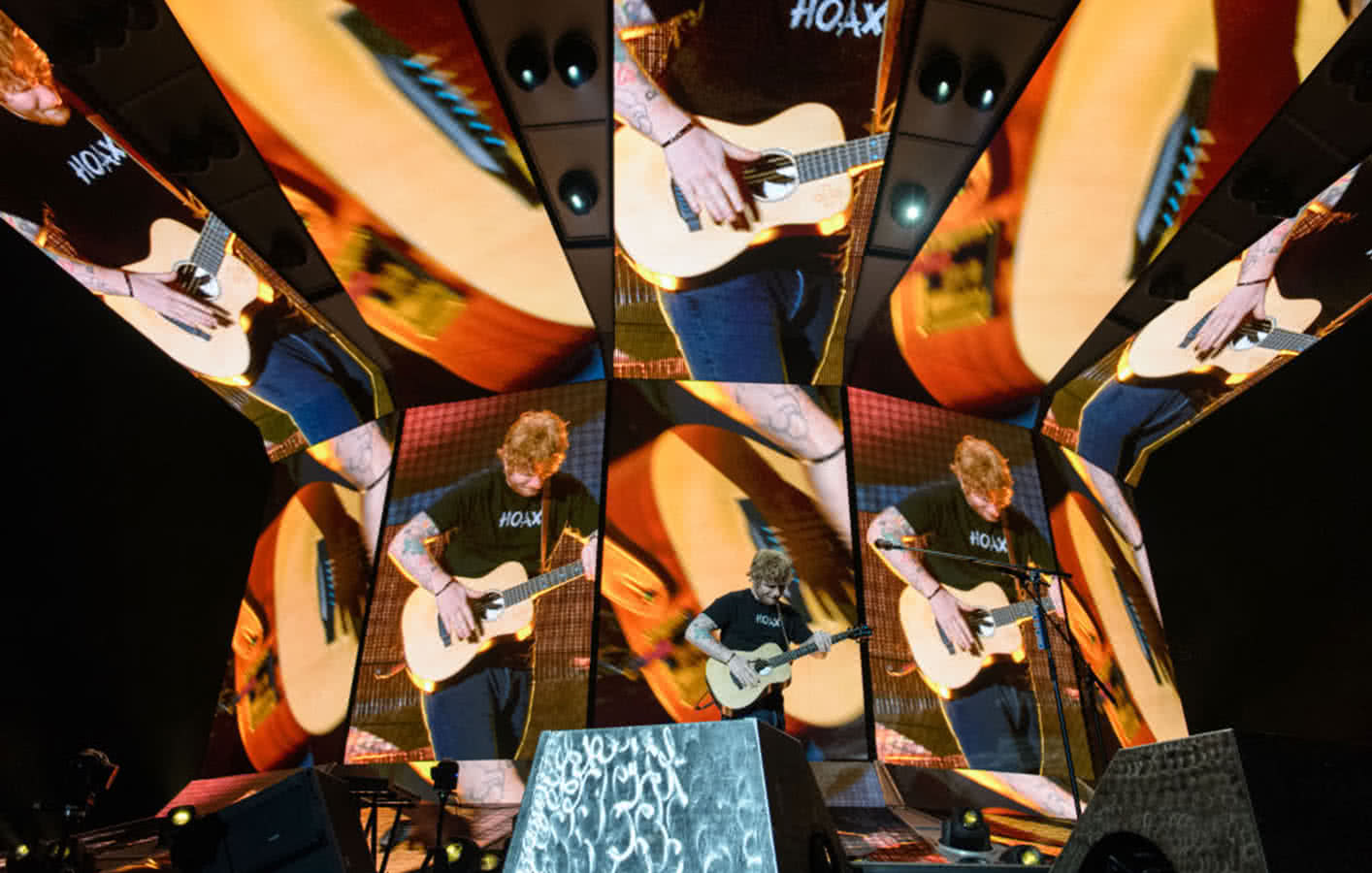 This year the production used Moment Factory (Canada) and Shop (UK) to produce the content.  Some of Moment Factory's content uses Notch with tied occlusion and UV layers to control the placement and distortion of the content and live IMAG.
The content houses were able to test content concepts for the new tour with the 3D model and work out how rendered content would look, saving a great amount of time given the different depths of the stage set.  Mead also established the feed maps before arriving at rehearsals. "The disguise mapping techniques and use of UV meshes offered advantages over other systems," he notes.
"The servers are really easy to setup and install into our workflow," he says.  "And the timeline and modules are easy to create and modify.  We didn't really need to ask for much support from the disguise team, but I knew it would be amazing if I did!"
크레딧
Show Designer

Mark Cunniffe
disguise Programmer/Video Director

Phil Mead
Notch Programmer

Matt Swoboda
Video rental

Colonel Tom Touring USA
Content producers

Moment Factory, Canada and Shop, UK