고정 설치 - 2018
Flight Paths
'Flight Paths,' the public art work at the Hartsfield-Jackson Atlanta International Airport, simulates a walk through the native Georgia forest with immersive lighting, video, projections and sound effects.
The disguise integrated workflow solution acts as the hub of the system, bringing together all the multimedia elements to create a tree canopy, rain shower, rays of sunlight and Georgia bird species flying overhead.
Created by artist Steve Waldeck and 13 years in the making, 'Flight Paths' occupies a 450-foot underground walkway in the country's busiest airport linking concourse A and B. It delivers a unique experience to passengers traversing the pedestrian corridor en route to flight paths of their own.
The hardware part of disguise 4x4pro drives six channels of Sony laser projectors that display rain showers on the floor, two feeds of 4mm LED walls in the ceilings, and 48 channels of ambient audio. All of the installation's audio is synchronised through disguise: the pitter-pat of raindrops increases as the rainfall intensifies and mini triggers match birdcalls to the species flying overhead.
disguise sends out dmx to control LED fixtures in the tree canopy and lighting effects simulating shafts of sunlight streaming through foliage composed of thousands of multi-layered aluminum cut outs. "disguise is a great choice for system control in installations such as 'Flight Paths,'" says Troy Fujimura, a disguise Product Specialist who did all the programming, system integration and specification for the project.
"It's able to gather so much system control together in one central location, is fully automated and performs very reliably 24/7/365. The installation market is just beginning to discover the benefits of the disguise solution for this type of application."
Troy Fujimura, disguise Product Specialist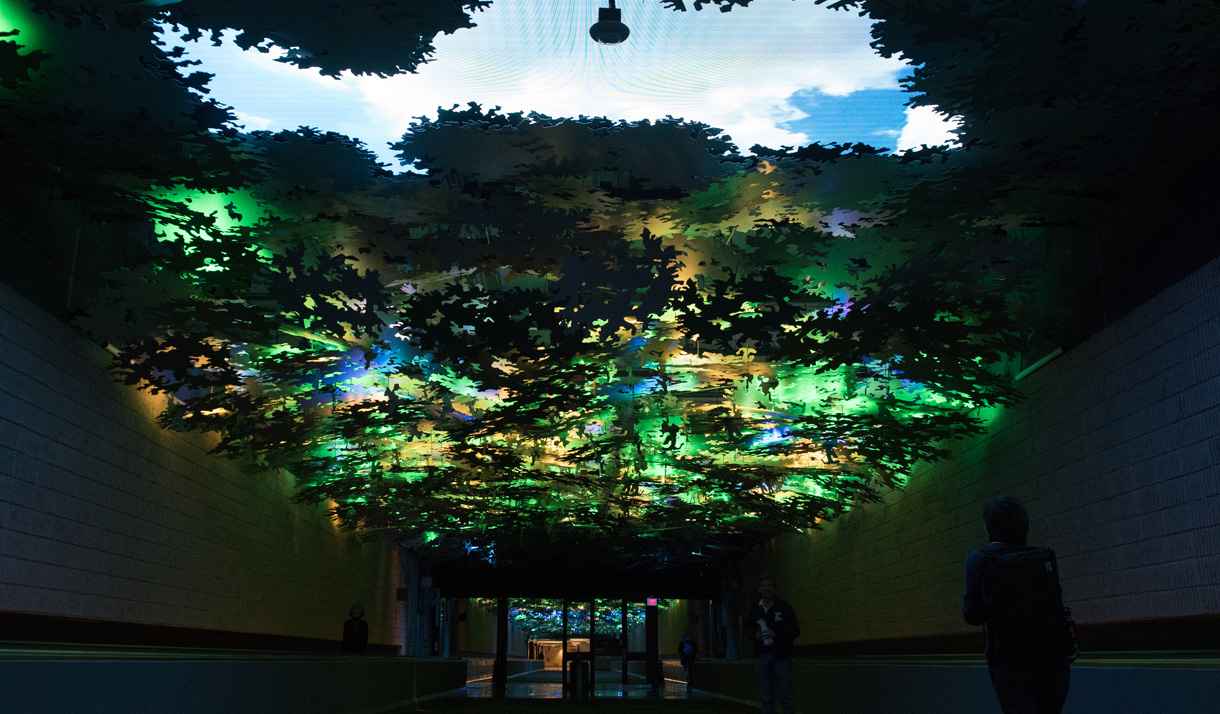 Intelligent Lighting Creations (ILC) in Arlington Heights, Illinois was hired by SVI Themed Construction to provide all the lighting and video hardware, commissioning and programming for 'Flight Paths.' "We have used disguise products in several installations in the Chicago area," says Senior Account Executive Matt Pearlman.
When the 'Flight Paths' project came up ILC thought of disguise right away. "A lot of media is involved, a lot of devices need control: pixelated LED nodes for lighting, 4mm video walls and projection, theatrical LEDs and spot fixtures. We needed one solution to control everything in a syncopated way instead of many devices tied together," says Matt.
"We also needed the system to trigger audio – there are probably 30 bird species each with a corresponding audio track and multi-point audio to follow the path of the video. The disguise system could handle all that too."
Troy concurs. "The disguise 4x4pro has multiple outputs and is compatible with the multiple protocols used in 'Flight Paths,'" he notes. "And driving all the devices from one box also limits failure points."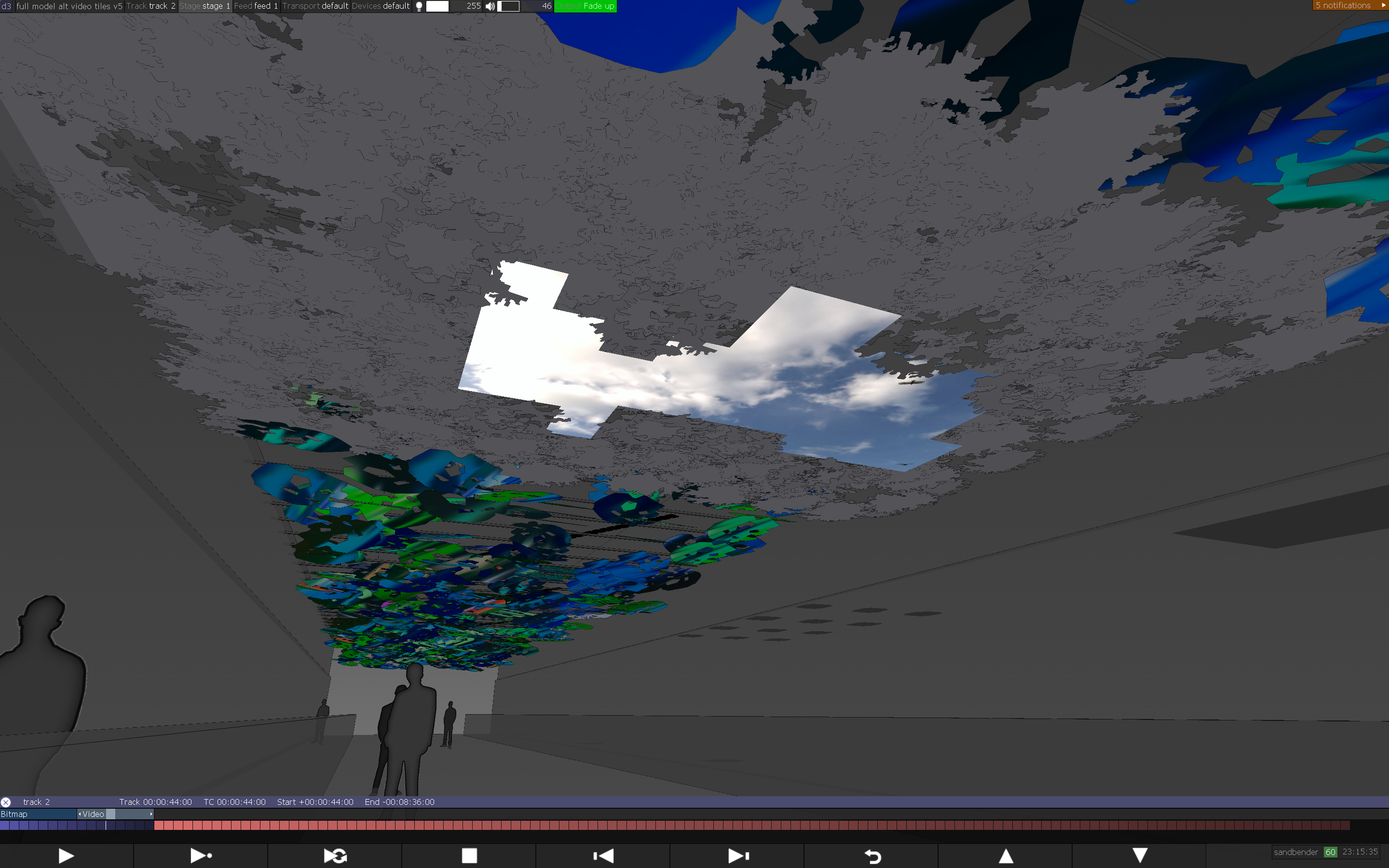 Another strength of the disguise software is its previsualisation capabilities. "Using disguise was a lifesaver given how much previsualization we were able to do," says Matt. "We had a very limited window, from 11pm to 4am, for installation on site, but we were able to previs most of the show offline. We did all the sequencing, laid out the audio triggers and effects – that saved a lot of time on site."
Even earlier, Troy recalls, the system's Designer feature helped creatives render out pixel-accurate choreography of the birds seen from different angles. 
"It facilitated realtime collaborative meetings with the board of the Atlanta airport and the team of content developers, This project wasn't anything the board members do in their everyday life, so the pre-renders helped them understand what the birds' flight paths would look like."
"It can be tough to visualise these concepts," agrees Matt. "But disguise played a big role in taking the project from concept to reality."
disguise has been driving 'Flight Paths' for 18 months now "without incident," reports Matt. "I couldn't imagine doing the project without disguise. Troy's programming and all his support throughout were invaluable."
크레딧
Senior Technical Specialist

Joby Benoit, Intelligent Lighting Creations
Content

John Featherstone and Ben Roy, Lightswitch
disguise programmer

Troy Fujimura
Senior Account Executive

Matt Pearlman, Intelligent Lighting Creations
System integration & Specification

Troy Fujimura