Partners - 2020
Peter Nigrini on pushing the boundaries of theatre production with disguise
As the critically-acclaimed Broadway hit 'Dear Evan Hansen' made its London debut, projection designer Peter Nigrini found time to chat to us about the show and his work with disguise to cater to the unique features of theatre production.
Peter Nigrini's history with disguise dates back almost 15 years. He was designing projection for 'Fela!', the then Off-Broadway musical depicting the life of Nigerian political activist and Afrobeat founding father, Fela Kuti, which coincidentally was also the first theatre production disguise was introduced in, and the first time it drove projectors instead of LED displays.
"This was before disguise was a commercial product, so it offered an intimate level of support and feedback, all of which played a key part in making it what it is today," Peter notes.
"What I continue to find enjoyable about disguise is that from the beginning they are working with you in partnership. There is a genuine interest from the team to learn how we use their technology and how they can make it better for us." Because disguise workflows have completely unique applications in theatre, there is a whole list of features that are unique for theatre productions, Peter believes.
"It's great to be in a collaboration like this where we try to do something that has not been done before and we have a partner in disguise to create it together."
Scale
On 19 November 2019 'Dear Evan Hansen' opened on the West End to stellar reviews. The story follows high schooler Evan Hansen's interaction with the real world through a social media lens, so it was Peter's job to bring this virtual world to life on stage. 
The show's entire scenery is made up of video projection, covering every surface of the playing stage with content. Eight projectors and 32 monitors, powered by the disguise vx 4 and gx 1 servers, drive the visuals for the show. "Hansen is visually so rich, and yet everything on stage is black before projectors turn on."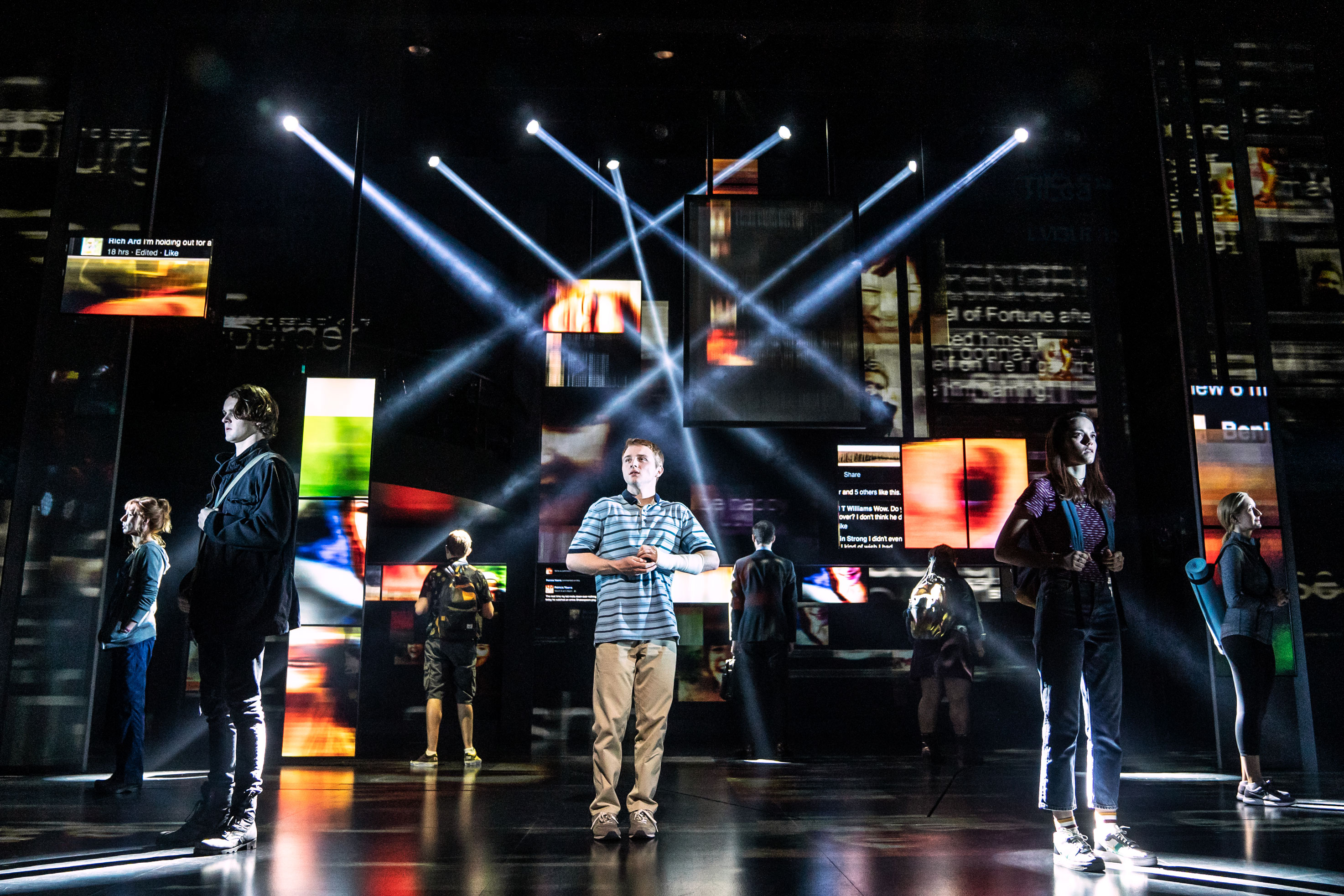 Peter believes that a key differentiator for theatre projects is scale - the large amount of attention and technology packed into such a small physical space. The inverse of the physical space is the time invested in the production. "Before 'Dear Evan Hansen' premiered on Broadway we had been in front of disguise for 25 weeks which allowed for a level of detail and complexity in programming that is unlike other live event environments."
Cast rotation
Cast rotation is just one example of a number of disguise features that were built for theatre, Peter reveals. Originally designed for 'Fela!', the feature allows him to program a single timeline with multiple variants of any footage file containing images of the actors to be projected onto the stage. Based on the cast chosen to perform ahead of each show, the appropriate content will be automatically selected. This feature is particularly relevant for shows with many covers for one role. "You can switch that footage in real-time and ripple through the whole production."
"We don't leave disguise programmers on the show for all the residency, so this feature allows us to build a show where all of those pieces of content exist within the machine at any given time and can be managed easily and revised remotely."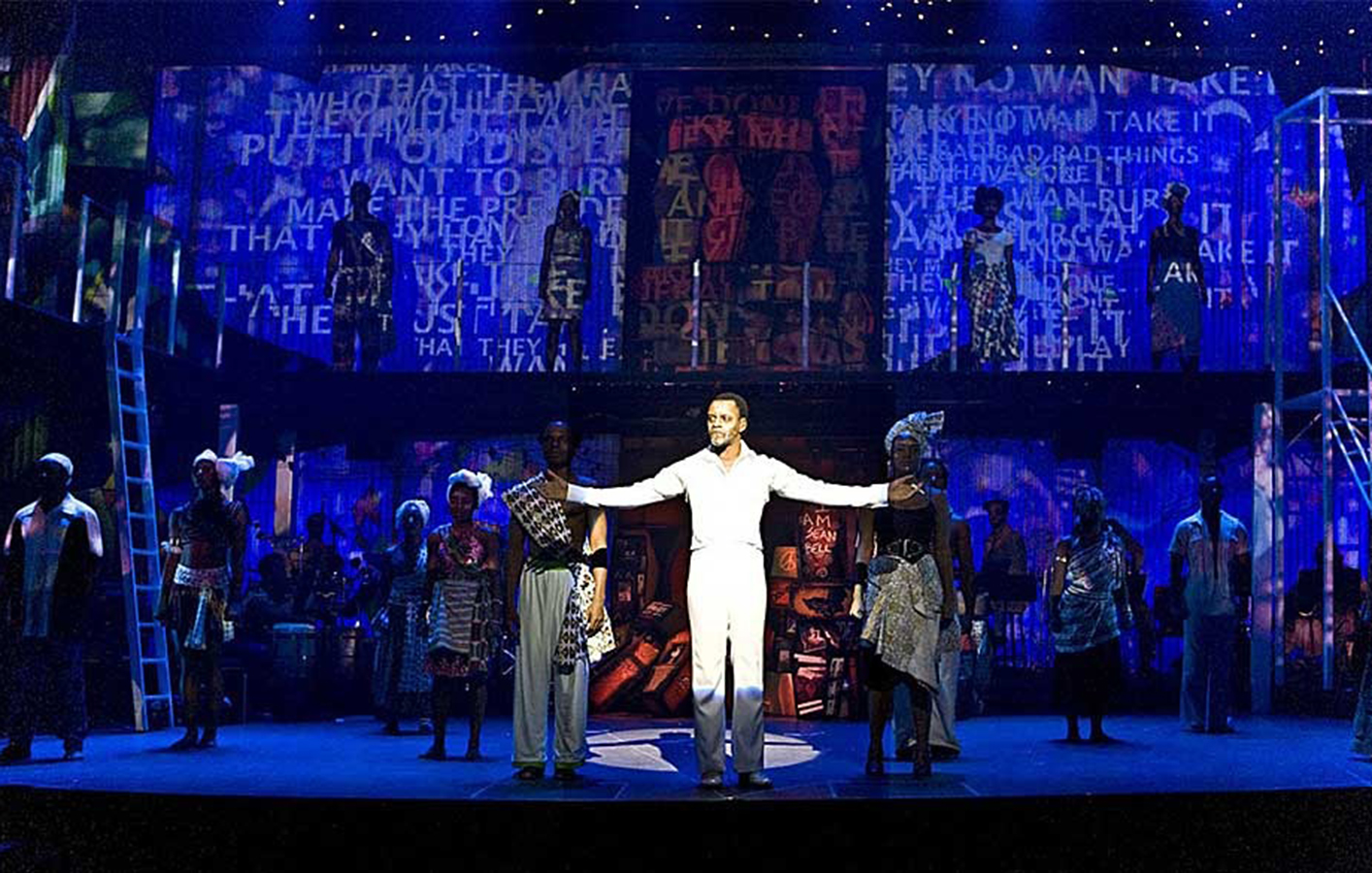 Pre-visualisation
With every show, Peter's interaction with disguise starts when he walks into the theatre. 
Unlike concert tours that lean a lot on generative content, theatre requires a lot of compositing, Peter points out. "So my pre-visualisation environment is built within our edit systems, not in disguise. The editor can sit in front of a workstation and see the content they make flow into the storyboard immediately, right in front of them. That degree of immediate response is why we keep our storyboarding internal to the edit environment until we move into the theatre." 
However, once in the theatre Peter relies heavily on the capacity to work out of sync with the rest of the production.  Using the pre-visualisation environment to continue to edit and build the show while rehearsals are taking place on stage.  "Time is of the essence." 
Future
Peter is currently splitting his time between the UK and New York, where he is working on a straight-to-Broadway production about Michael Jackson. With this new production forgoing the traditional out of town try-out, much of the development process will need to happen outside the theatre, Peter will need to build the design entirely in pre-vis, working with the director, scenic designer and lighting designer, as well as programmers and editors, in order to hit that fully ready-for-prime-time level from the first performance on Broadway. 
Working with disguise on such a production is not just about freeing up more time in the theatre, it's also about the break to contemplate the design and look at it with fresh eyes, he explains. "Being able to put it on a shelf for a while allows a much greater degree of polish in the work."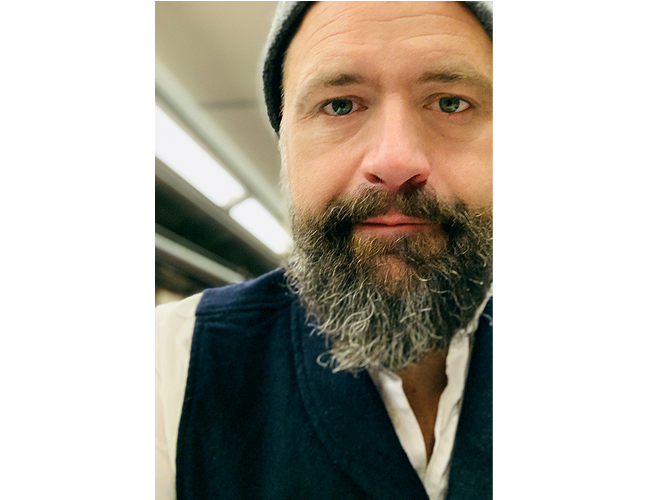 The value of human touch
As technology is playing an ever-increasing role in theatre, Peter reflects on the value of human touch. Despite so many different control inputs from the lighting and sound desks and the automation system, tracking beacons, etc., everything is ultimately triggered by people. "Instead of building something that is timeline-driven, it's about getting all those computers to be responsive to live performers, making technology subservient to humans." The structural flexibility of disguise is part of why that's possible, he believes. "There are so many things that are conditional to human behaviour and the visual world can react and respond to that. Behind this mountain of tech, I'm trying to hold on to things that are essential about being human."
Learn how disguise vx 4 powers projections for 'Dear Evan Hansen'