blog 2023 5 min read
5 tips and tricks for better creative collaboration
The media and entertainment industry moves fast. When multiple people are trying to work together, often around the globe and with an assortment of devices and applications, creative collaboration can be a big challenge. Read our five tips for improved collaboration in your next project.
In the past two years, the media and entertainment industries have seen significant disruption. In broadcast, platforms have moved from single-channel broadcast to multi-service engagement. Advances in networking and graphics processing has led to innovative new stages for live events. Film has employed CG graphics and even more realistic VFX while OTT services like Netflix and Amazon Prime and the increasing demand for cinematic content mean that the industry, as a whole, is trying to do more with less. New specialist virtual production and metaverse workflows require experts which are challenging to recruit in just one location, thus giving rise to the need to collaborate with different people around the world under challenging circumstances.
86% of leaders say lack of collaboration is the top reason for workplace failures. When collaboration can't happen, productivity suffers, and work satisfaction decreases.
Projects need the technology and a sufficient collaboration strategy that will help overcome the various blockers and challenges.
Top challenges for collaboration
In the high-stakes environments that media and entertainment professionals find themselves in, various challenges arise, including:
Differing time zones
Switching between multiple tools and technologies
Duplication of work
Lack of clarity about each person's responsibilities
Lack of alignment on project goals
Feelings of isolation or working in silos
Team members working in outdated documents
These moving parts can make it really difficult for collaboration to happen. And when there's no collaboration, team creativity can be stilted or even snuffed out.
How to improve collaborative processes?
The good news is that there are tools and approaches out there that help creative collaboration on teams of all shapes, sizes and locations. Let's dive into five effective strategies to improve how people interact and work together:
1. Don't underestimate the power of meetings
As more companies become dependent on digital tools to get work done, it's easy to assume that meetings aren't necessary for communication. However, when you have team members tuning in from all over the nation — or globe — meetings are essential to keep morale high and to ensure productivity never dwindles.
Hold regular meetings so people can connect with one another on an ongoing basis and build relationships. At the same time, ensure meetings are productive with goals and outcomes that will push a project forward. Use shared drives on the cloud to store notes and action items from each meeting and track them on an ongoing basis using project management tools.
Learn more on how you can store files on disguise Cloud
2. Make reviews and edits easy
Reviewing and editing creative work has its challenges, especially if there are multiple stakeholders involved. Ensure you have the right technology that makes reviews and approvals easy. Using a drive on the Cloud is an easy way to manage feedback, ensuring visibility amongst all stakeholders and ultimate version control.
3. Set clear goals and expectations
Another challenge for creative collaboration is differing expectations. The goals and desired outcomes for the project need to be clearly stated, and everyone must be aligned on them. Otherwise, team members will start to make decisions without consulting the team, or they'll have a much different idea of what success looks like.
It's a good idea to write down all key details about project timelines, goals and stakeholders. Each person involved should have a clear outline of what their role is and where their responsibility lies. Again, technology can help with project management tools documenting tasks and tracking progress.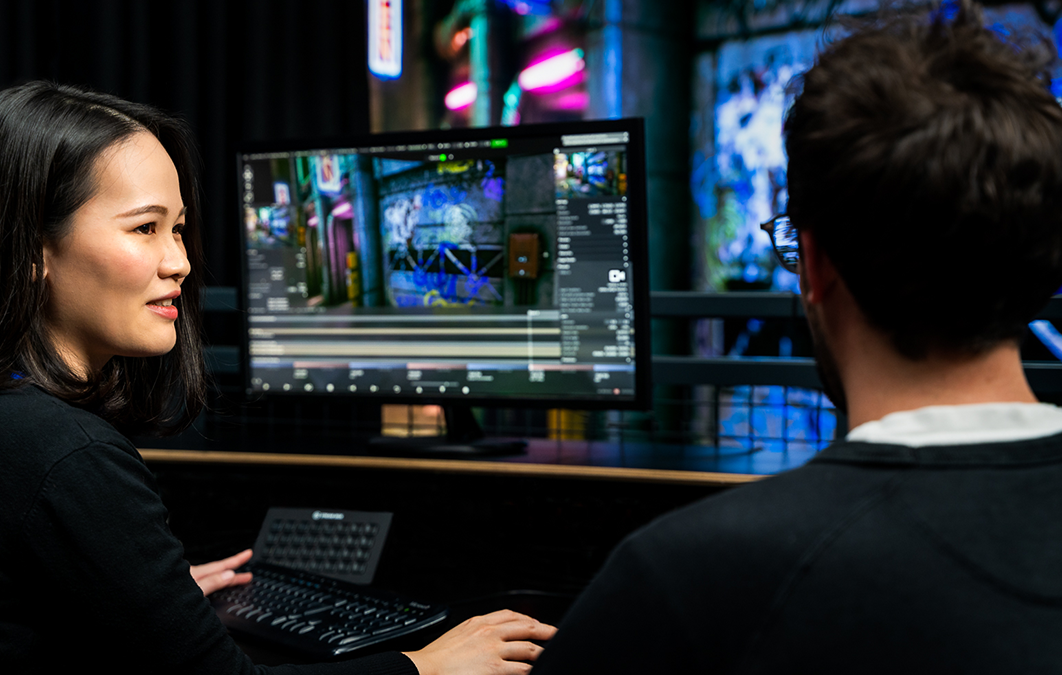 4. Celebrate wins together
There will be lots of ups and downs during a big creative project. The mistakes and lower moments don't have to be the highlight, even though it's easy to dwell on what went wrong.
Try to focus on the good. Anytime someone has a win, no matter how small, do something to celebrate. Include the entire team, even if it's just a small Zoom celebration or happy hour. Congratulate each other and be supportive.
5. Migrate workflows to the cloud
Finally, using a cloud platform is a critical step in improving collaboration, especially when team members are working remotely.
The cloud allows you to collaborate on files to ensure that only the most up-to-date versions of videos or documents are being used. People can comment on files and make changes in real-time. With your cloud platform holding a single source of truth, no out-of-date versions of project files will be used.
Why use disguise's Cloud solution?
At disguise, we've developed our end-to-end Cloud platform to help teams working in media and entertainment stay on track and store all files in one place. Instead of having to use lots of different cloud applications and tools, leading to rising costs in subscriptions, duplicate files and hiccups in critical workflows, teams can do everything in one simple platform, like edit high-resolution media, leave comments, approve changes, get feedback and much more.
With disguise Cloud, you can have all the apps a team may need to store, preview and review high-resolution media, tag content and leave comments on projects – all on one platform.
disguise Cloud's first app, disguise Drive, supports images, video and 3D file formats including .fbx, glTF and .obj and has Smart Folders to organise files by type, recently added, or any other custom parameter in just a few clicks.
disguise also has a free Starter Plan, so there are no delays in your journey for improved collaboration.