blog 2021 5 min read
Five steps to Infinitely Scalable Content
At disguise, ambitious projects are one of the things that excites us the most. We're committed to working with our partners on audacious visual spectacles, and in the process of bringing some of those projects to life, we have pursued the concept of 'infinitely scalable content': the ability to deliver high-quality video content with high frame rates and resolution across large surfaces without latency and frame tearing.
Our latest product release r19, allows our users to take control of their productions and use features like cluster rendering and disguise's RenderStream infrastructure to deliver content on a scale that has never been seen before.
We partnered with Illuminarium Experiences to showcase these capabilities through a webinar for our community. The webinar explored how disguise enabled Illuminarium to achieve infinitely scalable content that transports visitors at their installations into another world.
According to Illuminarium CEO Alan Greenberg, Illuminarium is "a place that can take you to any place" including an African safari, deep under the ocean or even to outer space. Its creators aim to "democratise the world's most extraordinary experiences", with vast halls projecting pixel-perfect video imagery. Using disguise's hardware-on-software solutions, Illuminarium have been able to bring this vision to life, at scale, ensuring the highest fidelity content over the largest coverage.
disguise's webinar with Brian Allen, Illuminarium's Executive Vice President of Technology and Content, took attendees on a journey through how they created the first Illuminarium experience; WILD, which launched in Atlanta in July 2021.
Learn more about Illuminarium Experiences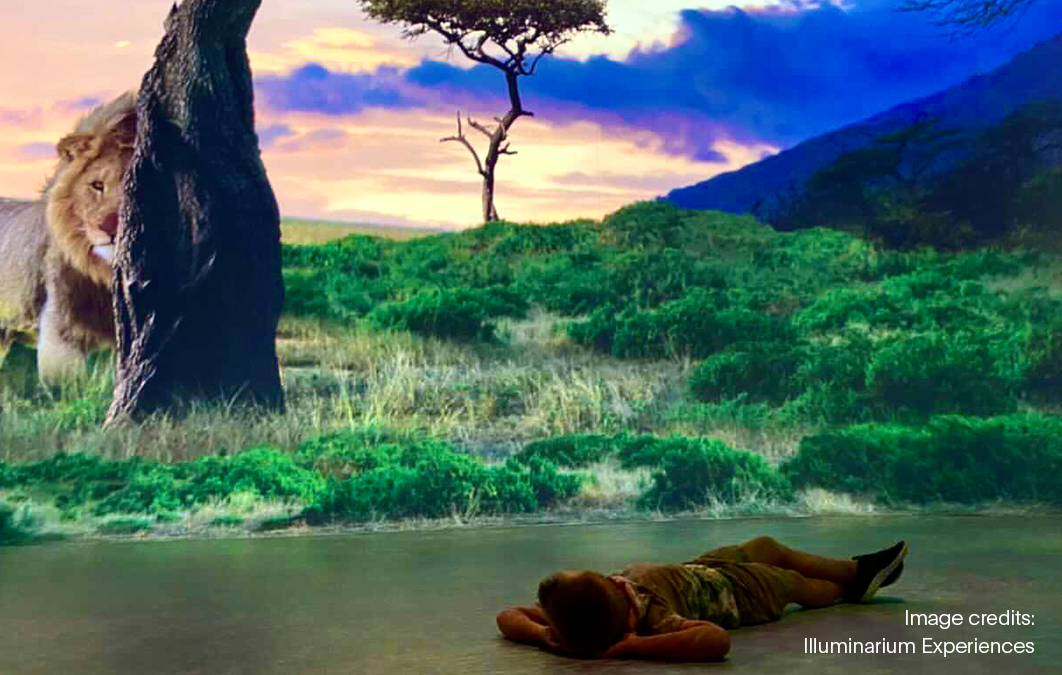 Five key ingredients for creating this type of large scale experience include:
1. Previsualise for the future
One key challenge for this project was simply manipulating and planning for enormous amounts of content. With 46 x 4K projectors in the space, Illumarium needed a system that allowed huge amounts of data not only to be manipulated and iterated on, but also to be delivered and displayed to offer a truly immersive experience without any signal degradation.
The team achieved this in two ways: One, by integrating the proxy workflows in disguise to allow people to use low resolution clips for previews, and two, by building a one-inch-to-one-foot scale model (audience members included) so that the team could start to understand the interplay of content and scale. This made it easier to anticipate what it might feel like, for example, to look up at a giraffe as a visitor in the space. The right proportions and horizon line had to be maintained.
2. Build the workflow Bible
Allen and his team faced several technical challenges in their journey. In addition to managing vast amounts of data, the team also had to build a workflow and documentation in disguise to accommodate the creative vision of being able to update and turn over the content for future versions of the show, including the ability to edit offline.
disguise worked with the Illuminarium team on the entire workflow bible for this project. Due to the nature of iterating the content over time, the project needed to plan for different teams to be producing content to the specs of the Illuminarium, as it gets rolled out to different venues across the world.
Every element therefore had to be documented so that a new content team could come in and produce content to those templates: in the right codecs, in the right frame rates, even down to the naming conventions. Everything needed to be defined so that these workflows can scale out to all of the different iterations.
3. Upgrade storage to allow for multimodal spaces
The Illuminarium team also wanted to be able to offer the audience a variety of content on rotation, rather than simply having one installation for a fixed period. This required storage across the 18 disguise vx 4 servers in use — something disguise hadn't done before.
The solution, now available for all partners, provides 60 terabytes of storage, allowing Illuminarium the ability to hold up to three shows on local servers so that they can cycle through those shows throughout the week or month and have a variety of content to offer audiences.
4. Leverage new technology for a flawless finish
Cluster rendering—a new feature in disguise—allows users to spread the render power of high-quality or complex content across multiple render nodes, with each node delivering a fragment of the final output. The challenge is to make sure all of these jobs run seamlessly, flawlessly, and perfectly aligned.
The larger this task gets — as in the case of Illuminarium— the trickier it is to manage. The benefit of cluster rendering is the ability to leverage the power of multiple machines to render real-time content. Installations can start small and grow very large through adding more nodes as required. This scalability allows creators to handle extremely complex outputs, high pixel counts, or a combination of both. Users can also scale the physical outputs and rendering output independently and even combine strategies by using a mixture of content that is both real-time or live.
5. Realise the vision through collaboration
The Illuminarium project is the result of two years of conversations between disguise and Illuminarium. One example of this is in Illuminarium's use of disguise's RenderStream capability, which, as the project matured, came into the conversation as a way to use graphics engines like Unreal Engine to produce real-time content that responds to people's actions in the physical space.
As the project continued to develop, new features such as cluster rendering were added, with Illuminarium becoming one of the first large-scale examples of this technology in action.
We expect an even more exciting future for Illuminarium. As Brian Allen said in the webinar:
We're building a new media format, and we need a template that works for creators to come in and build content for our screens. We hope in the next five to seven years to have dozens of Illuminariums throughout the world. And we're really excited to expand our template and expand our format, to not only bring it to audiences everywhere but really open it up to content creators as well, to create in this new format."
Brian Allen, Executive Vice President of Technology and Content, Illuminarium Experiences