blog 2022 5 min read
How to easily control your production graphics
Gregory Mindlin, CEO at Polygon Labs by disguise, recently teamed up with Polygon's Head of Business, David Jorba, to showcase the Polygon Labs platform capabilities on disguise's extended reality stage in London. With the graphics visible throughout the stream, Mindlin and Jorba showcased how you can easily control, edit, preview, and manage your Unreal Engine graphics playlists with Polygon Porta. Here are the five key takeaways:
1. A range of software for everything you need
David Jorba launched the event by discussing the various offerings that Polygon Labs brings to visual storytelling tech company disguise's broadcast solutions. With a strong record in creative and design services using Unreal Engine, and a keen eye for improving the user experience, Polygon Labs by disguise also has three impactful software solutions: Porta, Ipsum and Chronos.
Ipsum is Polygon Labs' data aggregation and distribution platform, and allows users to curate data and aggregate data feeds to ensure that information shown onscreen is reliably up-to-date. This is perfect for broadcasters looking to incorporate data-driven AR elements into their shows, allowing them to present weather forecasts, or the latest football scores in real time. Ipsum is also a MCR graphics controller and powers the tickers, crawls and infobars of many broadcasters.
Chronos further supports this, allowing for interactive storytelling onscreen. This means that presenters can better share the information provided through Ipsum, interacting with it in the studio. From sports broadcasts to important news events including election night coverage, Chronos helps make productions that are more relevant and engaging to the viewer at home.

2. Create pixel-perfect graphics for your production
Porta, the third of Polygon Labs' software solutions, helps tie together Ipsum and Chronos to deliver broadcast opportunities that are immensely adaptable, allowing users to create and control completely customized Unreal Engine graphics. With Porta, you can drive any number of actions in your disguise virtual production environment, and playback any type of graphics using non-linear or numeric playlists - which formed the focus of Mindlin's demonstration.
Working from custom-built templates, users can create any graphics they like, and place them into a simple playlist that can be navigated easily. Porta can automatically build html templates from Unreal Engine Presets, allowing the user to create graphic templates without special plugins or blueprints. Everything can be previewed in real-time, so that production teams can understand in advance how their designs will look from any camera on set. This allows absolute flexibility without compromising on useability.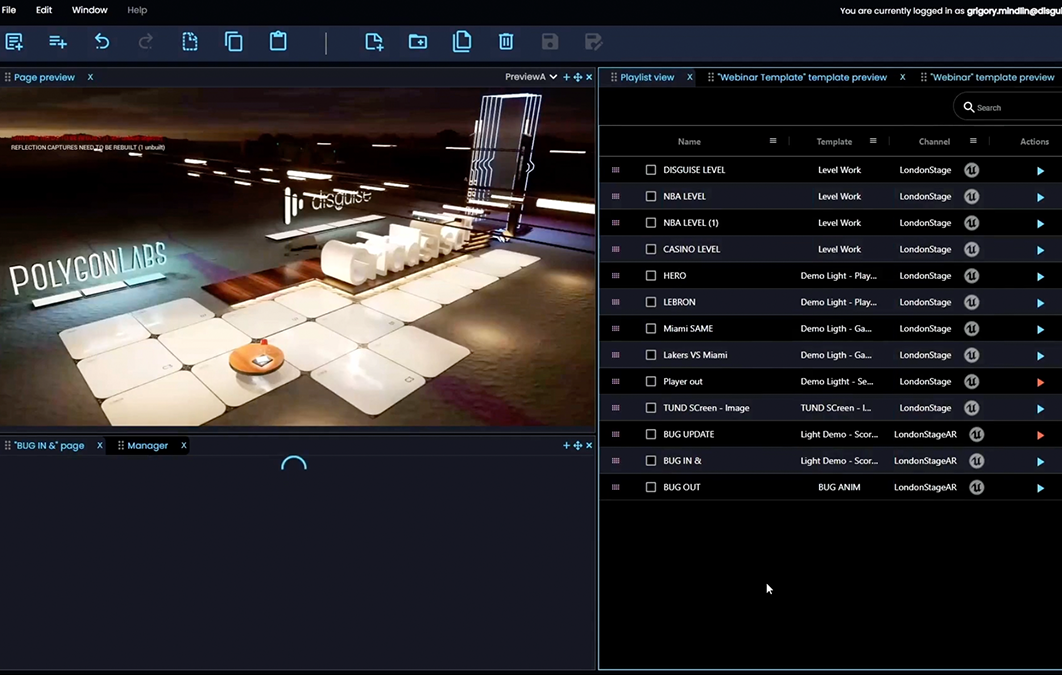 3. Accessibility for everyone, wherever they are
A major element of Polygon Labs' offering is accessibility. Polygon's cloud-native applications provide users with instant access to their workflows from any browser they like. There's no need to download any surplus programmes or plug-ins. If you have a browser at hand, you can log into your Polygon Labs workflows and continue work on your projects, tweaking Unreal Engine graphics with ease.
This cloud-native approach empowers improved collaboration even when teams are on opposite sides of the planet. Multiple users are able to open workflows simultaneously, working together to build a single vision. This is perfect for productions with international teams, or collaborations between organizations operating out of different cities or even countries.
"Our preference is always cloud - it's easier for everyone," Jorba says - but Polygon Porta can also be installed on premises, meaning that it's possible to run the software using your preferred way of working.

4. Instant updates for live broadcasts

Polygon Labs' Ipsum aggregates data to enable onscreen tickers and information to be kept up-to-date, and Chronos gives presenters the ability to interact with that information to better tell the stories that are relevant. But in live broadcast, things can change at any time, and the ability to make changes on the fly can be vital.
Porta's detailed control over every element of a production will mean absolute flexibility during live shows. Mindlin demonstrated how quickly Unreal Engine graphics can be changed live on the webinar stream, dropping an NBA court behind David Jorba and flicking through a number of vibrant graphics. In a matter of seconds, onscreen elements could be changed or updated to seamlessly incorporate new information.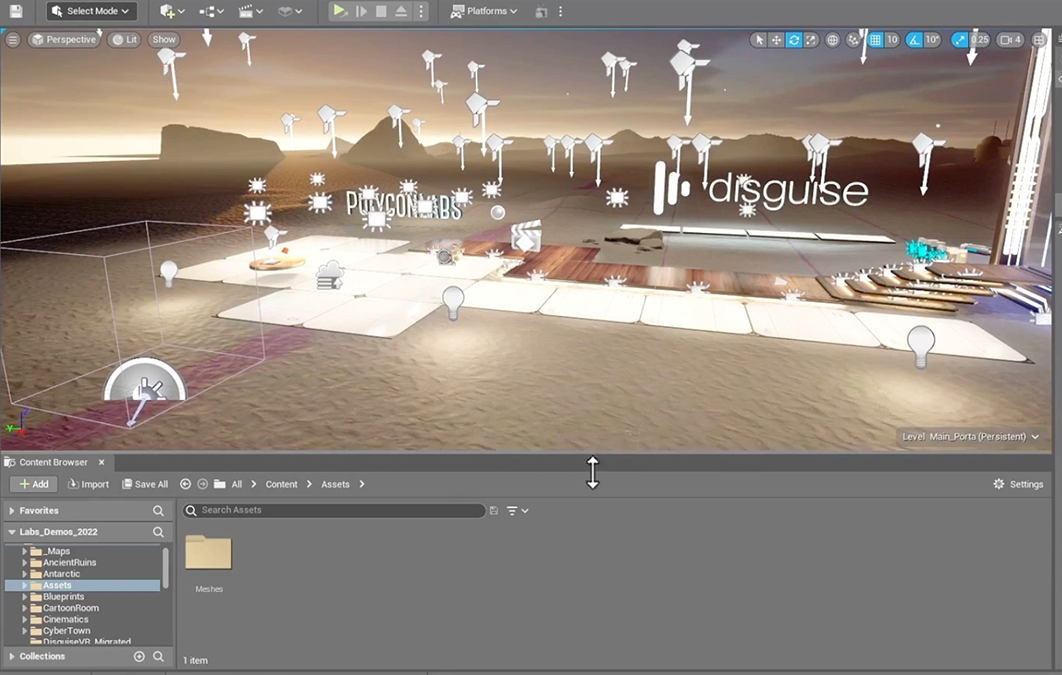 5. Telling the stories you want to tell, how you want to tell them
Polygon Labs by disguise offers incredible opportunities for anyone looking to create virtual sets, but it's impossible to ignore that combined, disguise and Polygon's technology could be a game-changer for the broadcast industry.
Productions can now create instantly adaptable xR studios that are automatically fed the most up-to-date data by Ipsum, whilst enabling simple interactive storytelling through Chronos. Every element on the set can be controlled through Porta's simple playlist-led workflows, which can be changed at a moment's notice to ensure that presenters in the studio have no barriers to their performances. They'll be able to see the Unreal Engine graphics they're working with, and will even be organically lit to create a more immersive studio feel.
We want to provide more robust and expanded workflows for different productions, whether they are virtual, or are using regular graphics."
David Jorba, Head of Business, Polygon Labs by disguise
Throughout the webinar, the team showcased that their software has more than achieved this goal - offering productions a simple and quick way to take full control of Unreal Engine and, by extension, every single element of their set.
Interested in learning more?