blog 2021 5 min read
Moment Factory reimagine live entertainment for pop music's biggest stars
Following the success of Billie Eilish's famous xR-powered livestream last year, we sat down with the creative team behind it to find out their vision for the future of live entertainment.
By October 2020, seven months into the Covid-19 pandemic, interest in livestream concerts was waning. Although they offered a glimpse at the world of live music that music fans so sorely missed, the constant barrage of gigs, ranging from bedroom-based Twitch streams to high-definition footage of musicians playing to empty concert halls, was becoming a little repetitive. Billie Eilish's groundbreaking Where Do We Go? The Livestream event, however, reimagined the livestream concert - catching the eyes of thousands. 
Her live performance was surrounded by sinister sharks with glowing eyes, a magical cartoon forest, and a fifty-foot tall spider. The immediate, thrilling and intensely memorable imagery was the work of global creative content agency Moment Factory, who had teamed with XR Studios, long-term disguise partners and pioneers of the disguise xR workflow, to bring this incredible spectacle to screens around the world. 
Who is Moment Factory?
Founded in Montreal in 2001, Moment Factory is a multimedia studio that offers a full range of production possibilities to its clients. Catering to both livestreams and in-person experiences, their productions have lit up Singapore's iconic Changi Airport, illuminated the interior of Montreal's Notre-Dame Basilica and created the universally-acclaimed Lumina Night Walk series.
The studio now has offices in Tokyo, Paris, New York City and Singapore, with a global team that combines specialisations in video, lighting, architecture, sound, and special effects. They've worked on more than 450 unique projects across the world. 
Working with disguise
The studio has been working closely with disguise for almost a decade now, and the collaboration has played a major role in the development of their name in the music industry. Whether it's their jaw-dropping live shows for Childish Gambino, Halsey or Phish, or groundbreaking live performances on televised award shows or late night TV shows, disguise have usually played a part in realising Moment Factory's vision.
"For us, disguise has become the industry standard," says Moment Factory Producer, Daniel Jean. "This brings many advantages for us as we jump from project to project and tour to tour. disguise provides the consistency to conduct accurate quality control and tweak content on site, and the flexibility to get up and running quickly, allowing us to pre-visualise our work and produce each show as rapidly as possible."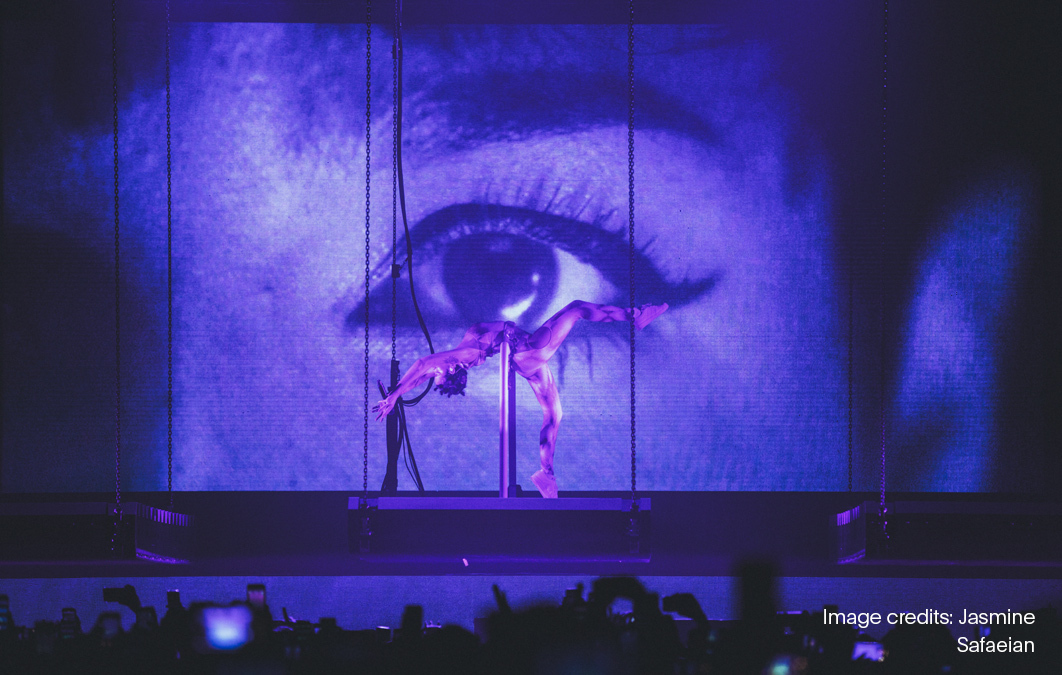 The possibilities of xR
As xR tech continues to develop at pace, the potential applications feel endless for the team at Moment Factory. Though the pandemic offered unforeseen opportunities in livestreaming, Moment Factory's long history in touring has shown them the possibilities that xR holds for integration into in-person performances.
Because it can generate 3D worlds in real time, xR has the ability to create truly immersive experiences for music fans regardless of how they are introduced to it. A livestream event creates the opportunity for more immersive environments, like having a giant shark passing briefly between the artist and the audience as seen in the Billie Eilish concert, yet it's also possible to bring elements of this to in-person concerts too. The vibrant visuals on stage can be enhanced with added xR elements overlaid onto footage shown on the venue's video screens.
"At Moment Factory, we're always working to magnify the artists on stage. Extending their artistic expression in 3D with infinite layers of content allows us to push our creative concept to another level," says Jean.
The flexibility of xR means Moment Factory can put the artist at the centre of the action regardless of the wider context - seamlessly enhancing live performances whether they are online, in person, or televised to an audience of hundreds of thousands, like the Billie Eilish collaboration with XR Studios.
"The XR Studios team was incredibly collaborative and efficient," Jean says, "building the necessary technical infrastructure and supporting the creative process under a tight deadline. Their team did an excellent job preparing us before going on set, helping us to avoid any roadblocks, and delivering a clean and bug-free show."
The future of xR at Moment Factory
With the world of live music and global tours on the cusp of returning, the future holds immeasurable promise for Moment Factory and their continued exploration of xR.
"xR will evolve and mix with other technologies to find its place in many of our projects moving forward," Jean tells us. "As show designers used to develop concepts in a 3D physical space, we will need to reimagine our creative process to include digital space, sometimes separately and sometimes simultaneously."
Working with such big names across the music industry, most of Moment Factory's future projects are kept confidential - holding back the surprise of their next innovative use of xR until it's splashed across our screens. We might have to wait to see what Moment Factory has up their sleeves, but when it arrives, it'll be impossible to miss. After all, as their company motto says, "We Do It In Public".