Disguise and Move.ai partner to power real-time motion capture across media and entertainment
Workflows
Partners
Disguise Platform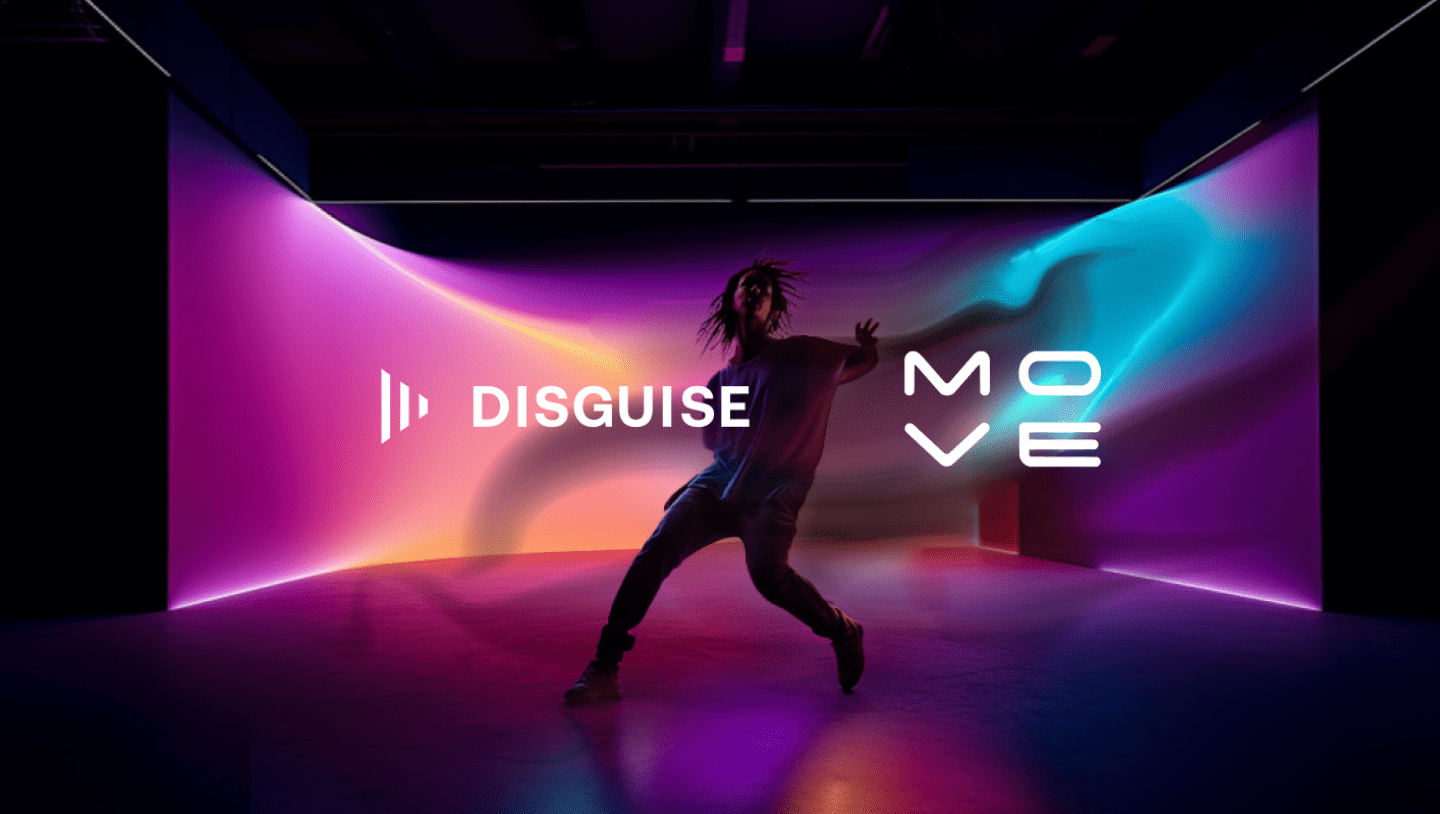 We're partnering with markerless motion capture technology provider, Move.ai. With a vision to democratise virtual production and metaverse experiences, the partnership will marry advanced markerless motion capture with superior graphics processing for film and episodic TV, broadcast and extended reality studios around the world.
To do this, we are developing a custom solution based on Move.ai's real-time markerless motion capture software, Invisible.
The integration of Invisible with the Disguise platform aims to redefine real-time motion capture by removing the need for restrictive and costly mocap suits. The technology works by extracting natural human motion from video using advanced AI, computer vision, biomechanics and physics to automatically retarget the data to a character rig and create a virtual character that can mirror human motion in real time. 
"When it comes to virtual characters and real-time effects, movement needs to be translated into data," says Disguise Chief Product and Technology Officer, Raed Al Tikriti. "Motion capture and recreation are key pieces of the puzzle. We want to make this technology as accessible and scalable as possible, enabling our community of partners to enhance shared experiences, entertainment and storytelling."
Invisible integrates with the scalable processing capabilities of Disguise hardware. No compromises need be made to creative vision, with motion capture data directly integrated into creative workflows in the Disguise Designer software. Meanwhile, our RenderStream protocol ensures the transfer of skeleton data across the Disguise Unreal Engine rendering cluster, allowing for greater synchronicity of content and tracking data across the production workflow and the seamless merging of the physical and virtual world.
With this partnership in place, more creative and technical teams can benefit from high-fidelity real-time motion capture without experiencing common motion capture and graphics rendering challenges like latency, sensor drift, interference and extensive data cleanup. The combined solution can be used to power:
Realistic shadow casting for talent on stage
Gesture-triggered 3D graphics and scene changes
Movement-triggered particle effects, such as smoke and fire
Digital characters in virtual productions and AR players in broadcasts
Avatars in metaverse experiences
"We're excited to be working with Move.ai, who have undoubtedly been making waves in this space for the past year," says Fernando Kufer, Disguise CEO. "As we continue to explore the intersection of physical and virtual here at Disguise, a partnership with a team as forward-thinking as the Move.ai team, and as innovative and accessible as their product, is a no-brainer. The future of entertainment is on the horizon and together, we can play a big part in delivery."
Niall Hendry, Move.ai Head of Partnerships and Delivery, says, "Creatives and technologists use Disguise technology to deliver the most spectacular virtual and live productions. This strategic symbiosis will add the noiseless, real-time, markerless motion capture technology of Invisible to their arsenal. We can't wait to see what users create with these tools."
The worldwide network of Disguise-powered extended reality stages, along with Disguise's around-the-clock global support and advanced training services, are available to train and support any team looking to explore the opportunities of the Invisible solution, which launched in May 2023.